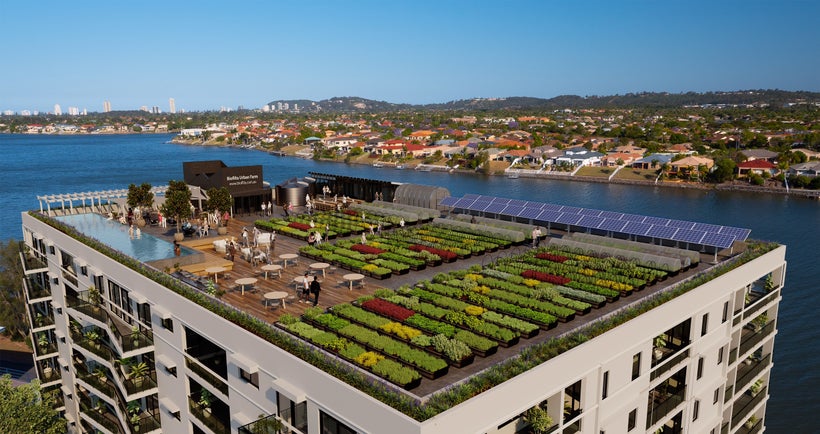 #LAUNCHFood innovators Marc Noyce and Brendan Condon of Biofilta shared their closed loop urban rooftop garden concept today at the LAUNCH Food forum at the California Academy of Sciences in San Francisco. The video below shows a rendering of their closed loop - water, space, and time efficient rooftop concept. "We are so excited to share the Foodwall and Foodcube garden design here, amongst some of the world's leading innovators who are working to transform our global food system to be fairer, healthier, more nutritious and resilient," says Biofilta's Marc Noyce.
The system is low tech and uses rooftop rainwater and composted food waste to grow food. The two innovators hope to transform city rooftops into low cost, high yield, water efficient, ergonomic gardens for city dwellers around the world. Biofilta is bringing this system to market in the coming months, and is interested in partnering with the global housing industry in closing the loop and advancing urban farmers.
"We think with good food architecture in cities, we can repurpose food waste and rainwater runoff, and flip cities into becoming food growing powerhouses," says Brendan Condon also of Biofilta.
With the LAUNCH Food challenge, we called for supply- or demand-side innovations with the potential to improve health outcomes by enabling people to make healthy food choices. 280 innovators from 74 countries answered our call for applications, and our panel of expert reviewers helped us choose 11 of the most promising innovations. Follow the hashtag #LAUNCHFood on Twitter and Facebook to learn about all our innovators.
LAUNCH Food is a partnership with the Australian Department of Foreign Affairs and Trade's innovationXchange, the U.S. Agency for International Development, and a broad cross-sector network of key opinion leaders and industry players. We take a people-centered approach to action across the whole of the food system.
This post was published on the now-closed HuffPost Contributor platform. Contributors control their own work and posted freely to our site. If you need to flag this entry as abusive,
send us an email
.