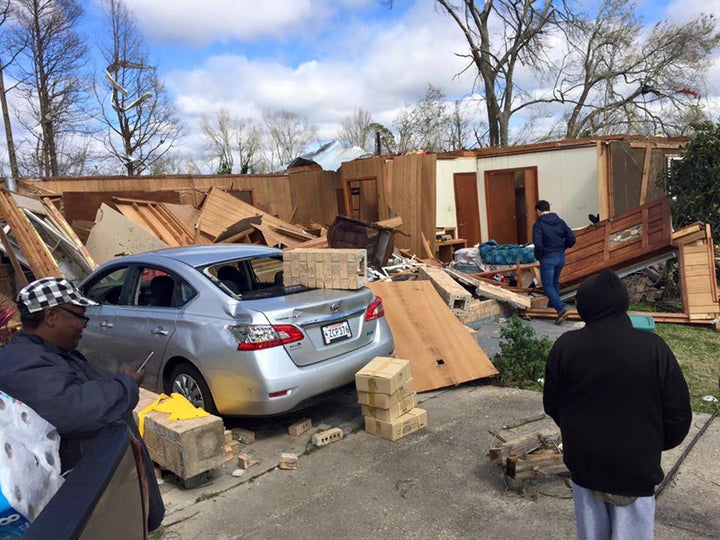 (Reuters) - Violent thunderstorms and damaging winds in the Carolinas were expected to intensify as they moved eastward on Wednesday, with the risk for tornadoes expanding into the mid-Atlantic states.
The National Weather Service (NWS) warned of potential tornadoes through early evening from Raleigh, North Carolina, north to parts of Virginia, Maryland and the Washington area. The threat comes a day after twisters killed at least three people and left a path of destruction in Gulf Coast states.
"The risk is still ongoing," said Nick Petro, a NWS meteorologist in Raleigh. "Folks need to be very aware of their surroundings."
The storm destroyed a mobile home in Wayne County in central North Carolina, while wind gusts of up to 53 miles (85.3 km) per hour were reported at the Columbia Metropolitan Airport in South Carolina, the NWS said.
Schools in North Carolina, South Carolina, Georgia and Florida canceled classes or shifted hours ahead of severe weather forecast in those states.
In Louisiana, rescue crews combed debris for people possibly trapped after at least seven tornadoes pummeled that state and Mississippi on Tuesday.
Among the hardest hit was the Mississippi River hamlet of Convent, in St. James Parish, Louisiana, where state officials said two people died and dozens were injured at one trailer park. About 90 percent of the estimated 160 mobile homes were destroyed at the park, located about 60 miles (100 km) west of New Orleans.
Trailers toppled over and were ripped apart, while mangled cars and shoes, pillows and mattresses were scattered across the park, according to photos from the scene.
Louisiana Governor John Bel Edwards said it was "a minor miracle" the casualty toll was not higher as most of the trailers were occupied when the storm hit.
In Assumption Parish, which borders St. James Parish, more than 100 homes and businesses were damaged and several were destroyed, said sheriff's office spokesman Robert Martin.
The National Weather Service confirmed one fatality near the Mississippi town of Purvis, where a mobile home was destroyed.
"This is one of our bigger outbreaks we've ever had," said Ken Graham, meteorologist in charge for the service's office in Slidell, Louisiana. "It's a pretty big deal."
Florida Governor Rick Scott declared a state of emergency for two counties lashed by a tornado on Tuesday night. Several people were injured and about 70 homes damaged when a tornado ripped through Pensacola, Florida, local media reported.
(Reporting by Colleen Jenkins in Winston-Salem, N.C.; additional reporting by Harriet McLeod in Charleston, S.C. and Letitia Stein in Atlanta; Editing by Jeffrey Benkoe)
BEFORE YOU GO