Us Weekly Editor-in-Chief dedicated her "From Us To You" letter to readers this week to sharing news of Us' nomination for a GLADD Media award (which, incidentally, came in January — but better late than never). Min excitedly explained: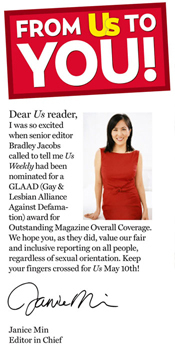 I was so excited when senior editor Bradley Jacobs called to tell me Us Weekly had been nominated for a GLAAD (Gay & Lesbian Alliance Against Defamation) award for Outstanding Magazine Overall Coverage.
But, if a bit late, Min makes up for her tardiness with a bold claim, stating:
We hope you, as they did, value our fair and inclusive reporting on all people, regardless of sexual orientation.
The Huffington Post asked GLAAD what Min had to be proud of, and they released the following statement:
Week after week, Us Weekly delivers the latest in celebrity news while seamlessly incorporating numerous out LGBT celebrities into its pages. The "Love Lives" section features updates on all of the hottest Hollywood couples, including Melissa Etheridge and Tammy Lynn Michaels, and Neil Patrick Harris and David Burtka. Melissa and Tammy Lynn were also the featured couple in a write-up on the "Hollywood Twin Boom." Additionally, Us Weekly interviewed Ellen DeGeneres, examined the Isaiah Washington situation, and covered the controversy surrounding a character on Heroes that was supposed to be gay, but never came out.
Us Weekly is nominated for GLAAD Magazine Overall Coverage alongside The Advocate, CosmaGIRL!, Entertainment Weekly and Newsweek.