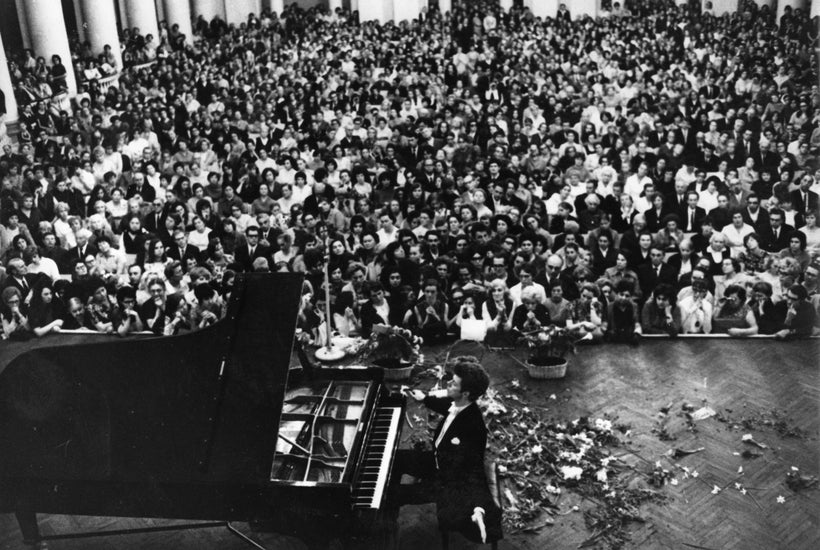 "… nothing compares to the effect Van had at the darkest moments of the Cold War, calming a world that believed itself to be on the brink." Stuart Isacoff, When the World Stopped to Listen: Van Cliburn's Cold War Triumph and Its Aftermath (Knopf)
When a tall 23-year old Texan from a small town called Kilgore won the first ever International Tchaikovsky Competition in a big town called Moscow in April 1958, the impact was cataclysmic both musically and politically.
It was more than fabulous technique. Cliburn had played Tchaikovsky's First Piano Concerto and Rachmaninoff's Third Piano Concerto for his competition finale with such authentic love and romantic sweep that there was little doubt who was the best. But the jury hesitated, haunted by Stalin's shadow, until Soviet premiere Nikita Khrushchev, happy to show that the generous Russian soul was alive and well, said give it to the kid. It was a Cold War coup that significantly melted international relations, made Cliburn the most famous pianist in the world, and elevated classical music once again to the forefront of the world stage.
Stuart Isacoff has been wanting to tell the Van Cliburn story since writing a cover story for Ovation magazine in 1990. The founding editor of Piano Today, Isacoff went to hear Cliburn play at the Van Cliburn Auditorium at Kilgore College, and began interviewing neighbors and friends. When he realized that his subject didn't want him to do it, Isacoff put the project aside until a few years ago when the time seemed right.
The time turned out to be perfectly right. Published by Knopf, When the World Stopped to Listen: Van Cliburn's Cold War Triumph and Its Aftermath is an absorbing read of a real life cultural fairy tale at the intersection of classical music and politics. It's about holding on to love when genius disappears. It's about the depth music reaches in our hearts. And the Cold War part of the title is becoming frighteningly relevant.
I enjoyed meeting Stuart Isacoff several years ago at a young conductors competition in New Orleans. I enjoyed talking to him by email about his new book.
How do those times when a classical music figure became emblematic of a country's moral standing and identity compare to 2017?
For many, Van became emblematic not of America's moral standing, but of America's triumph over their Soviet adversaries. Van never saw it that way – he was entirely apolitical. But the fact that he could melt the hearts of the Soviets helped open a door to cultural diplomacy, and it made a huge difference in the world. It's difficult to imagine that happening today. People – especially the leaders of large nations – are even more cynical, and the power of a single artist to transform the poisoned atmosphere seems farfetched. 
Are there many other examples? 
Of course, others have also managed to galvanize audiences within a political context. Ignacy Jan Paderewski, a great pianist and the Prime Minister of Poland in the aftermath of WWI, comes to mind. Leonard Bernstein stirred Berliners with a performance of Beethoven's Ninth Symphony at the fallen Berlin Wall. But nothing compares to the effect Van had at the darkest moments of the Cold War, calming a world that believed itself to be on the brink.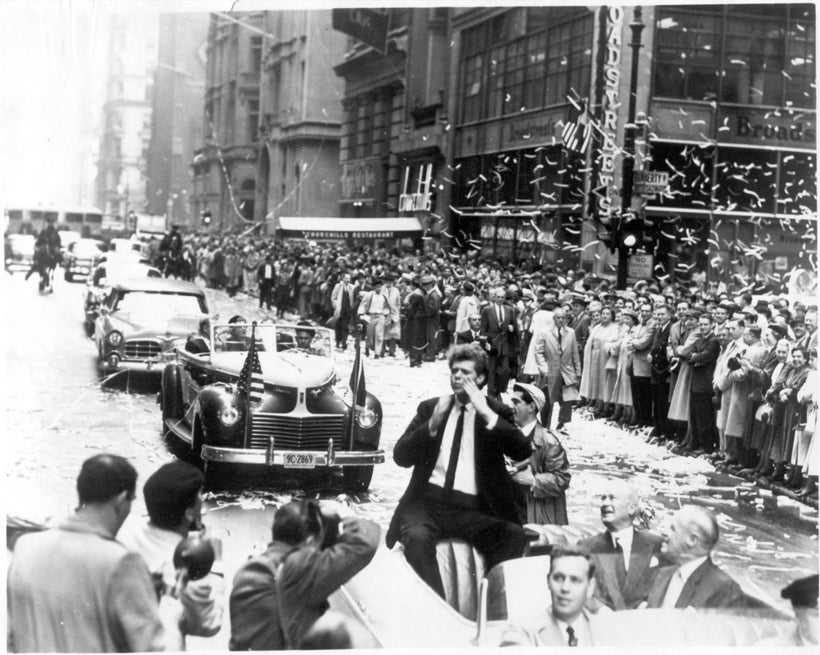 Is the Tchaikovsky still number one among piano competitions? 
The Tchaikovsky Competition went into a slow decline after its big splash in the years following 1958. Once Emil Gilels was no longer on the scene, it became known, like most Russian competitions, as thoroughly corrupt. In 2011, conductor Valery Gergiev, a Kremlin favorite, was put in charge to clean things up, and he hired Richard Rodzinski, formerly head of the Van Cliburn Competition, to run things. That year, Daniil Trifonov won, and there was almost universal agreement that it was a great choice. But Rodzinski lasted only one competition. 
What about the Cliburn? What's the importance of winning one of the top competitions?
The Cliburn is considered important, though most of its winners are hardly famous. The Tchaikovsky still has name recognition. Some others, like the Leeds, are also highly respected. These days there are so many competitions that the idea of winning one has lost much of its former value. Competitions are often judged either on the amount of prize money they offer or on the track record of winners. 
How do fees compare today?
Top level performers have a large range of fees. But before Van, they were much lower. Van started out asking for mere hundreds, but once he won the Tchaikovsky Competition he started asking for more, and other pianists, like Artur Rubinstein, raised their own fees to keep up. By the end of his career, Van was demanding $125,000 for a concert. Few artists even today are in that range.
What was Cliburn's own involvement in the competition and its operation?
He was essentially a figurehead. The Cliburn Competition was created in 1962 by fans of his in Fort Worth, hoping to replicate the enormous impact of the 1958 Tchaikovsky Competition in Moscow. It was a fool's errand. Van was unenthusiastic at first, and his contribution aside from a fund-raising recital was to make some suggestions about repertoire. The founders of the Competition initially announced it as an event in honor of "Rildia Bee Cliburn's little boy." As it grew in stature and funding Van continued to be a celebrity in Fort Worth but he had little to do with running the event. 
Did Cliburn himself ever reflect on the never recaptured greatness of those famous Moscow performances?
Van was always humble. When he was asked about his success in Moscow, he said, "I'm not a success, I'm just a sensation." He knew very well that success implied a longtime endeavor. He had so many problems, both internal and external, that his career was bound to falter. He had ready answers for the criticisms: when asked why he played the same repertoire all the time, he said, "In classical music, there is no such thing as a twice-told tale." He sometimes played the naïf, but he wasn't stupid. He saw his own struggles clearly.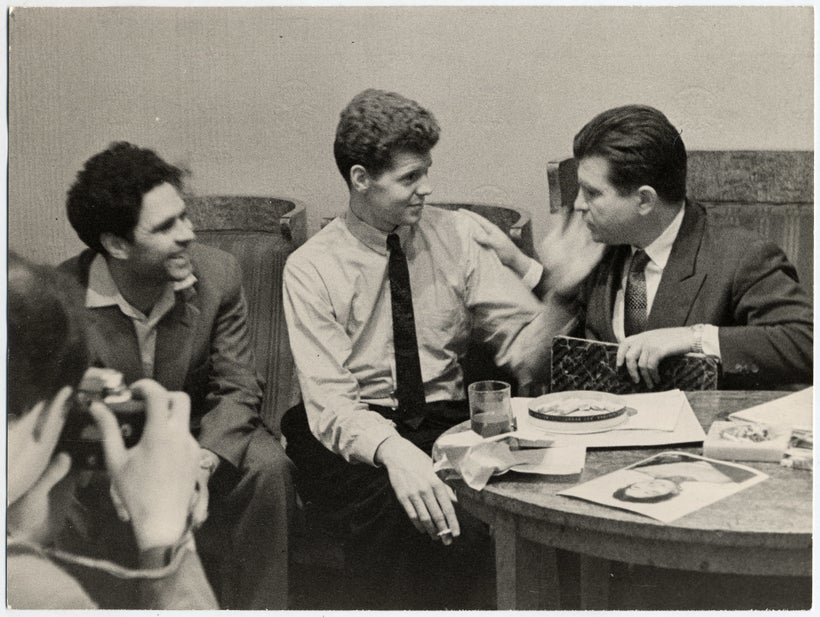 What are competitions good for?
I'm not crazy about competitions, which have myriad problems, but I do think they are useful. Without them it is difficult for young artists to get exposure, to be heard by the right people. Often, the first place winners do not go on to great careers, but those winning a lesser prize manage to rise to the top of the piano world. That's not a bad outcome.
What warnings does Cliburn's story send to society?
Van's story is filled with warnings: about the dangers of having sudden fame and fortune, about the disastrous consequences of pushing a fragile talent onto the career treadmill too quickly, about recognizing the differences between a human being and a performing machine. Van trusted the wrong people, from his mother and greedy managers to quack healers, and his story shows how an innocent with enormous talent can get used up and burned out.
That burnout included addiction.
While still a student at Juilliard, Van was introduced to Dr. Max Jacobson, known as "Dr. Feelgood," who used amphetamine injections on his patients. Van always had health problems, like colitis and nose bleeds. When he got those amphetamine injections, he told friends he felt like he was getting "oxygen." The stuff was addictive, and Van – like President Kennedy and many top name movie stars – failed to recognize the dangers. The shots really took a toll. But Van had a "dependent" personality; after Jacobson, he turned to astrology as a crutch.
Is there any pianist - has there ever been any pianist - remotely like Cliburn? 
The only pianists I can think of who seem similar to Van – demonstrating a deep musicality along with the tenderness that is his trademark — are the tragically short-lived Dinu Lipatti and Arthur Friedheim, the legendary pupil of Franz Liszt who taught Van's mother, Rildia Bee. One commentator who knew Friedheim was shocked upon hearing the quality of the sound when he heard Van play for the first time, since he knew Friedheim was already dead.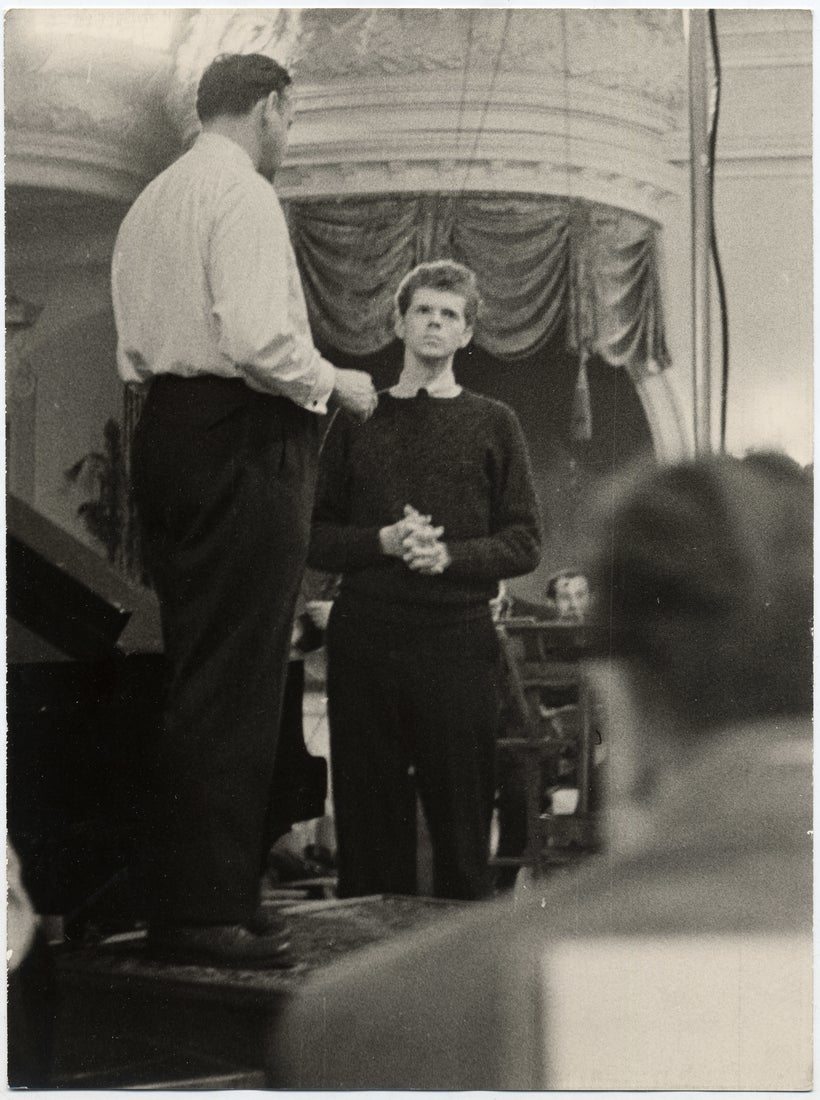 This post was published on the now-closed HuffPost Contributor platform. Contributors control their own work and posted freely to our site. If you need to flag this entry as abusive,
send us an email
.