Jason Lemkin is Investor and Founder Champion at SaaStr Fund. SaaStr Fund is a $70 million venture fund that focuses on early-ish stage investments exclusively in SaaS/enterprise/B2B start-ups. Lemkin is a hyper-founder centric VC and has sourced or been the first or very early investor in many leading enterprise/SaaS startups. Out of a $70,000,000 fund which he raised in 2016, Lemkin leads $250,000 to $5 million initial investments in great SaaS companies with founders that are Better Than Him (Lemkin's own words). Collectively these startups have grown to be worth over $1.5 billion, with an average entry price of $13 million per investment, in less than 3 years.

Lemkin is also the founder of SaaStr. SaaStr began in 2012 as a simple attempt via a WordPress blog, together with a few answers on Quora, to help share back Lemkin's learnings of going from $0 to $100 million annual recurring revenue (ARR) with the next generation of great SaaS and B2B entrepreneurs.  It has since gone on to become the largest community of SaaS founders and entrepreneurs, with over 3M views per month and 30 million+ views on Quora, and events hosted throughout the year.  Lemkin's annual event called SaaStr Annual is expected to draw 20,000 SaaS founders, venture capitalists and executives in 2018.
Lemkin has co-founded two successful start-ups selling to the enterprise. Most recently, he served as CEO and co-founder of EchoSign from inception through its acquisition by Adobe. Prior to EchoSign, Lemkin co-founded one of the only successes in nanotechnology, NanoGram Devices, which was acquired for $50 million just 13 months after founding. Lemkin is super active and engaging on Twitter and a must follow at @jasonlk.
Ray Wang and I invited Lemkin to our weekly show DisrupTV - a weekly show featuring disruptive business executives and thought leaders - to learn more about Lemkin's investments and funding thesis, SaaS startup market trends and advice for startup founders.
Lemkin just came off the most successful SaaStr Annual event to date with over 10,000 attendees. Lemkin was amazed at the number of successful global SaaS startups ($500K-$1M ARR) at his conference. He also noted that the success bar for SaaS startups, and the investor expectations, have been raised. In terms of his own investment criterion, as with most ex-founders that invest now, he is looking for minimum product/market fit risk. Lemkin doesn't' want the risk of a startup not being able to find customers. There is plenty of software on planet earth, and disruption happens, according to Lemkin, so the main challenge and risk is accurately identifying product/market fit. As a former startup founder and CEO, Lemkin looks for happy customers (at least 10 unaffiliated customers) and early stage growth.
How important is the CEO with respect to SaaS startup success? If you have 10 unaffiliated customers, you can get to 100 or 1,000; it's just a matter of time and having an amazing CEO. Lemkin has never invested in a SaaS startup with a great CEO with 10 customers, that didn't not get to 100 or 1,000 customers. SaaS companies with mediocre founders can go from 10 customers to zero.
Where is the SaaS successful bar set today? The bar for knock-it out of the park today for a SaaS startup is to go from $1M to $10M in revenue in 5 quarters or less, according to Lemkin. There are over 200 new funds at $100M or smaller today. There is massive inflation in all SaaS categories in the early stage. Lemkin believes that this it is the best time of all to be innovating in SaaS. Each round gets harder but this is how it's suppose to be.
According to Lemkin, capital is everywhere. Lemkins says that today, 200 new smaller funds have fueled investments is SaaS startups. Also outside of US investments and funds and capital, from countries like China, are fueling growth. The bar is getting higher and higher in terms of what VC are looking for.
"We are looking for startups to IPO at $200 million revenue, with 70% growth. Capital in infinite today," said Lemkin.
What are the key success indicators that Lemkin looks for? The #1 investment factor is a great CEO, per Lemkin. "The biggest sucker bet at investing is great traction, a good CEO," said Lemkin. Whatever the size of your fund, your average exit must be 10X that. Lemkin's $70M fund must produce a $700M exit - this can't happen without great CEOs. Lemkin said that the CEOs must be better than him. Good traction and a good CEO will not yield a 10X average return.
What is the one thing that you look for when investing in a SaaS startup? Lemkin is now hyper focused with assessing the startup's net promoter score (NPS). He only invests with SaaS startups with an NPS of 50 or better. Most investments that he has made in the past that crushed it all had a high NPS. Ability to grow in the teens and NPS of 50+.
How should startup founders manage NPS - detractors and promoters? Lemkin said that you should ignore your detractors and focus your time and energy on the biggest promoters. Startup founders should focus on getting more revenue from their promoters.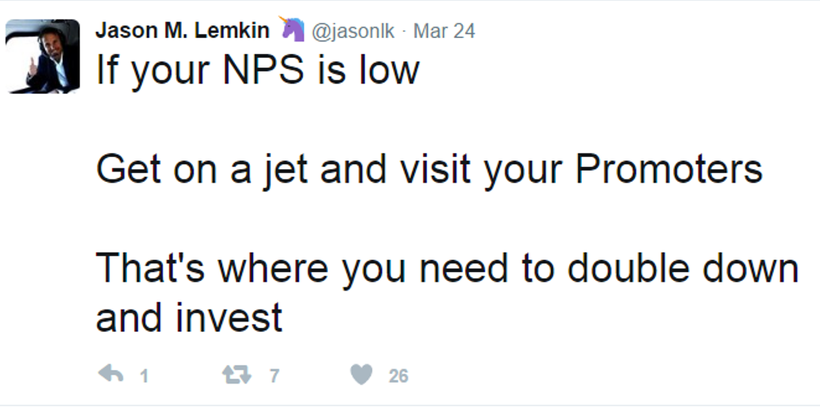 What is the key to going from $1M ARR to $10M ARR? Double down on what works and don't get distracted. Don't enter new verticals, and simply double down on what works. At $10M ARR is when your brand can bail you out from mistakes, only if you have very happy customers.
What do look for in a CEO before making an investment in her company? Lemkin uses the Colombo routine - listening and asking simple questions at first, and then asking one simple question: "What does the business look like at $100M ARR?" Only the great founders can answer this question - strong vision and tenacity. Lemkin notes that 95% of SaaS startup founders/CEOs cannot answer this simple question. The best founders had clarity of vision at $100M ARR, according to Lemkin. Lemkin doesn't care about the financial models or the presentations, because he said that you cannot fake clarity of vision for the future.
We asked Lemkin to highlight a few hyper-growth companies in his portfolio and he shared great stories about 3 companies - Talkdesk (a new breed of call center software), Algolia (hosted cloud search as a service), and AutoMile (fleet management tracking) — to learn more about these stories, please watch our video conversation. None of these companies looked differentiating at the time, but Lemkin was able to identify unique capabilities within these three hyper growth SaaS startups.
After speaking to Lemkin, Ray and I invited a brilliant first-time startup CEO to better understand her perspective of leading a very hot and fast growing company.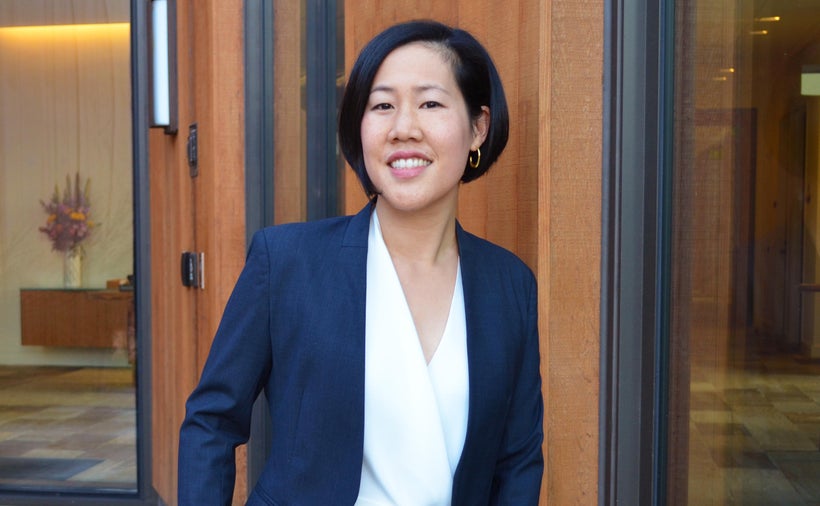 Amy Chang is founder/CEO of Accompany, an intelligent, adaptive virtual chief of staff product. Amy sits on the boards of Cisco and Splunk . Chang also served on the board of Informatica from 2012-2015, when it was taken private for $5.1B, and on Target's Digital Advisory Council from 2013-2016. Prior to Accompany, Amy led Google Analytics for seven years, growing coverage from 1% to over 70% of the web. Early in her career, Amy ran product for paid search and affiliates at eBay and worked as a consultant at McKinsey. You can follow Amy on Twitter at: @_amychang.
What is the hardest thing about going from working at a company like Google to startup Founder/CEO? Chang has never been happier professionally, but it was a very scary leap forward towards becoming a founder and CEO of a startup. "Once you start and you're build a team from scratch that you chose, people who you respect and are excited to work with - nothing could be better, according to Chang.
Was there a pivotal moment that led to you leaving Google? Chang started at Google analytics at the beginning and grew it from scratch to 70% of the web. For the first time in her career at Google, she was assigned resources to build a new business. She said she was crushed trying to sell to just 10 users. Her experience throughout the selling motion led to a realization that the market is missing an intelligent tool to manage contacts. Accompany was born as a result of Chang's frustration with using existing tools.
What have you learned that surprised you as a startup CEO? Managing a hyper-performing small team is very different at a startup versus a big enterprise. You have to unlearn, to learn the new. Chang wears multiple hats at a CEO, rolling her sleeves up and supporting her team in every possible way. Getting your hands dirty and being a doer is key to success. When hiring, she looks for doers who are self-motivated and not scared to learn fast and be comfortable with ambiguity and chaos.
What does it mean to serve as a board member for large companies like Cisco and Splunk? As a startup founder, Chang brings a sense of urgency to big companies. With big companies, the galactic battle is won with hand-to-hand combat, meaning every single person can make a difference. Chang brings a complete different set of questions to the board, and at the same time she is working hard to inspire others to push forward. According to Chang, every company board is a different organism, and the CEO decides the tone of how the board operates. Chang works on boards that invite rigorous debate and preparation. Board members that do the pre-reading and think before the meeting, then the event is dialogue and problem solving.
Advice to other startup founders? Chang uses her great advisory network to vet the different points of view that are shared. Chang respects her investors. Chang spoke about managing to profitability versus growth and how founders need to have their own set of economics and vision of the end-game, and to make sure that they understand investor motives and vision of the future.
Amy Chang is an extraordinary CEO and a brilliant startup founder. She is extremely smart and passionate about her company, employees and customers. Please watch the video of Chang to learn from a brilliant board member and business rock star.
We concluded our show by inviting a veteran technology journalist to our show, Arik Hesseldal.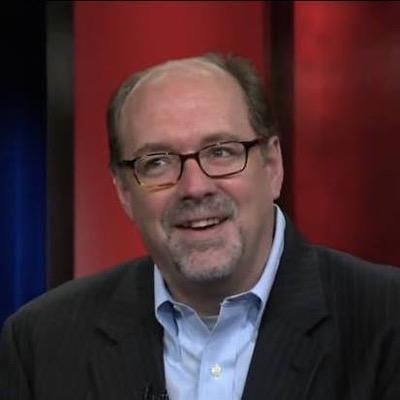 Arik Hesseldal, is an Independent Analyst & Veteran Technology Journalist. Arik is a former technology journalist with more than 20 years experience, turned analyst and consultant to some the world's largest companies. Previously Arik was Senior Editor and Enterprise Dude (yes that was really his title) for Vox Media's Recode, where he broke the news about the most infamous hacking attack in history and chronicled the unfolding of the largest tech deal ever. Previous to Recode, Arik worked AllThingsD, Bloomberg Businessweek, Bloomberg News and Forbes. Hesseldal has been seen on CNBC and NBC News contributor and has also written for The Wall Street Journal. You can follow Arik on Twitter at: @ahess247.
We spoke about a number of topics with Hesseldal including:
As an independent analysts, Hesseldal is helping some of the largest companies in the world on sticky problems, including developing new messaging, ghost writing for senior executives, speech writing, event support, corporate litigation, and creation of thought leadership posts. I highly encourage you to watch the video with Hesseldal - he provided incredible insights on a broad set of topics.
This post was published on the now-closed HuffPost Contributor platform. Contributors control their own work and posted freely to our site. If you need to flag this entry as abusive,
send us an email
.