Did you watch the Entourage movie? If not, you probably watched or heard of the Entourage TV show. The show was about an up and-coming actor that moves to Hollywood with his two best friends and half brother. They build an empire in the movie industry and eventually develop many other businesses, including an alcohol company that Jerry Ferrara, who plays "Turtle", sells for a large sum of money.
It sounds like a dream come true, especially for any young ambitious male, right? The ability to move away with your buddies and make lots of money, while enjoying an amazing lifestyle filled with parties, adventures, and interesting people.
Are there people actually living like this? Well, my answer to that question is YES!
I took a flight down to Destin, Florida to spend a few days with Kunal Desai to shoot a "Day In The Life Of A Successful Trader" video for an upcoming trading event called Trading Mastery Summit. We filmed Kunal trading, teaching, exercising, driving, and living his  life. You can watch this video for free by signing up for the summit that begins on August 16. 
The video in this article is the full discussion Kunal and I had about his life and how everything came to be. Kunal started trading as a teenager and realized it was his passion early on. While trading, he did all the things a normal young man is taught to do. He attended college and got an office job.
While working, he continued to network with other traders and expand his knowledge.  His aggressive pursuit of knowledge brought him to his mentor, Paul Singh. Paul recognized Kunal was a promising trader, but needed some fine-tuning ― thus a mentoring relationship began.
Kunal started to become a consistent trader and was ready to take the leap; he quit his job to pursue his passion full time. He had already started a chat service and realized he loved to teach people how to trade, as well. With a couple of his students, Kunal began to develop the Bulls On Wall Street education program.
This is when his first childhood friend, Tim, comes into the picture. Tim was working in Chicago in finance at the time. He realized the opportunity of a trading university, and also took the leap and joined the team. Tim is currently the COO of the company and manages their hedge fund where a bunch of their students trade.
Like any new business, they had their ups and downs, but they found their way and students started to enroll in a big way. Business was picking up so much they realized that they needed to bring on some more people to join the company. You guessed it! They convinced the final two out of their childhood entourage, Kevin and Omar, to come on board.
Together, they all packed up and moved to Costa Rica, where Kunal would continue to grow as a trader and develop the Bulls On Wall Street Team. After a few months in Costa Rica and many injuries from all the crazy adventures, they decided to move back to the USA. But they had no intention of moving back to Detroit. They decided to settle in Destin, Florida. Kunal still lives there today in a house on the beach, his Porsche parked in the driveway.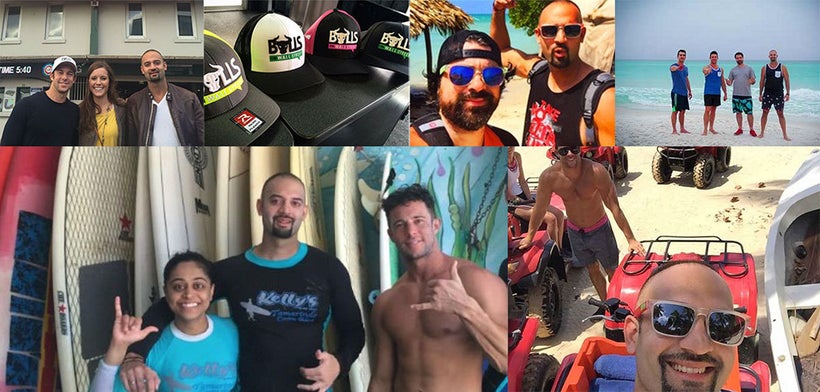 In addition to the four childhood friends, Bulls On Wall Street also employs many more people, including Kunal's former mentor Paul and his former students, who have been with him from the beginning, Maribeth and Jordan.
The video in this article is our full talk in his car and includes many parts not found in the "Day In The Life Of A Successful Trader" video. Watching Kunal trade and make $17,000 in one day was an inspirational experience. Kunal is not only a great trader, he is a great teacher. Besides being good at trading, what makes Kunal such a great teacher, he really truly cares about his students. He was just a regular guy with a relentless ambition to be a great trader. He followed his passion, which led him to living a life people dream of - the Entourage lifestyle.
This was definitely not luck though. Kunal is filled with ambition and charisma. He relentlessly and unapologetically pursues his vision. I also noticed Kunal has an ability to work during periods of time you wouldn't expect it. Like after a long afternoon on his boat with the Destin sun beating down on us for hours, or after a night of dinner and drinks, Kunal would come home, take out his laptop, and begin studying charts for the next trading day. Or He'd finish any work he had to get done to make sure his thousands of students got the best education possible.
Both Kunal and his mentor Paul Singh are among the 20+ speakers presenting at the Trading Mastery Summit. Other speakers include Sang Lucci, Dan Mirkin, and Ben Newman who is a performance coach for many professional athletes and Fortune 500 companies. Free tickets are available for the event which takes place online, so you do not need to travel anywhere to watch the presentations.
This post was published on the now-closed HuffPost Contributor platform. Contributors control their own work and posted freely to our site. If you need to flag this entry as abusive,
send us an email
.