Someone called Wanda Jackson the Queen of Rockabilly a while back and the tag stuck, probably because she earned it.
From the evidence in Jackson's new autobiography, though, it might be more accurate to call her a Pioneer of Americana.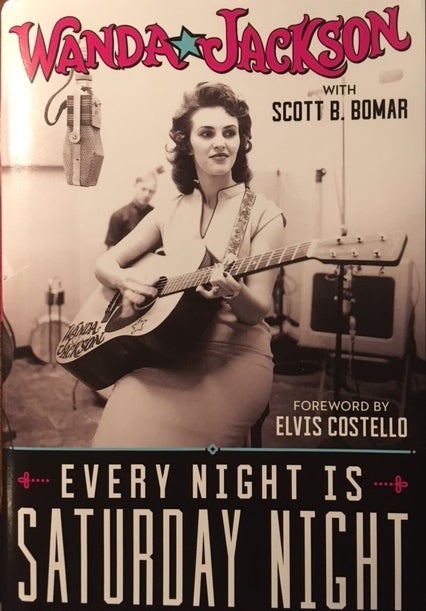 Every Night Is Saturday Night (BMG. $24.95), written with music journalist Scott B. Bomar, takes the reader on Jackson's ride through a half dozen major styles of popular American music over the last 60 years.
Besides rockabilly, she recorded classic country, modern country, blues, folk, gospel and pop. It's an odyssey that served her well artistically and yet often seemed to thwart her chances for greater commercial success.
This paradox has been all too common in the music and radio industries, which have for decades relied on placing artists in well-defined slots.
If you sung country music, you were marketed to a country audience, sold in the country section of record stores and promoted on country radio.
Jackson grew up on country music, so that was her logical path and the one on which she was first placed.
Then, like so many other teenagers in the mid-1950s, she heard this new rock 'n' roll stuff and thought it was cool.
She met a guy with the weird name Elvis Presley. They dated for a while and he encouraged her to try this new sound herself.
She did, she liked it, and songs like the explosive "Fujiyama Mama" today are the reason for that Queen of Rockabilly title.
She sang with a sultry growl, she swiveled on stage. She helped force the new popular music, which was on track to become one more boys' club, to let girls join the fun.
Unfortunately for Jackson, she never had a breakthrough rockabilly hit – or any major hits at all until 1961, when she scored with a couple of country-style pop ballads, "Right or Wrong" and "In the Middle of a Heartache."
She experimented some more in the later '60s, even dabbling in Bob Dylan, before she found Jesus and started mostly singing gospel. In recent years she's gone eclectic again, singing material from her whole career.
These days that's called Americana, a rich blend of multiple styles that still baffles the music industry and radio, but has nurtured and sustained wonderful artists from Emmylou Harris to John Prine and Lucinda Williams.
While Jackson laments that her labels often had trouble deciding how to promote her music, she doesn't seem to regret making any of it. What's not to like when a song fades away and 30 years later gets rediscovered and called a classic?
Interestingly from an artist whose rock 'n' roll reputation rests in large part on sounding uninhibited, Every Night Is Saturday Night often feels almost demure in its recounting of Jackson's life.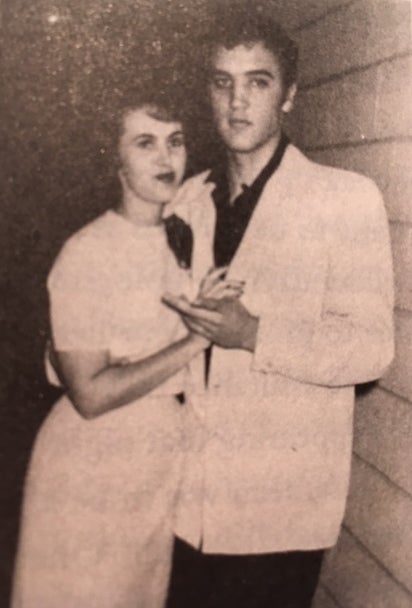 She defers on all details about Elvis except to say he could charm anyone. Even her ultra-protective Daddy. She reports that artists on some of her tours liked to have a good time, but leaves details to our imaginations.
While Jackson was inducted almost a decade ago into the Rock and Roll Hall of Fame, whatever she may have seen in the rock 'n' roll world is staying there.
She tells this story in the tone and style of a religious woman who spent a good part of her life near the heart of an often unruly business, but kept her own eye on the prizes of music and family.
She provides extensive detail on her professional path. She recalls recording sessions. She offers what presumably is a judicious selection of anecdotes about the many artists with whom she worked over the years, like the time Ernest Tubb scolded her at the Grand Ol' Opry for thinking she could go on stage with bare arms.
In the end, Every Night Is Saturday Night does a workmanlike job of portraying the Wanda Jackson she'd like us to see, and that portrait adds a valuable dimension to what we already knew, which was her music.
She comes off as a heartlander who happened to have a thing for music that resonated well beyond that world. Just because she followed it, she's telling us here, doesn't mean she moved there.
This post was published on the now-closed HuffPost Contributor platform. Contributors control their own work and posted freely to our site. If you need to flag this entry as abusive,
send us an email
.