I'd be lying if I said I haven't been salivating at seeing the new musical War Paint, which is based on the PBS documentary The Powder and the Glory celebrating makeup moguls and life-long rivals Elizabeth Arden and Helena Rubenstein, as soon as the Goodman announced it as part of their trademark eclectic season.
Not only does it reunite the team that made the brilliant Grey Gardens musical, it's a new musical about powerful women, starring powerful women ― a sadly rare thing in an age overrun with stage-to-screen adaptations and jukebox musicals catered to the tourist crowd.
And what a power duo we have: Celebrated stage icons Patti LuPone and Christine Ebersole have decades of musical experience matched with iconic starring roles under the belt. Most intoxicatingly, each actress has a style and technique completely idiosyncratic from another. LuPone is the compact belter who wears her emotions on her (exquisitely adorned by costumer Catherine Zuber) sleeve, and Ebersole is the eternally poised soprano with a dry, cracking wit.
Each alone would be worth the ticket price ― but together? It's surprising the Goodman's stage is still intact (the show has been extended through August 21). Fans of either artist will likely not be disappointed in how much these women seem to be reveling in this moment.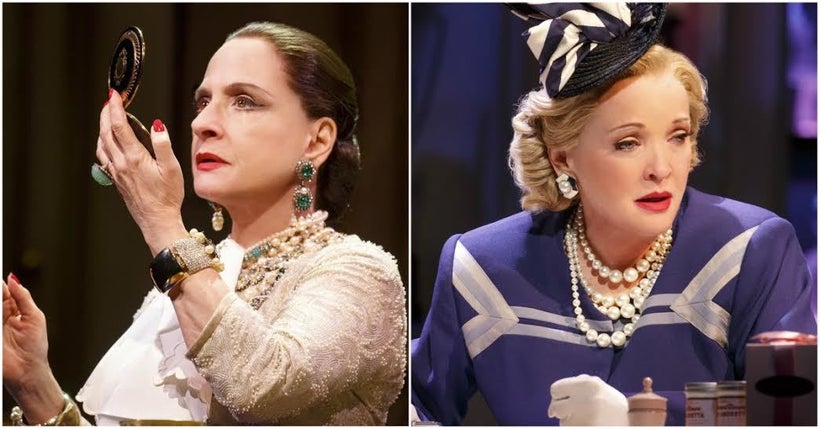 But after the star dust settles, I'm left to consider the merits of the material itself. The music (Scott Frankel, music, and Michael Korie, lyrics) strikes an impressive blend of jazzy period (with shades of City of Angels zippiness) and haunting moments of reflection, à la Grey Gardens. Both ladies have a handful of showstopping numbers that maximize their strengths, both expertly delivered. In my struggle for objectivity, I firmly feel this is one of the most solid stage scores in some time.
But the story has opportunities to explore. The show opens through a series of vignettes, weakly establishing the relationship of these two women and their rivalry.
Rarely are we given a chance to really understand where they came from or what motivates them ― and why. It's just a given.
We meet them at the top of their respective games, and then they kind of fade out as the the evolution of beauty moves outside of their brand.  Sure, there's a swapping of the ladies' male business partners (John Dossett and Douglas Sills, both charming performers, do their best at holding their own here), which seems almost too shade-tastic to be true to add some drams, but why do we need to rely on men to add much-needed drama into this story about female power? 
The show sidelines a much more interesting message around the evolving expectations of beauty and the relevance of the industry. There are wells of provocative themes and  ideas to explore that are only hinted at in the final moments when LuPone's Rubenstein asks Ebersole's Arden (in a fictional but highly entertaining interaction between the two, when in reality the two never actually met) if they've "enslaved women" through their products and marketing. However, the show tends to trot down a more straightforward formula of "she said/she said" one-upmanship. (David Korins' set design smoothly navigates the binary story lines).
All that said, I ultimately found the show highly entertaining, and the key elements of a knock-out hit are there ― particularly in the stars, the score and some great zingers by book writer Doug Wright. I'd just suggest removing some of the paint and let's see the pores.
This post was published on the now-closed HuffPost Contributor platform. Contributors control their own work and posted freely to our site. If you need to flag this entry as abusive,
send us an email
.