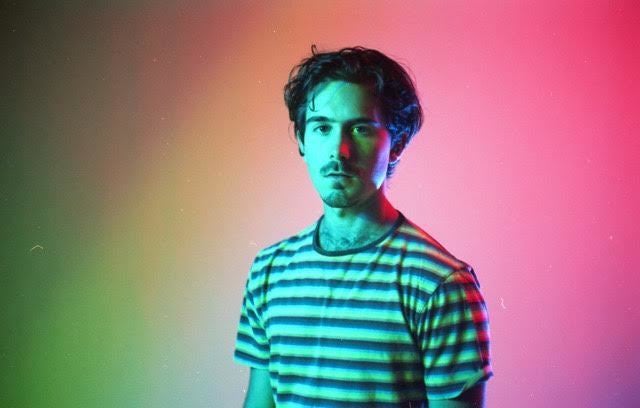 'Small Talk,' the new music video from Julian Borrego premieres here today and it screams summer. I am excited to be the first to share this fantastically flamboyant and hallucinatory video from the Los Angeles based indie psych-pop artist. Borrego has his hands in multiple projects, with not only being an accomplished singer-songwriter, but also prevailing as a music producer and multi-instrumentalist. His new single exudes everything that his EP Ouroboros is meant to be - with infectious melodies, distinctive synth vibes and psychedelic funk rhythms, you won't be able to keep your feet still. 
Stylistically, the eccentric new music video features vivid, kaleidoscopic imagery with the end result feeling like you just had an acid trip. A compilation of comical clips, yet with a hint of sex appeal, 'Small Talk' is an innovative and creative body of art! With Borrego's distinctive sound of psychedelic grooves and catchy vocals, the single accentuates the genre-blending eclecticism of today. 
Hailing from an extensive musical family with a world famous guitar playing grandpa (Frank Sinatra, Ray Charles), it is to no surprise that Borrego created his own musical endeavour. After performing in numerous bands under the Universal and Warner Music subsidiaries, Borrego toured with Stone Temple Pilots where he played regularly to sold-out crowds. Tasting the success but lacking creative control and direction of the band, Borrego decided to focus on his solo project. The result is his debut EP Ouroboros, which is inspired by the likes of Antonio Carlos Jobim, Stevie Wonder and the propulsive soundscapes of Toro Y Moi and Tame Impala. Ouroboros is a stunning amalgamation of different genres and musical textures. "This EP was like a crock pot of sounds and instruments, blending together and creating new tastes for myself" reveals Borrego.
WATCH 'SMALL TALK' NOW BELOW
With a quickly growing fanbase and extensive media interest, Borrego is an artist on the rise. Ouroboros is currently available worldwide, so be sure to give it a listen. 
This post was published on the now-closed HuffPost Contributor platform. Contributors control their own work and posted freely to our site. If you need to flag this entry as abusive,
send us an email
.