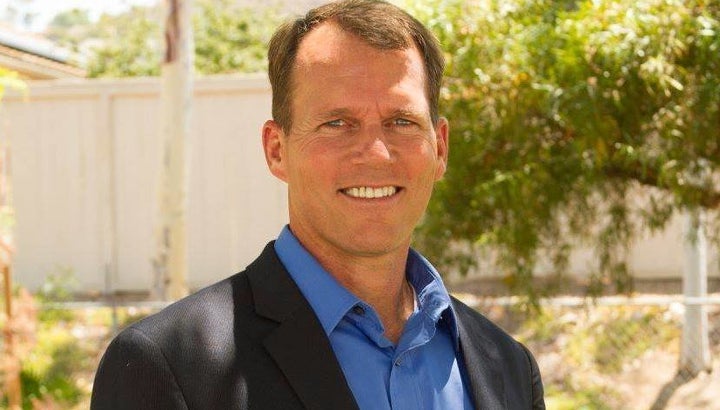 An anonymous website attacking Democrat Josh Butner as a "Republican spoiler" planted by the GOP is roiling the primary for a California House seat Democrats hope to pick up in November.
The site, DuncanButner.com, merges the names of Butner and Republican Rep. Duncan Hunter, whom Butner is running to unseat in Southern California's 50th Congressional District.
As its name suggests, the site tries to paint Butner, a 49-year-old rancher, school board member and Navy SEAL veteran, as virtually indistinguishable from Hunter. It claims that Republicans recruited Butner to run in order to divide the Democratic vote and that the National Republican Congressional Committee has raised money for him.
But the website goes further, claiming that Butner's father "has been linked to the KKK."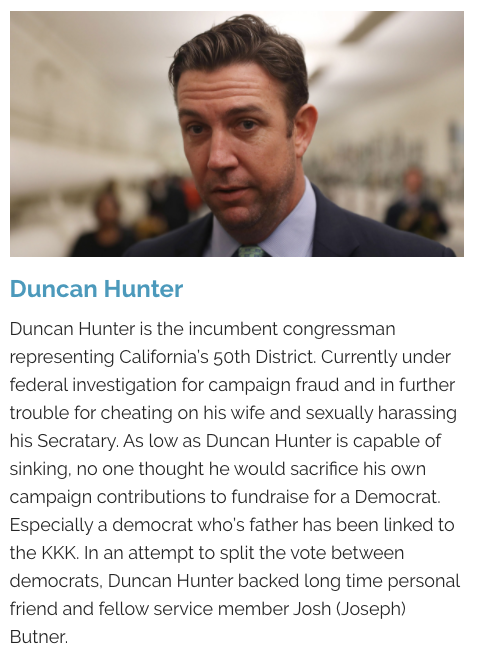 Francis Lan Nguyen, Butner's campaign manager, dismissed the idea that Butner is anything other than a loyal Democrat. The campaign also denied that Butner's father, Joe Butner III, a retired county judge in Arizona, has ever been associated with white supremacist hate groups.
The NRCC categorically denied supporting Butner as well.
"Why would we recruit a Dem to run against an incumbent R?" NRCC spokesman Jesse Hunt said in an email.
The "Duncan Butner" website also maligns several members of Butner's campaign staff, asking why Nguyen would work for Butner considering Butner's supposed opposition to gay rights. It claims that Nguyen has been a "proud member of the LGBTQ community all of his adult life."
In fact, Butner vocally supports all LGBTQ rights, including the right of transgender people to serve in the military, according to Nguyen. Nguyen is also a straight cisgender male, he told HuffPost.
New Politics, which helps elect veterans and other national service participants, and is backing Butner's bid, called on Butner's opponents, including progressive rival Ammar Campa-Najjar, to denounce the site.
The site appears to be the work of a Campa-Najjar supporter, since its "call to action" redirects users to a web page listing candidates endorsed by the California Democratic Party, including Campa-Najjar. And Campa-Najjar once dubbed Hunter and Butner "Duncan Butner" in a now-deleted Facebook post slamming a Butner campaign ad.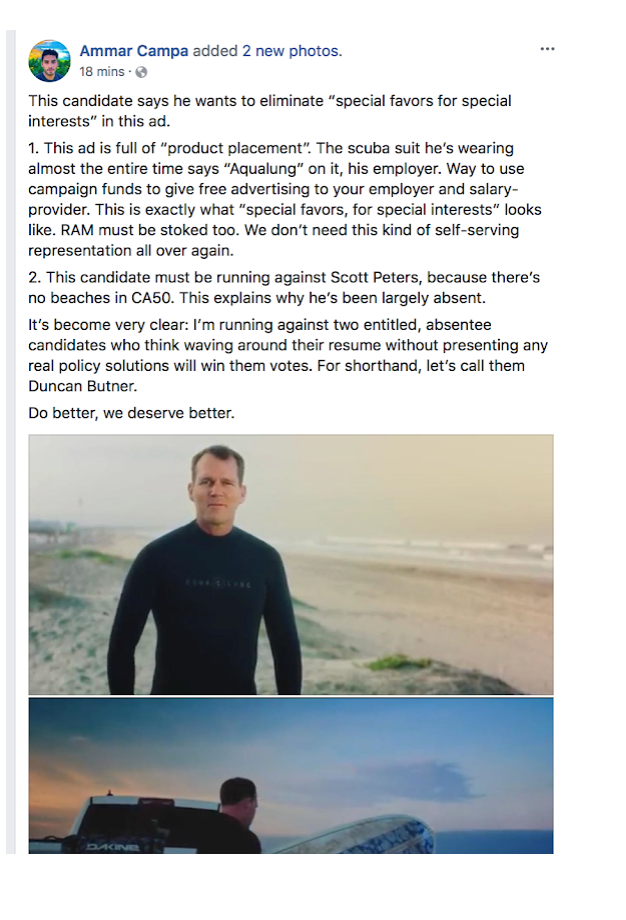 "Lying about Josh because of his service to our country and maligning young people on his team who dedicate themselves to a political campaign does nothing to strengthen our democracy — instead it drives us apart and weakens our country," said Emily Cherniack, founder and executive director at New Politics.
VoteVets, a liberal veterans group backing Butner, also called on Campa-Najjar to condemn the site.
And Rep. Seth Moulton (D-Mass.), whose pro-veteran Serve America PAC has endorsed Butner, also tweeted out a fundraising appeal for Butner. His political staff confirmed that the message was a response to the anti-Butner website.
Campa-Najjar, a 29-year-old small business owner and veteran of the Obama administration, told HuffPost on Monday that he had no knowledge of the site and had nothing to do with its creation.
"Whoever did it should take it down," Campa-Najjar said.
Upon looking at the site, Campa-Najjar pronounced it "disgusting."
The Butner campaign refused to take Campa-Najjar's word for it. In a Tuesday statement to reporters, Butner demanded that Campa-Najjar "come clean" about the matter. "Tell the voters .... What did you know, when did you know it and how deeply were you involved?" 
Campa-Najjar, the son of a Palestinian immigrant father and Mexican-American mother, argued Wednesday that if he has to answer for a website he had nothing to do with, Butner should disavow websites attacking him for the actions of his grandfather.
Campa-Najjar's paternal grandfather, whom he never met, was a member of the Palestinian militant group that carried out the 1972 Munich Olympics massacre. Campa-Najjar condemned the murders in a February Haaretz article revealing the connection. His grandfather was killed by Israeli commandos in 1973.
Campa-Najjar followed up Tuesday to note that the story about his grandfather came out shortly before the California Democratic Party convention in late February. Although Campa-Najjar ended up winning the state party's endorsement, he maintained that the timing raised the prospect that Butner planted the story.
"Josh Butner has used the story to solicit donations," Campa-Najjar wrote to supporters in an email blast Tuesday. "We call on him to condemn the story, and go on the record denying his campaign's involvement in planting the story."
Butner's campaign declined to address the provenance of the story about Campa-Najjar. Nguyen called the question a "desperate attempt by Ammar Campa-Najjar to pivot from the fact that his campaign has been linked to a website that maligns a former Navy SEAL and his family."
"Only Ammar Campa-Najjar can respond to the facts that Ammar's grandfather was the mastermind of one of the worst terrorist attacks since World War II — a story that was reported by reputable news outlets in the United States and abroad," Nguyen added.
The Butner campaign informed GoDaddy, the domain host of DuncanButner.com, that Duncan Butner for Congress is not a real electoral committee and that the site may be a violation of Federal Election Committee rules. The campaign is considering filing an FEC complaint.
The Hunter campaign did not immediately respond to a request for a reaction to the site.
The controversial anti-Butner website ― and the outrage it has elicited among Butner's supporters ― reflects the high stakes of California's unusual nonpartisan "jungle" primary system. Since the top two vote-getters in the primary proceed to the general election regardless of party, Democrats are not guaranteed a spot on the general election ballot.
In districts where there are multiple Democratic contenders, party leaders have publicly fretted about the risk of splitting the center-left vote and stymieing the chances of a Democratic takeover. An official of the Democratic Congressional Campaign Committee, which helps elect Democrats to the House, warned in March that the party has not ruled out intervening in California primaries to ensure that a viable Democrat ends up on the general election ballot.
Previous attempts by the DCCC to affect the outcome in Democratic primaries have elicited the ire of the party's progressive base, since the party typically sides with more moderate contenders.
The DCCC's decision to post opposition research against Laura Moser, a progressive running in Texas' 7th Congressional District, proved especially controversial. Critics denounced the move as misleading and heavy-handed. And rather than sink Moser's bid, it prompted an uptick in fundraising that helped propel her to a runoff with Lizzie Fletcher, a more pro-business contender.
Campa-Najjar occupies a similar position vis-à-vis Butner. For example, he supports far-reaching progressive policies, such as "Medicare for all," and wants to lower the eligibility age to 50 as an interim step. Butner, by contrast, is focusing more narrowly on fixing the Affordable Care Act, though he supports empowering Medicare to negotiate prescription drug prices.
Campa-Najjar's more ambitious stances have won him the backing of national progressive groups, including Justice Democrats and the Working Families Party; the California Democratic Party; and a host of area labor unions and progressive groups.
For Butner's part, in addition to the support of Moulton and Democratic groups dedicated to electing veterans or national service alumni, Butner has attracted the support of California Democratic Reps. Scott Peters, Mark Takano and Pete Aguilar.
Campa-Najjar bested both Butner and Hunter in fundraising as of the end of 2017 with a haul of over $500,000. Another Democrat, real estate agent Patrick Malloy, raised less than $400.
The 50th Congressional District is comprised of northern and eastern suburbs of San Diego. Unlike several GOP-held California House seats where a majority of voters opted for Hillary Clinton, Donald Trump won the 50th by a margin of 15 percentage points.
The DCCC has nonetheless targeted the district for a takeover, including it in its list of 70 GOP-held districts it calls "majority makers."
The party is likely buoyed by Rep. Hunter's ethics challenges. Hunter is under federal criminal investigation for allegedly misusing tens of thousands of dollars in campaign funds for personal use.
California's nonpartisan primaries are scheduled for June 5.
This article has been updated with statements Tuesday from the Butner and Campa-Najjar campaigns.
BEFORE YOU GO
PHOTO GALLERY
2017 Scenes From Congress & Capitol Hill