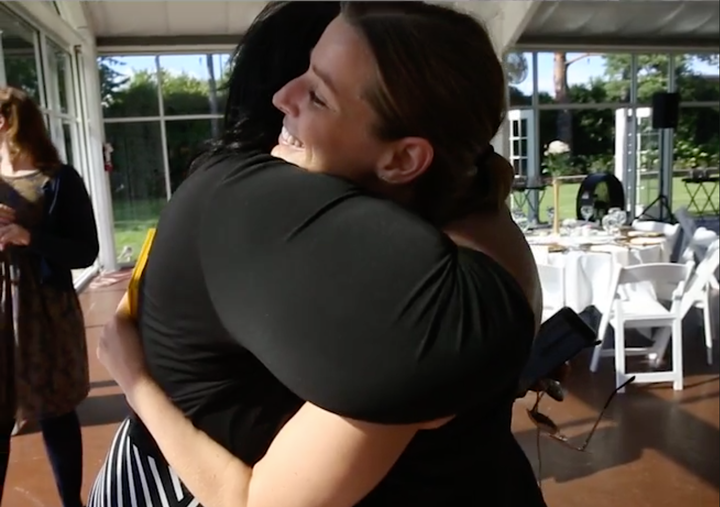 Wanting to turn her personal heartbreak into something positive for someone else, Sarah Cummins, 25, threw a $30,000 soirée for almost 200 homeless strangers over the weekend.
Guests at the swanky Ritz Charles in Carmel, Indiana, feasted on bourbon-glazed meatballs, roast chicken smothered in chardonnay cream sauce — and slices of delicious wedding cake.
Cummins was supposed to have tied the knot on Saturday, but called off the wedding the week before for undisclosed reasons. She had scrimped and saved for years to pay for her dream wedding, even working overtime to raise the funds, according to the Indianapolis Star.
Cummins had signed a nonrefundable contract for the wedding venue and dinner for 170 guests ― and it gutted her to think that it would all go to waste.
"It was really devastating," Cummins, a doctoral student in pharmacy at Purdue University, told the newspaper. "I called everyone, canceled, apologized, cried, called vendors, cried some more and then I started feeling really sick about just throwing away all the food I ordered for the reception." 
So, after some thought and a chat with her ex-fiance, she decided to go ahead with the party ― but she ditched her planned guest list and instead extended an invitation to local homeless organizations, including the Hoosier Veterans Assistance Foundation and the Dayspring Center in nearby Indianapolis. 
On Saturday ― a beautiful, sunny day ― homeless families, veterans and others arrived at the Ritz Charles. All the guests were dressed to the nines, decked out in coats and evening dresses. 
A number of local businesses and residents had donated clothing and accessories for the guests to wear after hearing about Cummins' good deed, according to The Associated Press.
"I didn't have a sport coat," said one man, dressed in his new togs. "I think I look pretty nice in it."
Amy Bartner, one of the Star reporters who covered the event, described just how special the occasion was. 
"My heart breaks for the would-be bride and groom, but I wish everyone could've seen the guests' faces as they walked into this reception," Bartner wrote Saturday in a Facebook post. 
Cummins attended the event with a few family members and friends. Photos of the day show her mingling and laughing.
"I will at least have some kind of happy memory to pull from," Cummins told the Star.
In 2015, a California woman named Quinn Duane donated her wedding dinner to the homeless after her fiance got cold feet. Last year, Washington bride-to-be Dana Olsen similarly threw a bash for homeless women and children after her fiance backed out of their nuptials at the last minute.
BEFORE YOU GO