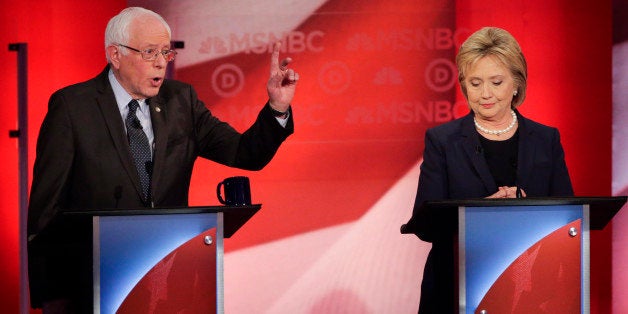 The New York primary may be the single most pivotal moment of this campaign season for the Democrats.
Hillary Clinton has lost state after state in the past few weeks as Bernie Sanders has racked up landslide victories and cut her delegate lead down from 328 to 210 pledged delegates.
The Clinton camp has been counting on a comfortable win in New York to finally lock up the nomination--as Clinton's adopted "home state," this should ostensibly be an easy win for the former New York senator.
Yet the Sanders campaign is putting up a fierce fight. They have made many clever moves recently to help push for that New York victory necessary to sustain the campaign, and it appears to be making a difference.
Sanders is an excellent closer, and with ample time left to canvass and volunteer in the area, the Clinton campaign has to be worried of what may occur if she loses New York.
As Politico notes, "A Clinton loss -- or even a close contest -- in New York would lead to a broad reevaluation of her candidacy, including a look at her unfavorable numbers compared to Sanders's."
So what does Sanders need to do to convince New York's diverse electorate that he should be the nominee, and what does Clinton need to do to remind New Yorkers she represented them for eight years?
For Sanders, it's all about the demographics. New York can be considered in two different regions: upstate and downstate. In upstate New York, Sanders actually has a quite solid chance for victory. In cities such as Albany, Syracuse, and Buffalo, Clinton is widely considered a carpetbagger rather than a native New Yorker; the large rural populations and smaller metro areas also bode well for Sanders, who generally does well with rural groups.
According to the New York Times, Robert Hockett, a professor of law at Cornell, explains, "Upstate New York is the classic Rust Belt on the one hand and the classic working-poor rural population on the other hand. The things Bernie wants to do are things this population generally agrees with."
Downstate New York, or New York City, is what poses the problem. Clinton has won almost every major city thus far, even in states that Sanders emerged victorious overall--Detroit, Boston, Chicago, and Cincinnati, to name a few. She has done extremely well with the African-American vote, and there are larger concentrations of African-Americans in these big cities.
The same issue exists in New York City. With a 25 percent African-American population and 27.5 percent Latino population, Sanders needs to make crucial inroads with African-American and other minority voters.
Fortunately, he has some excellent surrogates to help. The Sanders camp put out an ad highlighting Erica Garner (daughter of Eric Garner), who makes the case that, "[Sanders] is 'one of us,' a protester and one who has stood by the civil rights movement for decades, and is not just pandering."
Sanders also held a "yuge" rally at Washington Square Park on April 13. Located next to New York University, it drew 48,000 New Yorkers, generating enthusiasm and excitement for the campaign.
Sanders also benefited from the CNN Democratic debate in Brooklyn, landing some sharp blows on Clinton concerning her Goldman Sachs transcripts, climate change incrementalism, and foreign policy blunders.
It was imperative for Sanders to be aggressive during the debate, as it was one of his last opportunities to convince New York voters to vote against their former senator. He did what he needed to, although he could have been more specific in certain instances. Sanders is already aligned with New Yorkers in terms of issues such as paid family leave and the $15 minimum wage, which the state just passed--he simply needed an opportunity for exposure.
Clinton, on the other hand, requires the opposite, which is why her campaign attempted so valiantly to schedule a debate with Sanders on dates that would attract the least amount of viewers.
Clinton benefits from inherent name recognition, and as more New Yorkers learn about Sanders, she loses voters. Clinton's goal is to remind her constituents she represented them for eight years, dismiss Sanders, and attempt to combat his growing popularity using her own surrogates in the Democratic establishment such as NYC Mayor Bill de Blasio, Gov. Andrew Cuomo and Sen. Kirsten Gillibrand.
Bottom line: Sanders is fighting an uphill battle. The demographics are unfavorable, New York is a closed primary with a registration deadline in October 2015, and he has not yet reached single digits in polling.
However, his massive upset in Michigan could bode well for the candidate who continues to surprise the establishment time and time again. Both candidates will continue to duke it out in the coming days, but it's uncertain which way New York will fall.