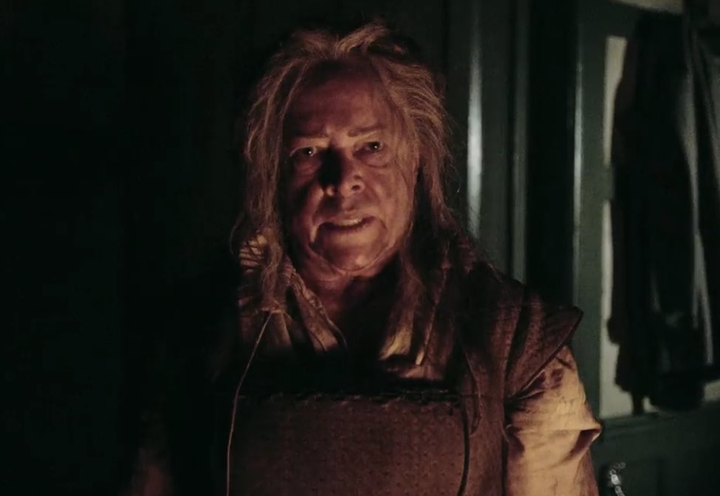 This week's episode of "American Horror Story" is brought to you by George R. R. Martin. All trespassers must die.
We're already halfway to that big thing-you-think-you're-watching-is-not-what-you're-watching twist that series co-creator Ryan Murphy promised around Episode 6, but things have already gotten pretty weird and very bloody. Most importantly, we learn that Matt and Shelby's (Cuba Gooding Jr and Sarah Paulson) house is super haunted thanks to the murderous Roanoke colonists who once lived on its land. 
But "lived" may be a generous term. 
Through a flashback provided by medium Cricket (Leslie Jordan), Episode 3 reveals that the colonists are led by Tomasyn White (Kathy Bates) after her husband, John White, sailed back to England for supplies. Unhappy with Tomasyn's decision to stay put instead of moving the group inland to search for supplies themselves, a group of men revolt. The men, including Tomasyn's son, abandon her with an iron cage locked over her head in the woods. She begins to wither away ― until a mysterious entity shows up.
Witch Gaga offers Tomasyn a delicious snack of still-beating pig heart ― in exchange for her soul, because pig hearts don't cost nothing ― and Tomasyn, channeling her inner Khaleesi, takes it.
Tomasyn then earns her nickname, "The Butcher," as she sends her "regards" to the group of colonists who betrayed her, sparing only her son.
In her last act of the flashback, she moves the remaining colonists inland, to the very land legally belonging to Matt and Shelby. In the spirit world, however, that land is already claimed, and thou dost not argue with Kathy Bates and her crew of stabby ghosts.
It's not yet clear whether the remaining colonists ― including Flora's frienemy Priscilla ― accepted Witch Gaga's disgusting proposal, too, or if they're still hanging around House Miller for another reason.
Perhaps the well-informed interviewer behind this season's "confessional" segments has a clue. Maybe he can also tell us why Matt wandered into the woods to have sex with Witch Gaga and doesn't remember it.
Luckily, all of the ghosts seem to have one pretty simple Kryptonite: the word "Croatoan."
So, we say: Croatoan. Croatoan. Croatoan.
"American Horror Story: Roanoke" airs Wednesdays at 10 p.m. ET on FX.
BEFORE YOU GO
PHOTO GALLERY
7 True Crime Docs To Watch On Netflix