In the summer of 2010, I returned from a life changing trip to Spain, all fired up to begin the application process to get my MBA. After presenting this idea to my parents, they looked at me with blank stares. I had been running multi-million dollar fashion brands for seven years and they couldn't understand why I needed more business training. For me, it was all about ditching the corporate world. My dad's famous words were, "You don't need an MBA. You just need a great idea."
From his push came my idea for The Fashion Truck, a women's mobile boutique. In 2011, I bought a step van truck, commonly used for package delivery, and converted the interior space into a gorgeous, fully functioning retail store— it even had two dressing rooms. Inspired by the food truck movement, I saw this concept as the natural next step for the retail industry and went all in. 
Over five years running The Fashion Truck, I had great public and personal success. The business was named a Best New Idea by The Boston Globe, was featured in InStyle and I was named on the Most Stylish Bostonian list. 
With over 60,000 miles under my (stylish) belt, I learned some major lessons running an innovative business and my view of entrepreneurship is fairly unique. Here are some of my top tips for new and seasoned entrepreneurs alike: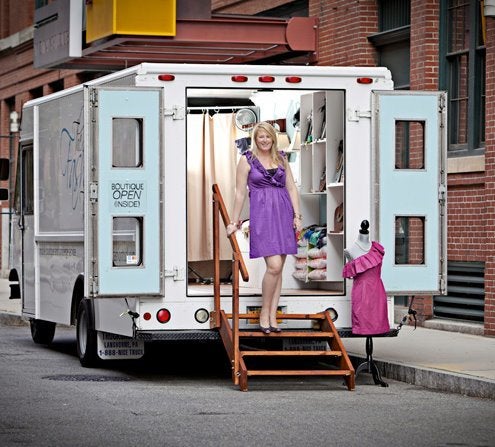 If you can dream it, you can do it.
When I created The Fashion Truck, I was one of only three trucks in the entire U.S. that looked and operated like I did. Early obstacles included constant "no's" with getting insurance and even having wholesalers take me seriously when buying inventory. For every two people who said: "Wow, super cool!"; there were five who said: "How is that ever going to work?" I always viewed those people as slow adopters and pushed forward with my dream. 
Even years later, after winning awards and being featured in national press outlets, people would still ask, "So how's this working out for you?" Not every person understands entrepreneurship and that's ok. If you believe in what you are doing, find other people who you can relate to and that motivate and encourage you to keep going!
Make friends everywhere you go.
An obvious challenge when going mobile is that brick and mortar store owners see you as competition. Many of these business owners will  assume you will hurt their business (this happens in the food truck world too). In fact, I've found that partnering with brick and mortar businesses has been a wildly positive experience. At a fashion event, I met a forward thinking women's consignment shop owner. She loved the idea of the mobile boutique and she invited me to park outside her shop in a trendy South Boston neighborhood for a girl's night party. We both saw it as a way to help each other grow our new businesses.
And once, on a very famous boutique-lined street, a meter maid told a cop to buzz off when he questioned the parking spot I was in for a co-branding event. Technically, I may not have been "allowed" to park there, but in reality, I wasn't bothering anyone. That lovely meter maid was having a blast checking out the truck and got a big hug from me for her valiant effort to continue the party. Long story short, making friends is always more fun than being a grumpy business owner.
Be ok with breaking the rules.
When you are running a business that has never existed, old school laws don't always make sense. I've heard so many stories of new business owners calling up government offices, describing their mobile boutique and being told "We don't have laws permitting that." But there are also no laws against it. In my world, that means GO FOR IT!
As long as the intention for what you want to do with your business is good, and you take into consideration the worst that could happen and are ok with it, rule breaking could be a great situation for your business. Be ready to find loopholes, respectfully and safely when you start a business that's not typical.
Get comfortable being a spectacle.
Late in my first year in business, a family member called me and my business a "spectacle". I was immediately offended. What was I? A freak show character?

After a while, I realized that because I was running a business that truly was one of a kind, there was no way I couldn't be a spectacle! There I was, a six foot tall blonde woman who drove a 30 foot truck. And I sold clothes out of the back of said truck. Pumping gas in a dress and heels was quite a scene. Eventually, I embraced the spectacle-ness. When you're born to stand out, loving it is the easiest way to deal with it.
If you crash your business into a telephone pole, you can still succeed.
Yes, I crashed my truck into a telephone pole, completely totaling it. It was the beginning of the holiday season, I was fully booked with private parties and I had no truck and luckily, no one was hurt. In a situation where others may have crumbled, I started to scramble. I figured out how to continue to fulfill my schedule, while completely rebuilding. I rented a Penske truck for big events and set up the inside to look like my truck. I did parties inside people's houses and garages, or set up a tent of merchandise where I could.

In a matter of 30 days, I had bought a new truck and my father helped re-build, improving on the design of the first truck. Truck number two was actually way better! We improved the flooring material, added sliding plexiglass doors at the entrance and a fancy new exterior print design. When bad things happen in your business, figure out how to learn from them, keep revenue coming in and know that out of a negative always comes a positive.


While starting a business out of the back of a truck may have been out of the ordinary five years ago, today the mobile industry is growing. Seeing the future has it's advantages, especially if you trust your vision.
This post was published on the now-closed HuffPost Contributor platform. Contributors control their own work and posted freely to our site. If you need to flag this entry as abusive,
send us an email
.