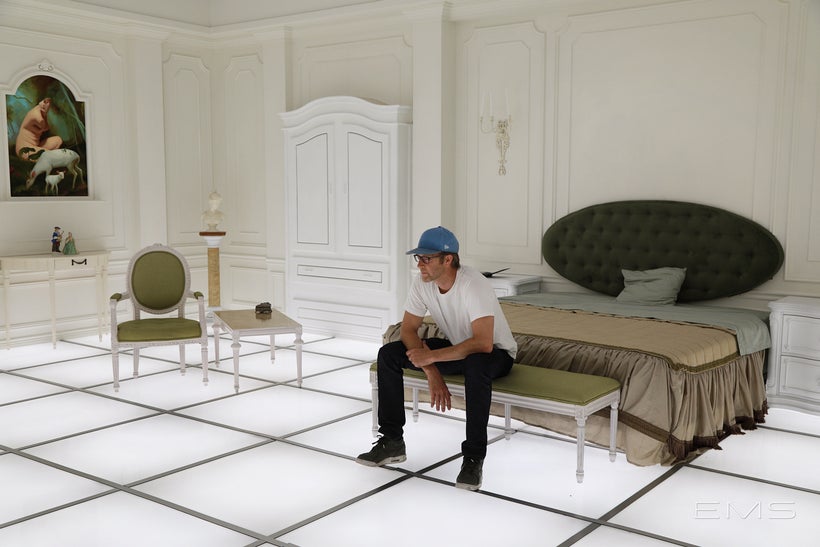 Hell if I know and maybe its better that way.
I don't feel the need to figure out every exhibition's summum bonum and if I did my head would explode. When I live in a city of a 1000 exhibitions at any given time (believe me, I'm not exagerating) I will always seek brevity. Sometimes, if not most, its best to see art and leave in quiet contemplation. Just let it be.
That being so, 14th Factory came in my scopes when I saw Instagram images of interesting sets being posted while I was surveying Desert X in Palm Springs. At the time Desert X felt like the exhibition of the hour. Little did I know there was a large museum scale (Doug Aitken meets Matthew Barney) exhibit underway by an outsider no one heard of named Simon Birch.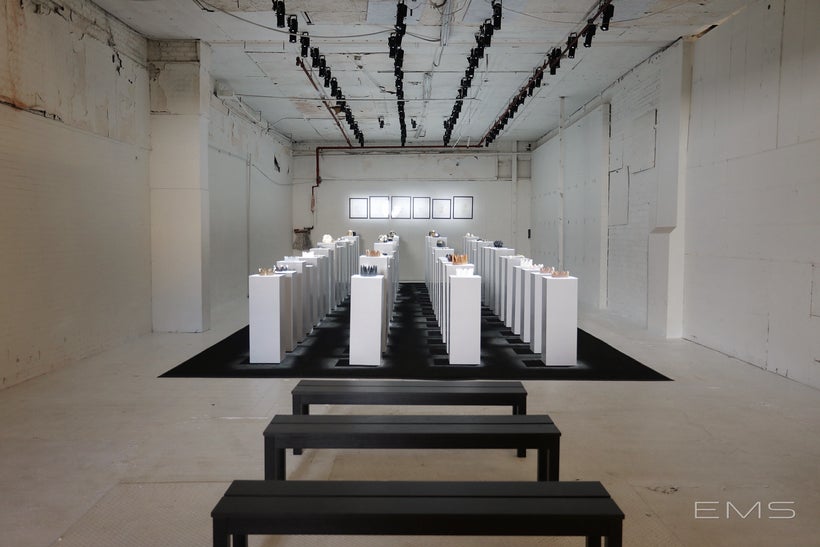 One languid Sunday afternoon I was summoned by a text to come see this behemoth. I just happen to be in the area so I stopped by. I was given a personal tour by Simon Birch and I heard a bunch of sob stories. I heard they ran out of money and this and that. Stuff I really didn't care to hear about on my Sabbath. It was the Lord's day and on the day of the Lord I'd rather be at a beach. However, I was impressed, took a bunch or pictures and left. I told my liaison that I would come back and do a film if they wanted me too.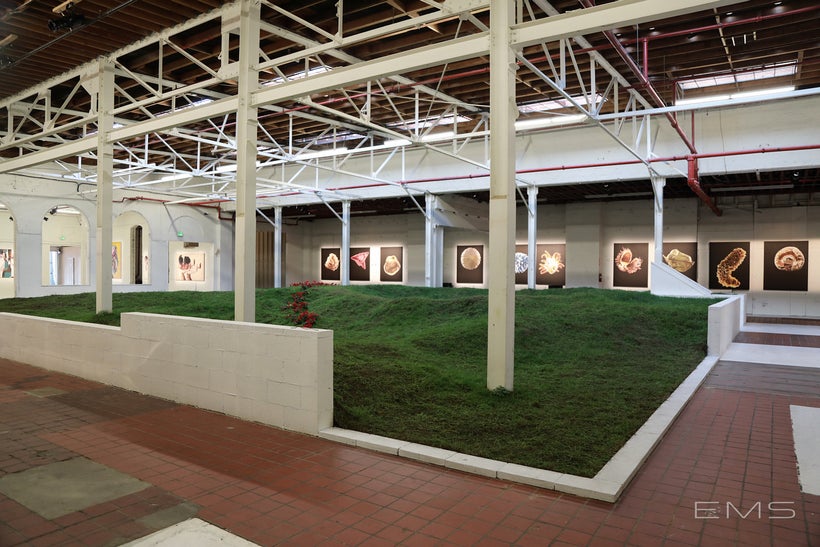 Weeks went by. The LA art scene steamed ahead. But wait…I start getting more and more texts from art world professional's telling me to come check this out. Texts like this : "Hey EMS, have you heard of 14th Factory. What is it? You should go check it out." Was a love story brewing between me and 14th Factory?
Was I Robert Redford? Was 14th Barbara Streisand? OMG! Is this "The Way We Were?"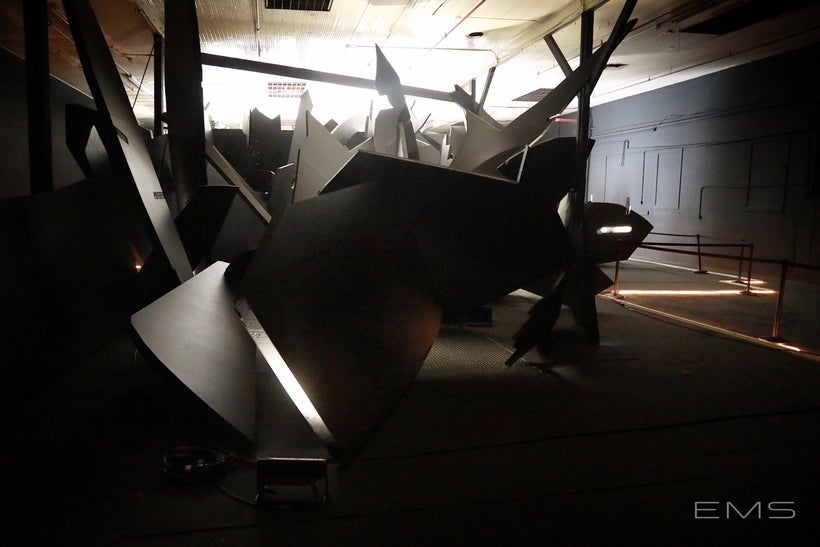 I then decided to come back one day, but this time I'm going to produce a film. Who knows what will happen to 14th Factory? Time will tell. I hope Simon Birch lives another day and becomes a monument to the city. His ideas definately warrant critical acclaim. Let's hope he has better luck than the Dodgers, and the Lakers, and the Clippers, and the Rams, oh…and the Chargers. This city loves spectacle and will never be satisfied with just one cool thing…but 10 to 20 cool things.
Birch and 14th are diamonds in a pile of diamonds here. However, if they succeed, we all succeed (and let's pray to our Lord that Birch never moves back to Hong Kong.) Check out my film here, Produced by Veronica Fernandez :
From Website: "The 14th Factory is a monumental, multiple-media art installation that will transform an empty industrial warehouse near downtown Los Angeles into a mythic universe created collaboratively through video, installation, sculpture, sound, paintings, and live performance. The 14th Factory weaves together elements of popular culture–science fiction, punk music, graphic novels, and film–with critical re-examinations of social and historical narratives, especially interconnections between East and West. Conceived by Hong Kong-based British artist Simon Birch, the vision of The 14th Factory is to create a new, independent paradigm for socially-engaged art, a kind of guerilla action where art occupies and re-energizes underutilized or even derelict urban spaces and gifts them back to the community in the form of a transformative experience.
Throughout its run, the project will feature collaborative works by a global community of interdisciplinary artists representing Greater China, Canada, the United Kingdom and the United States. Entering The 14th Factory, the visitor becomes a central player in a contemporary hero's journey, leaving the ordinary world behind and setting out on a voyage of adventure and, ultimately, of transformation. Along the way, the journeyer gathers allies, encounters obstacles and battles adversaries, until reaching the challenge and the ultimate prize: A gift that can be passed on to all."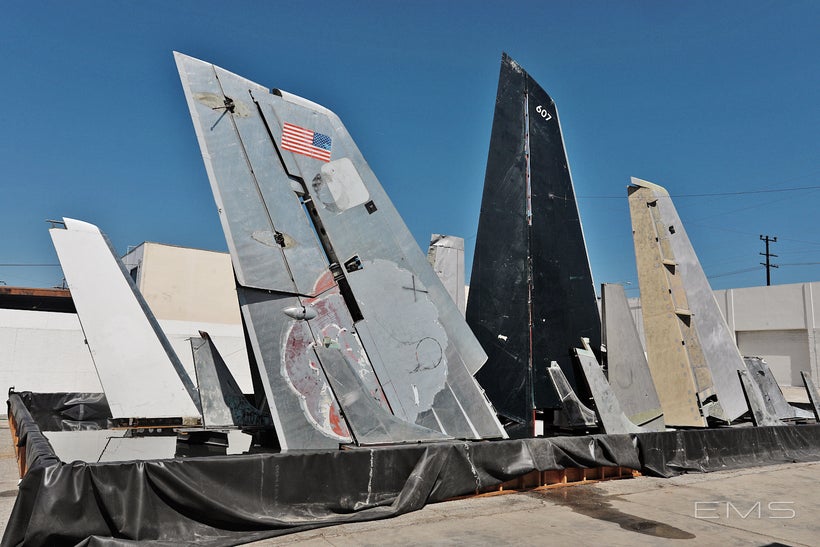 "With fourteen large-scale collaborative works, The 14th Factory alludes to its historical roots in the "Thirteen Factories" of the Canton region in eighteenth century China, during which designated trading quarters formed a culturally and heterogeneous establishment for European and Chinese traders. Birch's imagined Fourteenth Factory aims to to open up a new alternative space of collaboration, production and transformation, that moves beyond the old divisions of the world into singular histories, and new mechanisms for the molding of the future."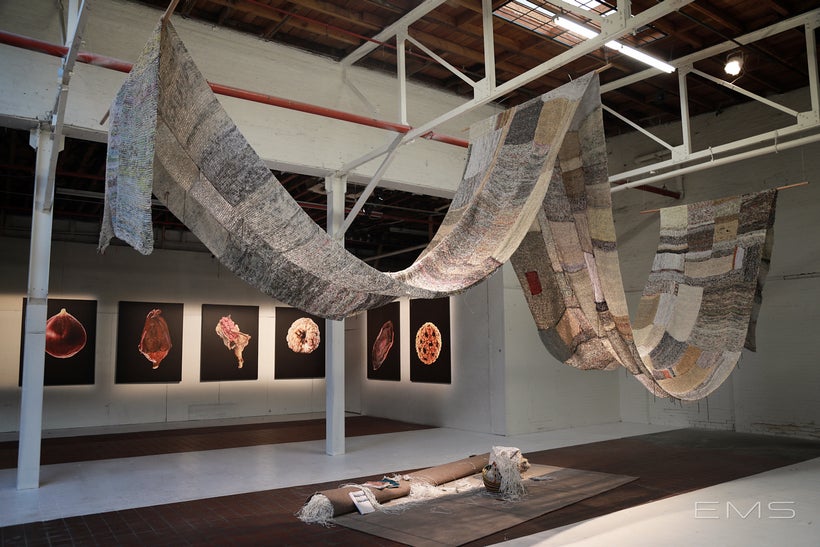 This article is part of an ongoing photojournalism survey of art exhibition openings titled EMS N(art)rative. Through my lens I document a photographic essay or visual "N(art)rative" that captures the happenings, personalities, collectors, gallerists, artists and the art itself; all elements that form the richly varied and textured fabric of the SoCal art world. This reconnaissance offers a unique view for serious art world players to obtain news and information on the current pulse of what's in the now, yet capturing timeless indelible images for posterity and legacy. Here is EMS N(art)rative Forty-Seven.
This post was published on the now-closed HuffPost Contributor platform. Contributors control their own work and posted freely to our site. If you need to flag this entry as abusive,
send us an email
.