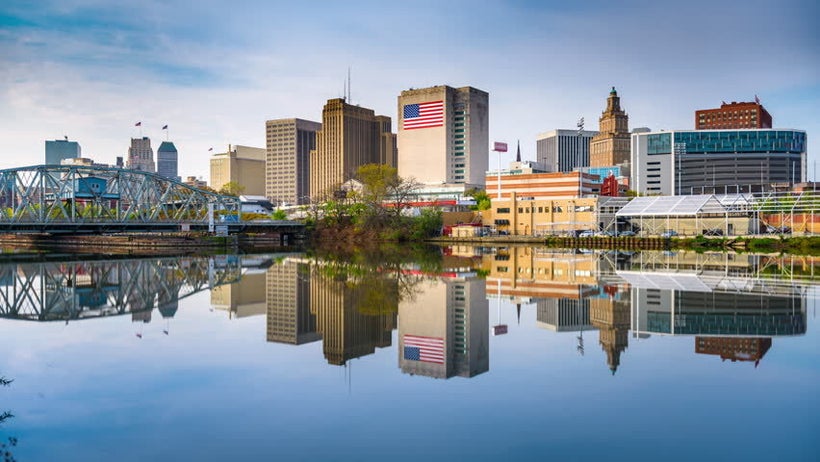 This summer marks the 50th anniversary of the Newark riots (or rebellion), giving renewed national attention to a city often hidden by New York City's shadow and New Jersey's general neglect for its urban centers. Many of the recent news stories commemorating 1967 do a good job of contextualizing how a combustible mix of political corruption, de-industrialization, institutional racism and massive white flight led to the city's current poverty rate hovering around 30% and the social issues that come with it. Another media narrative focusing on increasing re-investment into the city (particularly Downtown) has also been beneficial for a city that has at best, been the butt of jokes and at worst, seen as a giant re-enactment of "Menace II Society." While the city certainly is riding a return to the national consciousness, the emerging "Newark renaissance" narrative has real weaknesses that I'd like to discuss from a resident's perspective.
First, 1967 is important, but we should be wary of using it as an easy explanatory construct for Newark's current problems. Narratives like this tend to paint Newark with a before/after brush that lead people to think it was a utopia before it was "ruined" by unruly blacks and "saved" by corporate America. In short, easy explanations like this let corrupt local politicians, racist infrastructure policies, slumlords, and unethical firms like DuPont off the hook for decades of their behavior. Like Baltimore, Newark is a post-industrial port city. You've seen The Wire. This place is much more complicated than often presented by the media.
Second, narratives of the city's "renaissance" tend to ignore the work of local people. When I first visited Newark, I was struck by the rich arts culture that already existed in and around downtown. Besides the criminally underrated Newark Museum, downtown hosts Gallery Afero, City Without Walls, Index Arts Center, Aljira, Gateway Project and Paul Robeson Galleries, among others. This is quite the critical mass for a mid-size city in the New York metropolitan area, where many artists struggling to find affordable studio and gallery spaces are leaving the area entirely. Newark's arts community built and maintained something truly special for years (sometimes decades) and real estate articles often fail to acknowledge this.
Another emerging trope is articles contrasting brand new development with stories of desperate poverty. It's certainly good for us to be mindful of inequality and to be sure we don't encourage development that negates the city's core strengths. In my view, Mayor Ras Baraka's advocacy of inclusionary zoning that promotes income diversity and local hiring initiatives are keys to ensuring local people share in the benefits of re-investment. But the lazy, cliche label of Newark as a "new Brooklyn" also creates an anti-development anxiety among residents that have come to expect being misled and excluded.
The "Brooklyn" label is nonsensical for some really basic reasons. For decades, Brooklyn has been one of the most populated places in the United States. In contrast, Newark is only recently rebounding from decades of massive population losses. Anecdotally, you could say Newark is missing about 100,000 people and you can see it in the abandoned homes and vacant lots sprinkled across many of its neighborhoods. It will take some time before significant numbers of people have to leave the city entirely due to rising rents (sidebar: If you can buy an old house in a decent neighborhood near downtown and rehab it, you need to do it now). With this in mind, Newark shouldn't be compared to Brooklyn — it actually has more in common with cities like Buffalo, St. Louis, Cleveland and Detroit.
The Newark gentrification narrative is also problematic because it tends to ignore the city's existing middle-class. Ignoring the Portuguese entrepreneurs of the Ironbound, the hispanic business owners in the North Ward and the black professional and political class of the South and West Wards allows for corporate America to position itself as a savior, when the reality is a bit more complicated. This city has been severely undeserved by decades of urban neglect. For example, major national chains like Applebee's and Home Depot have only had a presence in the city since about 2007. Remember, we aren't talking about a small town, Newark is the largest city in New Jersey with a population around 300,000. We will be getting our first Burlington Coat Factory in 2019, but why don't we have a Target? At times, the level of disinvestment in this city is baffling. In the last two years, Newark got its first Nike outlet store, which means it just occurred to them that a majority black city might be interested in discounted name-brand sneakers.
With this is mind, it's no secret why Whole Foods was celebrated by many middle and working class Newarkers (select items for the latter), not as simply a harbinger of looming white displacement, but rather a local outpost of a place they were already shopping. Yes, we know Newark's white corporate workers and new residents enjoy organic groceries, but most Americans link our ideas of belonging and citizenship with access to consumerism, and having an urban Whole Foods is seen as a place where pre-predominately minority shoppers can say "Look, we can have nice things too." The "urban despair" construct peddled by the national media is particularly harmful because it renders middle class blacks and latinos that choose to live in inner cities invisible and justifies urban neglect until, quite frankly, white people move in.
I've made 5 great decisions in my life and settling in Newark is among them. I love the resilience of this city's people who have made the best of a really tough situation, its underappreciated diversity of cultures and the palpable feeling of creative energy at an ever expanding tally of social events. You can feel it dancing to urban house music on the recently built Newark Riverfront Park at Soul Tribe Sessions, hanging on Halsey Street for Newark First Fridays or taking a tour with Have You Met Newark? A normal night in Newark could include soul food, tapas, reggaeton, rodizio or a nice port wine. It's a really positive, welcoming atmosphere where lifelong Newarkers and relatively recent arrivals like myself are doing great things to improve our home.
Of course, there are things that need to improve. Newark has a strong current of internal segregation/suspicion that keeps people from enjoying the full range of things the city offers. Much of this is due to Newark's very real history of crime, which made people stay in familiar places as a form of protection. Certainly due in part to federally monitored police reform, crime levels are at historic lows and so far this year, homicides are on pace for a drastic reduction. But yeah, crime is still an issue. As a general rule, I find that as long as you aren't a gang member, drug dealer, late model Honda Accord or someone being somewhere you shouldn't be a night, you'll be fine. Also, Newark's aging infrastructure is badly in need of a face-lift, city services could be more responsive and there needs to be a massive, sustained crackdown on absentee slumlords and banks that allow foreclosed properties to deteriorate.
I'm thankful to the city of Newark for providing me with a supportive place where my American dream has come true and I look forward to raising children in the Lower Broadway section, next door to Cuban exiles that fled Fidel Castro. The North Ward used to be little Italy, now it's big Puerto Rico, so I anticipate my kids will speak excellent Spanish.
This post was published on the now-closed HuffPost Contributor platform. Contributors control their own work and posted freely to our site. If you need to flag this entry as abusive,
send us an email
.