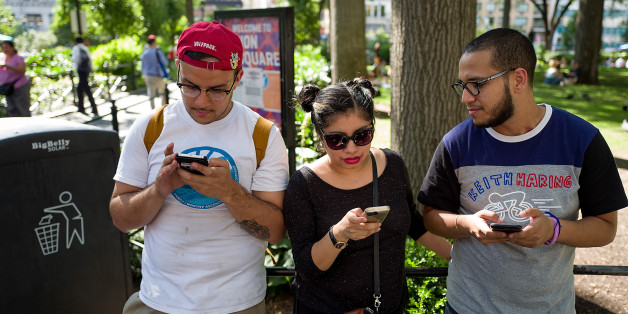 Are a bunch of strangers suddenly wandering around your church parking lot and staring at their phones? Congratulations! Your church is probably one of the many PokéStops or Gyms in the new Pokémon GO app. Here are three major ways your church can join in on the excitement and interact with these new visitors.
Welcome Players
Put that church sign to use and let people know they can stop by.
HT: reddit pic.twitter.com/6qHyxVhuNV

— Chris Martin (@ChrisMartin17) July 11, 2016
Let people on social media know that gamers are welcome.
Monte Vista Christian Church #Albuquerque welcomes #PokemonGO trainers to our grounds. Come by and collect. pic.twitter.com/Z4S0t9ic5U

— Brenda G Warren (@BrendaGWarren) July 12, 2016
Oh look what we found! Come & get yours #pokemongo pic.twitter.com/Ks5BJuf1rG

— Crossway Church (@Crossway_Church) July 12, 2016
Pokémon GO is a major battery drainer. Offer a place for people to charge their phones!
Columbia Street Baptist Church is a charging station for those playing Pokémon Go @WLBZ2 @WCSH6 pic.twitter.com/4Dlj2OMXbR

— Jackson Grimm (@JackCameraman) July 11, 2016
This app encourages a lot of walking. During these summer months, players will really appreciate you setting out some water for them!
The church in our neighborhood is a pokestop and put out water for weary Pokemon hunters. #PokemonGO pic.twitter.com/Gx4Qr2gTCW

— Adrienne Kvello (@adriennekvello) July 12, 2016
Create Conversations
Learn the game! Your church steps and parking lots will be filled with kids and adults who will probably be excited to talk about their new hobby. Ask questions, get tips, and start playing yourself.
How to get kids to go to church: Place a #PokemonGo gym there pic.twitter.com/vtnyvSrRxS

— Jenny (@jennyfersure) July 12, 2016
If your church is a gym, try to figure out who is your gym leader. They'll probably be stopping by often to maintain their title.
Shoutout and praises to the #PokemonGO Gym trainer at Trinity United Methodist Church in #ArlingtonTX for starting w/ a 100level Pokemon 🙏🏼

— (Misha) (Andrea) (@SilverBlades1) July 12, 2016
Meet people and create community. This app is causing relationships to be developed. Go out there and build new connections!
Was playing #PokemonGO and headed to a nearby church to get Pokeballs and ran into a friend I haven't seen since high school.

— Tsunderemon (@KimJongTsun) July 12, 2016
Spread Information
With your newfound popularity, now is a great time to let people know about your church and what you offer. Make signs or share cards!
UK Methodist church says "Jesus cares about #PokemonGO gamers" after featuring as #PokeGym / #Pokestop #Birmingham pic.twitter.com/O30O3io43N

— Richard Vernalls (@rvernallsPA) July 12, 2016
Trainers are welcome at our church! Jesus loves you no matter what team you chose or color you are #PokemonGO pic.twitter.com/5bf3OjyAGm

— Austin (@AustinAngerman) July 12, 2016
Have fun welcoming in this new Pokémon Go community to your church family!
This post originally appeared on CokesburyCommons.com. Follow Cokesbury Commons on Facebook and Twitter.