Death Comes For The War Poets, a verse-tapestry by acclaimed writer Joseph Pearce, presents commentary on the nature of war through the lens of legendary English poets, Siegfried Sassoon and Wilfred Owen.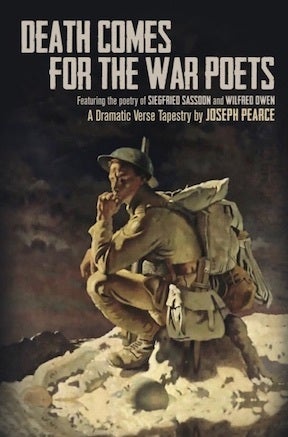 It's unfortunate that the works of two of the greatest writers of the last couple hundred years are largely unknown to Americans. While high schools will take students through the basics of William Shakespeare, F. Scott Fitzgerald and Harper Lee, there is a regrettable gap in the absence of the works of Wilfred Owen and Siegfried Sassoon, the founding fathers of war poetry. In England, students are given rudimentary introductions to their work however, and scholarship on both poets continues to inspire reflection on the true horrors of war.
English-born writer Joseph Pearce, author of an extensive collection of literary criticism and biographies, has stepped out of his wheelhouse to pen Death Comes For The War Poets, a work that is part verse-poem, part essaying commentary and part theatrical text that will have its world premiere this year at The Sheen Center in New York. The production will be presented by Blackfriars Repertory Theatre in association with The Storm Theatre Company and is set to open June 9.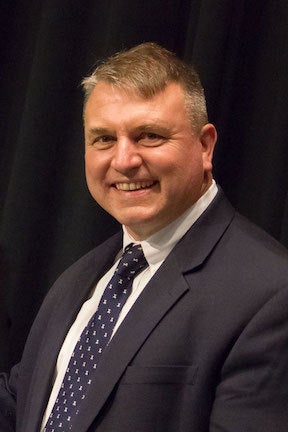 War Poets, according to press notes, "grapples with the horror of trench warfare as experienced by two of the greatest poets of the First World War, Siegfried Sassoon and Wilfred Owen. Featuring the poetry of Sassoon and Owen, the drama asks: How does one cope with the horror of war? Is there room for hope? And what of the Spirit of Death? Can Death itself be changed?"
"I've had a great love for the poetry of Wilfred Owen since high school," Pearce explains on a call to New York. "We were taught his poetry in school in England."
Since his school days, Pearce has long had a deep fascination with Owen's work. It was by way of that scholarship that he came to know and love Sassoon's poetry as well. While Sassoon's career was the more prolific, Owen's ultimately was the more effective. Penning War Poets, which Pearce claims was a speedy effort, has been a timely affair. The production and subsequent publication of the piece will happen against the backdrop of the centenary of United States' entry into World War I.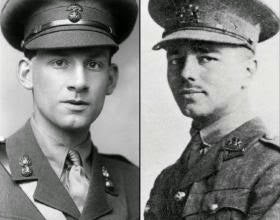 A pervasive, jingoistic perspective on war and the duty to enlist was taken as a matter of course in the midst of both World Wars. It was a time of extreme patriotism, the masses righteously and dogmatically supporting governmental decisions to go to war. This was pre-Vietnam; protests, rallies and marches weren't on the menu. Citizens devotedly followed orders, no questions asked.
As young men, Wilfred Owen and Siegfried Sasson were both motivated by that sense of obligation to head to the front. It was only upon experiencing the gruesome horrors of battle, that either of them became cognizant that violence might not have been the answer.
"The glorification of war is problematic," Pearce says. "It's naive and doesn't harmonize with the reality of war itself."
For Sassoon, who had proved himself to be a skilled and valuable member of the English army (he was decorated for bravery), the viciousness of battle motivated a daring and unprecedented move: a proclamation to Parliament that the war was wrong:
"I have seen and endured the sufferings of the troops, and I can no longer be a party to prolong these sufferings for ends which I believe to be evil and unjust." - S. Sassoon, July 1917
This protestation led to 31-year-old Sassoon's banishment to Craiglockhart, a military psychiatric hospital. It was there that he met a young, shell-shocked solider named Wilfred Owen. Because Sassoon had amassed fame among English intelligentsia with early publications of his poetry, Owen, who was an aspiring poet himself, looked to the older man as a kind of mentor. The two formed a lasting bond, one that effected Sassoon long after Owen was tragically killed on the front line, a week before the armistice.
The loving profundity of their relationship bore great influence on the work of both writers. Owen's most celebrated poems, which would later be posthumously curated into publication by Sassoon, have become some of the greatest war poetry in Western Civilization, including the wildly celebrated, Dulce et Decorum Est.
Sassoon, who managed to survive the war, later wrote, "W's death was an unhealed wound and the ache of it has been with me ever since. I wanted him back, not his poems."
War Poets is hardly a tell-all account of two homosexual soldiers in WWI, but Pearce acknowledges that the kinship the two men felt toward one another fueled a movement toward some of the earliest war criticism in the west. Social commentary is a major function of art, after all, one that continues to present day.
"It's about the nature of mortality, the nature of life and death," Pearce says of his own work. "War on a foundational level and our response to it."
A providential lecture in Indiana resulted in Pearce's script ending up in the hands of Father Peter John Cameron at The Blackfriars Repertory Theater. Moved by the piece, Father Peter decided to produce the project and called upon Storm Theatre Company's artistic director, Peter Dobbins to helm the production.
"I'd like audiences to have a recollection of their own journey from innocence to experience," Dobbins says of the production.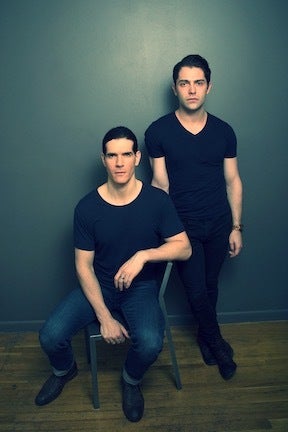 Incorporating the poetry of both Sassoon and Owen, as well as visual projections, song and dance, the production of Death Comes For The War Poets is set to open at The Sheen Center on June 9th. For more information click here.
This post was published on the now-closed HuffPost Contributor platform. Contributors control their own work and posted freely to our site. If you need to flag this entry as abusive,
send us an email
.