Like so many conversations with guests on my What's Next! Podcast, we talk about disruption and innovation, but this conversation was a bit different. My most recent guest, Jim Harris posits that innovation isn't (only) about about the product, its also about the business model.
Innovation can be a function of any company or any industry but it's the disruptors that are innovating on so many fronts which is having such ineradicable impact. They are the ones bucking the old way of doing things for a more modern innovation mindset. If you were to stop somebody on the street and say, "what is innovation what's innovative?" They may say the iPhone is innovative. Seventy five percent of the answers you will get will be about a product. Jim says, "Products only develop or deliver 10 percent of the value in an innovation ecosystem. Ninety percent of the value is by innovating around business model, customer experience and process."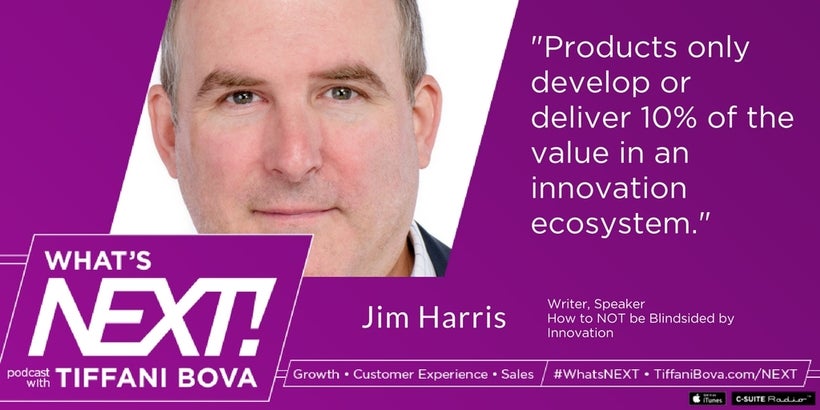 A great example of this is Dollar Shave Club. For decades, the shaving category was entirely focused on product innovation, launching new and improved 'blades' at an ever increasing premium price. However, we can't forget some early product marketing and business model innovation done by Gillette —to essentially give away the handheld razor in order to sell more high margin razor blades. When Dollar Shave Club was launched in 2011, it knew that competing head-on with Gillette or Schick (razors) in product innovation or for shelve space of retailers wasn't a smart move. So instead, Dollar Shave Club decided to compete in contrast to the very business model that had historically been Gillette's strength.
They didn't create a revolutionary new razor (product innovation) or try to compete on price. Instead, they disrupted an entire industry with its business model innovation. Yes, they used a funny video (that has since been seen more than 25 million times) on social media to spread the word about great their product is. The anti-marketing-marketing approach of Dollar Shave Club focused on humor, simplicity, and value, instead of the traditional slow-motion shave and hand-on-face messaging of Gillette. And if you were really paying attention during the entire 1:33 second You Tube video, you would have noticed they started with "for a $1 per month we send high quality razors right to your door" which got culminated with Dollar Shave Club's $1 billion sale to Unilever.
All that sounds great - a one in a billion (literally) opportunity and you might be right. But there are ways which can you make a difference within your own company when you see an opportunity to create a new business model but face existing systems, structures, and C-Suite power?
First, embrace your idea or concept. Think through how the normal way of doing business is getting in the way of doing business as normal.
Second, create an innovation lab that (1) can't be thwarted by high-level execs and (2) is left alone to innovate not only products, but business models as well.  
The next time you're ready to tackle disruption, don't make the mistake of just focusing on innovating around your product. Think about tipping the business model to drive an even greater change.
This post was published on the now-closed HuffPost Contributor platform. Contributors control their own work and posted freely to our site. If you need to flag this entry as abusive,
send us an email
.