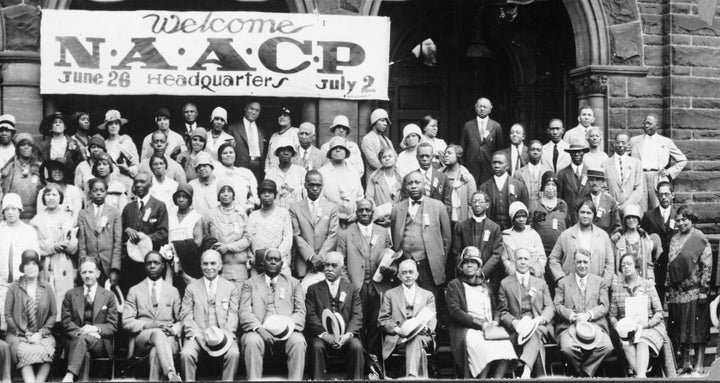 For history's sake, we must discuss why the storied NAACP recently decided to transition into new leadership. From working as a volunteer in the Association on the state level as a student, reactivating a chapter, organizing a branch, to ultimately becoming a member of the national staff, I've had an experience only few can claim. Surely, there are deeply ingrained issues that must be addressed but choosing the right leader is key to success.
This is why telling the story right is important.
We must understand how we messed up and make corrections. We (staff members) knew leadership was in crisis when many had to plead why saying "All Lives Matter" was problematic and why those affiliated with #BlackLivesMatter were gaining more traction when branches couldn't barely get energized for the organization's own marches.
We knew NAACP leadership was in crisis when #BlackLivesMatter was gaining more traction.
Why a Change in Direction?
I believe we need to discuss what occurred during the past three years at the Association and why the Board took action:
The Financial Freedom Center that hosted financial education programs in Washington, DC closed. The skeletal staff was moved into the Washington Bureau.

The economic department lost it's top staffers. They were not replaced.

The criminal justice department was left with one full time staffer during the heat of the anti police brutality movement, during the Michael Brown and Freddie Gray tragedies.

During the major charter school and school admission debates across the country and in the US Supreme Court, the education department has primarily held one interim head position. The position is still posted today.

Youth and college leaders protested on the floor of the national convention in 2016, asking for more support from leadership.

The Manhattan office that was used for development and fundraising in New York was closed.

The communication team was moved to Baltimore from downtown Washington, DC in 2015, a horrible strategic move when recruiting well connected public relations professionals and responding to trending political news events. The VP, communications & digital media job has not been filled since July 2016 and the department has been a revolving door, unlike the previous team that was almost consistently eight to ten strong for years.

The voting rights department had no dedicated director or team during the recent important election year that returned the presidency of illiterate dictator, Donald J. Trump. There was also no widespread campaign like This Is My Vote that registered over 400,000 and mobilized over 1.2 million to vote under former NAACP president Ben Jealous. Eventhough the youth and college division can be credited for having Chance the Rapper as a spokesman during the 2016 election using the meager resources available, the NAACP, nationally, did not turn out the black vote.

All youth and college department full time staff quit (National Director and both national youth organizers) by 2015. Youth organizers were never rehired.

The annual budget went from a high of over $40 million in 2012 to mid-high $20 million range in 2016. The budget was around $15 million in 1994, $33 million in today's dollars.

Two, low participated marches were conducted, one from the neighborhood of Michael Brown to Jefferson City, MO and another to Washington, DC from Selma, AL. There was mostly Jewish community support for both but no successful collaboration with HBCUs, black churches or major turnout from branches (except in North Carolina).

NAACPCONNECT, the youth and college digital networks shut down.

The NAACP lost nearly 30% of its national staff from 2014 to 2017. Similar to 1994, the staff now hovers around 100 full time employees.

The digital media department shut down, which is why mention of a successful social media strategy is unfounded. You can review the profiles and pinpoint when the department lost staff in Nov. 2015 and when the strategy went from daily programming across all 13 channels to just re-tweeting everything the president/CEO randomly tweeted to the @NAACP Twitter account.

Diverse leaders within the organization were silenced from major media appearances, lessening the organization's message penetration in both traditional and digital media. A few unprepared youth voices were allowed to deflect conversation of the organization being old and irrelevant.
Protesting grabs media attention, but after you march through the woods and take a protest selfie, what's next?
Character of New Leadership
There were victories the past few years that volunteers on the ground took on, but follow through lacked on the major civil rights issues because leadership lacked a plan. Yes, protesting and sitting in grabs media attention, but after you march through the woods and take a smiling protest selfie, what's next? How can you activate the 2,000 chapters and branches to sit in locally?
The next leader will need to be a major fundraiser and hire an executive team that can build a team of field organizers that have progressive organization connections, coalition building experience and the ability to initiate an intense, visible ground game. The organization's 2,000 volunteer run chapters and branches are run by those that love what they do and continue fighting for decades after the cameras are gone and after activism is no longer trendy. The current field team works beyond 8 hours, driving from city to city to train and support branches with limited resources. They need support, a plan of action and road map to address the issues they deal with locally.
The organization must address leadership at the top while also restructuring the board to have the ability to make more immediate decisions and direct actions that do not require full or executive board approval. News about police brutality spreads within minutes now. A leader that understands how to effectively communicate a local plan of action to a national audience within hours is needed.
Membership is the lifeblood of the NAACP. Away from the cameras and social media posts, volunteers are at city halls, school boards, meeting with police chiefs and business owners to advocate for civil rights everyday. The way I made a change was by becoming a member, then taking on leadership positions. The organization is not irrelevant but we've got major work to do. Take time to join today and make a difference.
Brian McCoy is an online personality, digital media strategist and civil rights activist based in Washington, DC. Visit his blog bmccoy.com and follow him across social media, @RightsChamp.