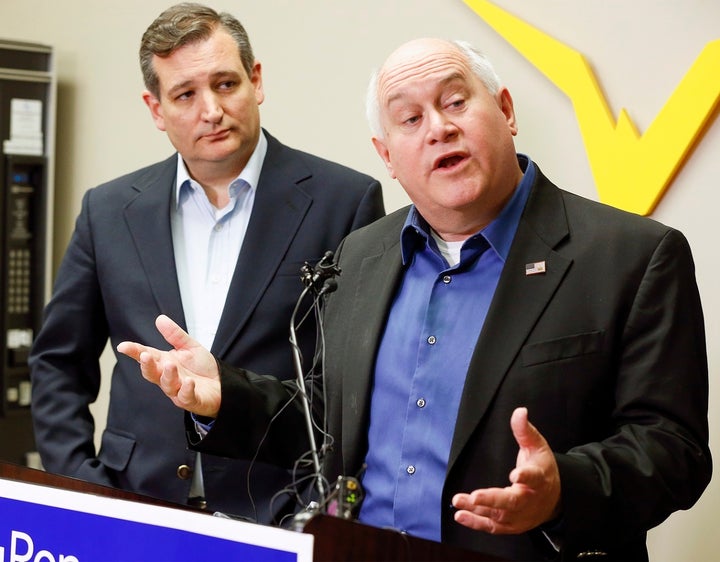 Last week, Kansas' 4th Congressional District nearly produced the first shocking election result of the Trump era. The underfunded and unheralded campaign of Democrat James Thompson came within 8,195 votes of defeating Republican Ron Estes in a district that Trump won by 27 percentage points. The recriminations began almost immediately on both sides, with Democrats — including Bernie Sanders and Thompson himself — asking why the party did so little to help their candidate. Was it a conscious choice to avoid "nationalizing" the election and try to catch Republicans sleeping, or just poor foresight and allocation of resources?
The first congressional election of 2017 might have been expected to attract outside spending from party committees, which have had several months to replenish their coffers. But only $182,000 was spent by all outside groups, $130,000 of which was by the National Republican Congressional Committee, and all in the last two weeks before the election. For comparison, that's about as much as was spent in 2016 on the election in California's deep-red 1st Congressional District or on Arkansas' never-competitive Senate race.
How common is it for a race with little or no outside spending to end up being close? In 2016, only six races that ended up being single-digit victories attracted less outside spending (including by party committees) than KS-04. Five involved incumbent Democrats:
Not coincidentally, these races were all in states where Hillary Clinton's numbers were worse than Barack Obama's, and every district except NH-02 moved at least 17 percentage points to the right between the 2012 and 2016 presidential elections. All of these were rated by the Cook Political Report as "Safe Democratic" seats in Cook's last pre-election forecast.
The only Republican to get such a fright was Ileana Ros-Lehtinen of Florida's 27th District. This Hispanic-majority Miami-area district became more Democratic during Florida's court-ordered redistricting in 2015, but was still rated "Likely Republican" by Cook before Election Day and saw only $66,663 in outside spending. Unlike the above races, though, this one had a challenger (Democrat Scott Furhman) who could self-fund, meaning Ros-Lehtinen had a spending advantage of "only" 4-to-1. She managed to win by 9.8 percentage points in a district Hillary Clinton carried by 19.7, the bluest now held by a Republican.
For perspective, there were 31 single-digit House races in 2016, so 19.4% saw less outside spending than that recent Kansas special. 2016 was a fairly even election — Republicans received 49.1 percent of the popular vote for the House, Democrats 48 percent —  so both groups on both sides could direct their resources to a handful of races. The GOP wave of 2014 produced more unexpectedly close races that materialized too late for outside groups to invest: 10 of the 43 single-digit House races that year received less than $182,000 in outside spending. In the more predictable 2012 campaign, only 5 of 62 such races did.
The bigger question that our data can't answer is whether all the money being thrown at the handful of "key races" is well spent. Campaign spending likely has diminishing returns after a certain point, but it's difficult to say whether the threshold is $1 million or $10 million. Last cycle's top race in terms of outside spending was Nevada's 3rd District, which drew $16.7 million in outlays by groups; it was decided by less than 3,000 votes. On the other hand, many multimillion- dollar races ended up being utterly uncompetitive. The Democratic Congressional Campaign Committee alone spent $15.1 million on contests that were decided by double digits.
The question of which races to target also has an ideological dimension, as activists in both parties often suggest that the parties would rather overspend on "establishment" candidates than take a chance on more progressive Democrats or conservative Republicans. Democrats, in particular, will need some long-shot victories if they hope to retake the House in 2018; watch whether they spend accordingly when the money starts to flow next year.