The Crosstown Classic is a time-honored tradition. No matter how well each team is doing in their respective league, when they face-off, all bets are off. Whoever beats the other team gets to trash talk for the rest of the season (barring a World Series win. But even then...).
I grew up a Cubs fan but a stint in the White Sox front office, in 2010, has me rooting for both teams. If forced to pick a team for life, the convenience of living down the street from Wrigley, would fall short of the Cell's bigger, newer facility with their significantly better food options (the elotes alone are worth spending all of your money on).
That said, I still love both teams and how the series brings the city together (while simultaneously dividing them between North and Southside supporters). 
Regardless, here are some of the best moments so far:
The Hero of The Game
Jim Zwit is an American Hero and there are few people more deserving of his standing ovation during July 26's game. He's a family friend but you don't have to take my word for it. Read Mary Schmich's profile piece on him (which was part of the body of work she received a Pulitzer for). I'm waiting for the movie on his life.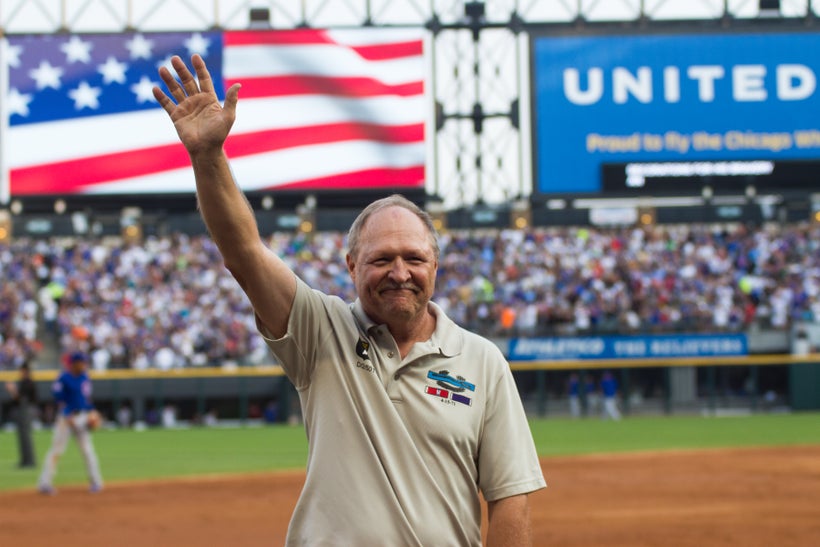 Capitalizing on The Rivalry for a Good Cause
ABC's Windy City Live took advantage of the fact that people hate the other team so much that they're willing to pay for more than a baseball ticket to see their enemy pummeled. Prior to July 27's start, they headed out to the suburbs with two cars. They marked one as 'Northside' and the other as 'Southside'. They then accepted payment from passersby, in exchange for letting them take a sledgehammer to the opposing team's car. All proceeds raised went to Kars4Kidz. 
Sibling Rivalry Starts Young
It's fun seeing families root for different teams. Especially when there's a clear dissent among the majority. 
Food Promos Across the City
Green Street Local is offering burger and drink specials to keep the Cubs/Sox rivalry alive outside of the ballpark. 
The Rizzo for Cubs fans (a Char-broiled Italian sausage on a toasted focaccia bun with hot giardiniera, roasted red peppers and mozzarella cheese) and the Black & Bleu Burger for Sox fans (a Char-broiled ½ pound custom blend burger patty with bleu cheese crust, habanero haystack, caramelized onions on a pretzel bun).
Nothing is more baseball than a hot dog. Head to Bull & Bear for happy hour specials before the game and go to town on their Chicago Style hot dog.
Pick a Side Swag
Not necessarily a moment but rather a chance to shop and wear your team loud and proud. Chitown Clothing offers a wide range of fun tee shirts (for every Chicago team you root for). Strange Cargo in Wrigleyville is also a great alternative in you want to pop-in and pick something up today.
This post was published on the now-closed HuffPost Contributor platform. Contributors control their own work and posted freely to our site. If you need to flag this entry as abusive,
send us an email
.