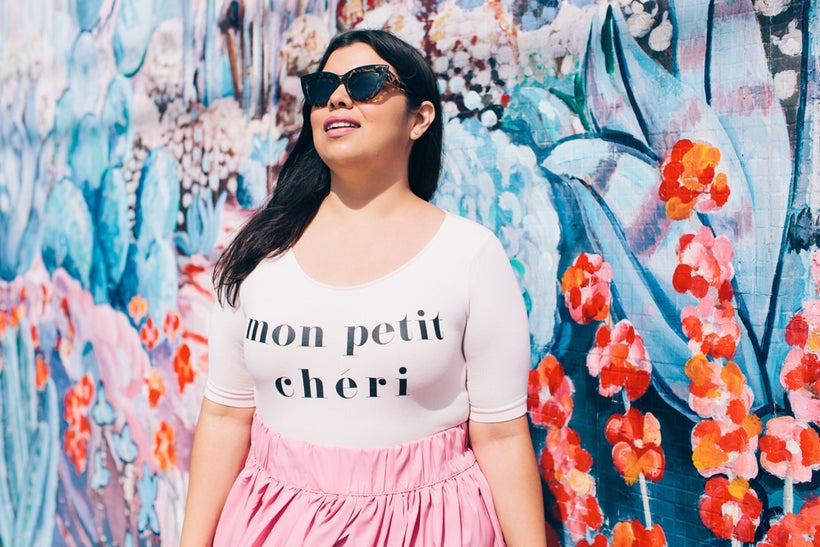 In 2009 I started a blog called Fatshionable. Those were the early days of blogging, before we thought of ourselves as content creators or brand ambassadors. The photos were poor quality—shot in my living room. But it was an exciting time; I'd never had someone, much less an entire community, with whom I could have an intimate conversation about plus-size fashion. 
Over time, some of us broadened the scope of our interests and blogs. I renamed my site Jay Miranda as a catch-all, but continued to blog about plus-size fashion.
This background matters because it bears on current issues. Plus-size fashion as an industry is different from the plus-size community. The former seeks to engage the latter as customers. They interact with each other but they shouldn't be confused as one and the same. Fashion bloggers exist somewhere in between. 
Followers of the ongoing digital conversation in the plus community would likely think that "dropping the plus" was a flash in the pan kind of topic, a puzzling one, but not anything that warranted a response. 
Ashley Graham, Sports Illustrated covergirl and model, has said on more than one occasion that she does not like the term. It wasn't the first time the sentiment had been expressed, though it was the first time that "curvysexilicious" had been offered as a replacement. Before Graham, model Stefania Ferrario made her own case to #DropThePlus. A handful of plus brands have declared that they eschew labels, with "plus" being the label in question. 
(Pehaps my most curvysexilicious look.)
When it comes to dropping the plus, virtually everyone on my Twitter timeline—my barometer for everything plus-size—rejected the idea. Not only did they feel they themselves lacked the option of dropping the plus, many felt slighted by the notion. 
Some time ago I'd imagined there was a burgeoning niche afoot, not a plus-size one, but a straight-size fashion one. Theses brands could capitalize on the idea of body positivity without having to make concessions on their size ranges.
Graham's recent campaign with H&M has been criticized by some. It's presented simply as a fashion campaign, not a plus-size one, and Graham accomplishes it beautifully. The criticism is, I think, directed mostly at H&M, where many plus-size shoppers feel isolated. Their plus-size offerings are often online-only or hanging on a few sad racks in some corner of the store. So now you're championing size diversity by tapping one of the most prolific plus-size, er, curvisexilicious models we have?? 
In a way, I get it. We should be able to approach fashion like anyone else.
Not using "plus-size" doesn't make it any easier for us to find clothes. I can't go up to the counter and ask where I might find their curvysexilicious department! And that's with me being on the lower end of plus-size. I'm supposed to have it easier (and I do.) More importantly, absent no other changes, not using "plus" doesn't alleviate bullying, improve body confidence, or address any other of the myriad issues related to body image. 
No matter where on the plus spectrum we might be, we all still need to know our size and where we can find clothes in that size. 
It's entirely fine for professionals to undergo a rebranding. But we can't pretend to advocate for a rebrand of an entire community when not everyone in the community has the option. 
Plus-size blogging has alway been about the clothes for me. But even I know that there's more to it than that. The plus community sparked the body acceptance movement, from which the current, more generalized body-positive movement is an offshoot. 

Note: There's also a counter-current to this mainstreaming, one that seeks to reframe these issues under a more nuanced, less commercial lens. For further inquiry, I suggest the work of Lesley Kinzel and Bad Fat Broads.
Despite a seeming resurgence of the topic, dropping the plus seems far from an industry-wide trend. While it's possible some brands will embrace new terms e.g. "curve," that perspective is still an outlier. 
Until the entire landscape of what it means to shop for sizes 16+ changes, we'll keep the plus. 
This post was published on the now-closed HuffPost Contributor platform. Contributors control their own work and posted freely to our site. If you need to flag this entry as abusive,
send us an email
.