A thick haze hung over the unhurried Hudson River. I dug my paddle into the frigid, tranquil deep water, propelling my paddleboard north, past deserted piers, parked barges and an occasional commuter ferry. In the midst of a cold, snowy NYC winter, the unusually warm February day drew me away from my computer for lunchtime SUP paddle.
It's easy to forget that Manhattan is an island with terrific waterways and a thriving paddling community. Over the past two decades, the Hudson River has become my paddling playground. Somewhat of a sanctuary, it offers a mini-escape from the hustle of fast paced city life.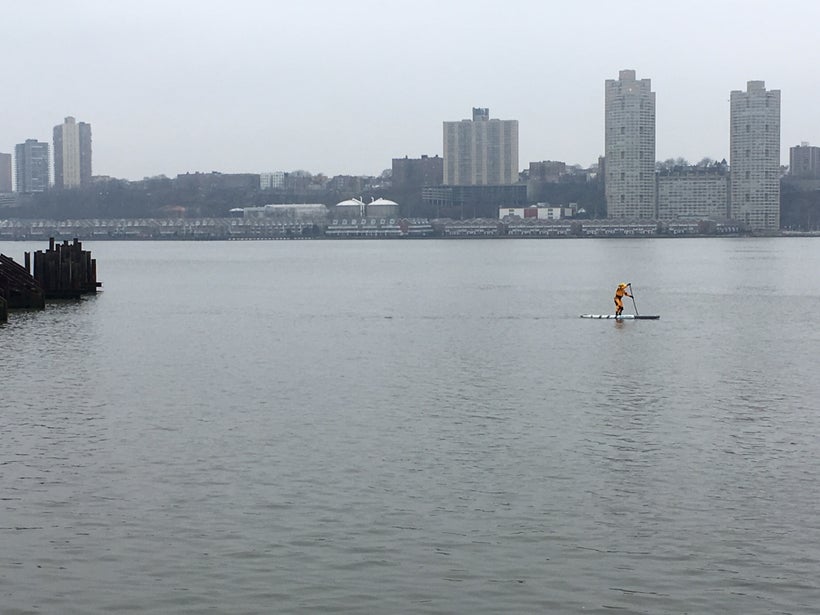 While, I've spent countless hours splashing up and down the riverbanks in my long, skinny surfski kayak, last summer I started stand up paddleboarding - often joining Manhattan Kayak & SUP on group SUP tours.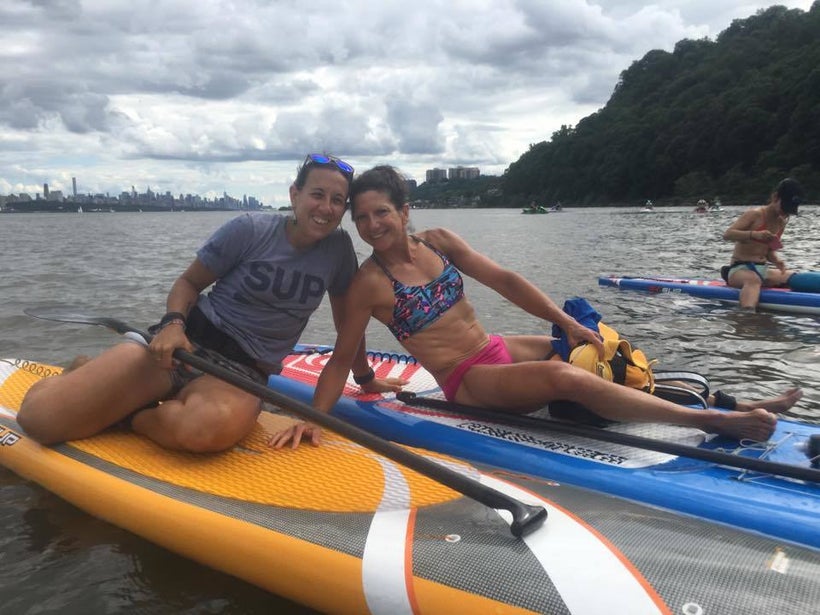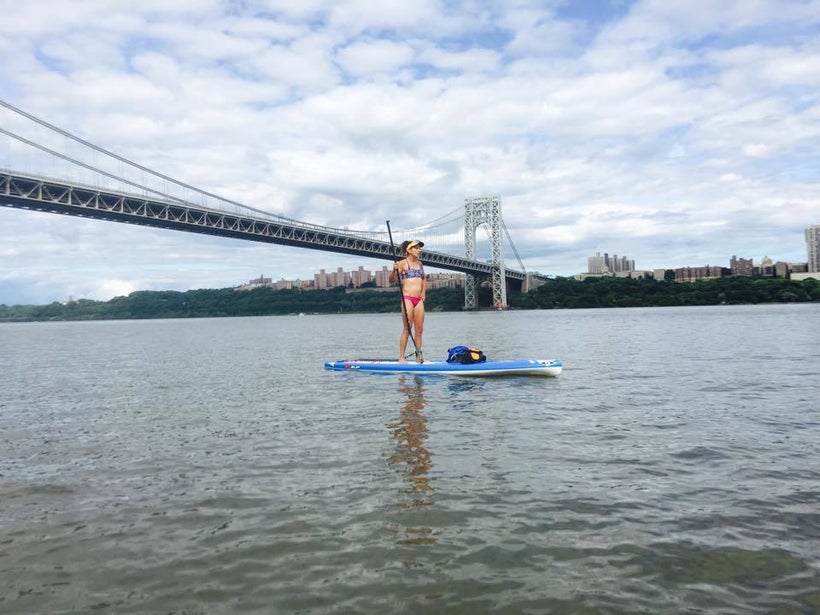 It was fun to learn a new twist on a familiar sport. Using a single blade paddle and standing allows a new perspective of surroundings. I was surprised by the leg and core strength required – and it took me a while to trust the balance. But, it's the thrill of standing on water, feeling the paddle blade catch and drive me forward that enticed me. While, I love the exhilaration of surfing, the self-service of SUP feeds my insatiable endurance appetite.
As the seasons changed from clammy to chilly, to down right cold, I wasn't ready to turn in my paddle and PFD. I was determined to paddle through the winter. Unlike my 21 feet long surfski, the SUP is easy to transport. And, since only my feet are near the water, it's ideal for winter paddling. But, I needed a board that was nimble with solid stability.
When I saw a Pau Hana Cadence RT SUP in the L.L. Bean Holiday catalogue, I knew I'd found "the board." A Hawaiian phrase literally meaning "finished work," Pa'u Hana (pow hana) also refers to leaving work early on Friday to start the weekend – or happy hour. Its how I feel every time I get on the board.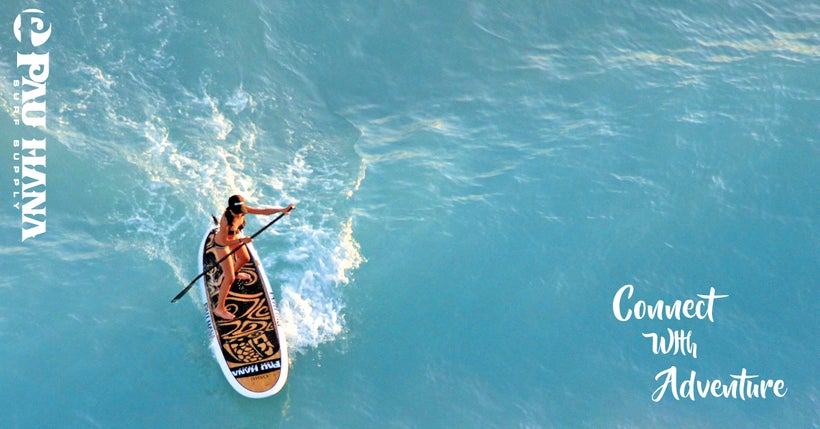 "It's about the joys of life, living in the moment and being mindful not to let those moments get lost in the daily grind," said Todd Caranto, SUP pioneer, surfer and lifelong athlete, who founded Pau Hana Surf Supply in 2006. "Back then, I was excited about this new way of surfing, which transformed what a surfboard could be and do – and its grown into a global community of enthusiasts and explorers."
Deep in history, stand up paddleboards dates back centuries, but according to SUP World magazine, the modern SUP evolved in Waikiki, HI in the 1940s - eventually finding its way to California in the early 2000s. After a modest start, since 2010 the sport has grown annually, averaging 26% increase between 2012 and 2015. It was the fastest growing outdoor sport last year, found the Outdoor Recreation Participation Topline Report 2016.
"My goal has always been to make the experience accessible and easy, so that anybody could enjoy it and connect to the water like I do," noted Caranto, 46. "All I ever wanted to do was share the stoke."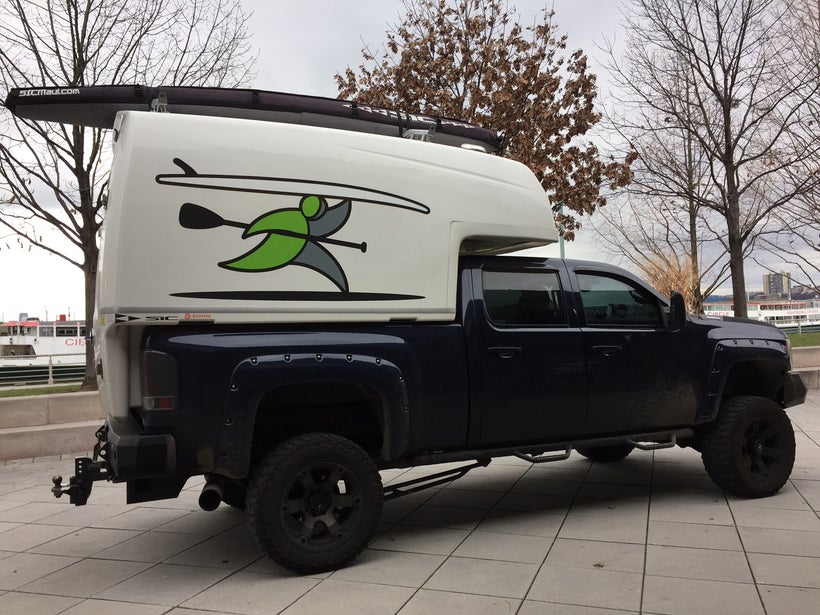 I was stoked, just before New Year's, when I spotted a knobby-wheeled truck cruising down the salt-dusted Westside Highway with a SUP on its roof. I waved to the driver, as he turned into the parking lot adjacent to my boathouse at Pier 84, along the Hudson River - where I stood eagerly waiting. Given my small apartment and lack of car, I relied on Eddie Miller, owner of SUP Runner, for SUP delivery. In the warmth of the boathouse, he pulled the glossy grey and white 12'6" fiberglass Pau Hana Cadence RT SUP from its silver travel bag. After attaching the rear fin, it was ready for action.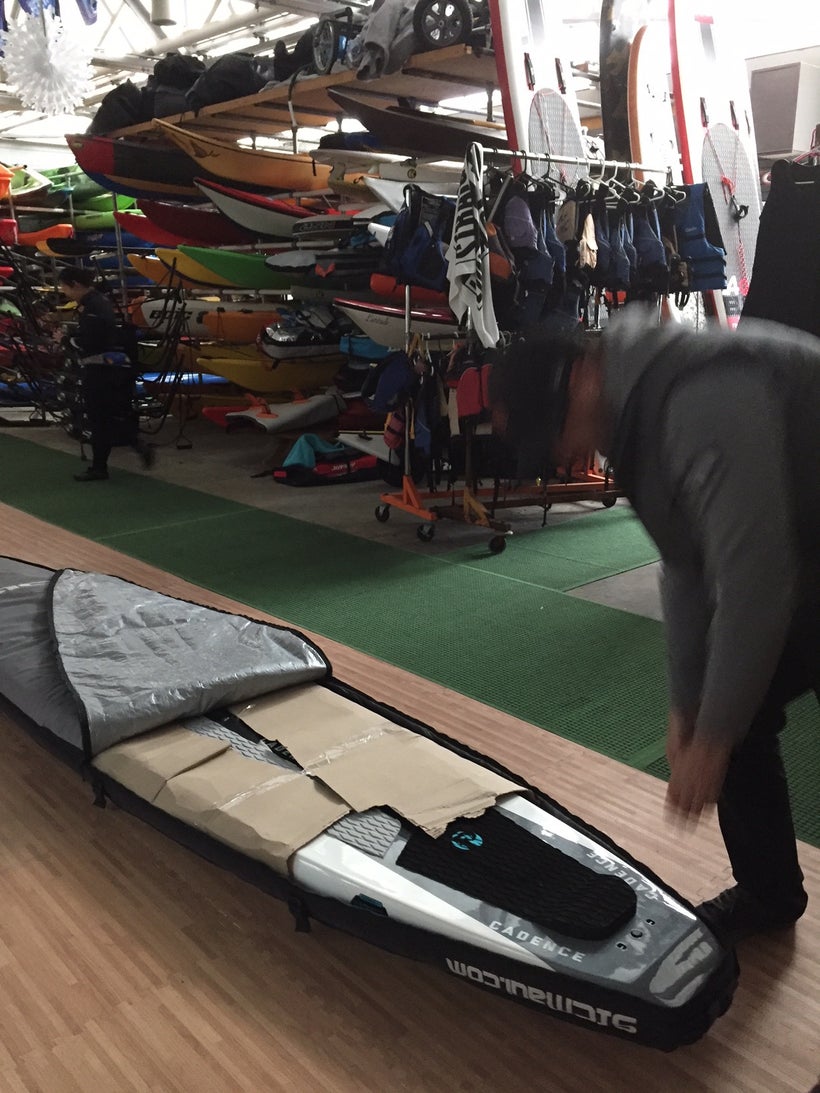 I felt like a kid with a new toy. I couldn't wait to get to the water. Only, Mother Nature wasn't cooperating. Blustery winds created white-capped chop – risky paddling conditions, so, my maiden voyage was short lived.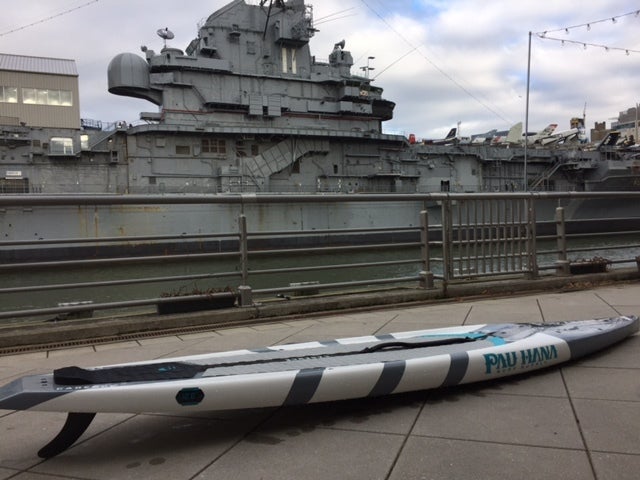 A few days later, just hours into 2017, a handful of us launched from the boathouse dock at 1:00pm for a New Year's Day SUP paddle. It was my first "real" day on the Pau Hana. Cottony clouds peppered cobalt skies and air temperature hovered in the mid-40s. The winds were mellow and the Hudson was lake flat.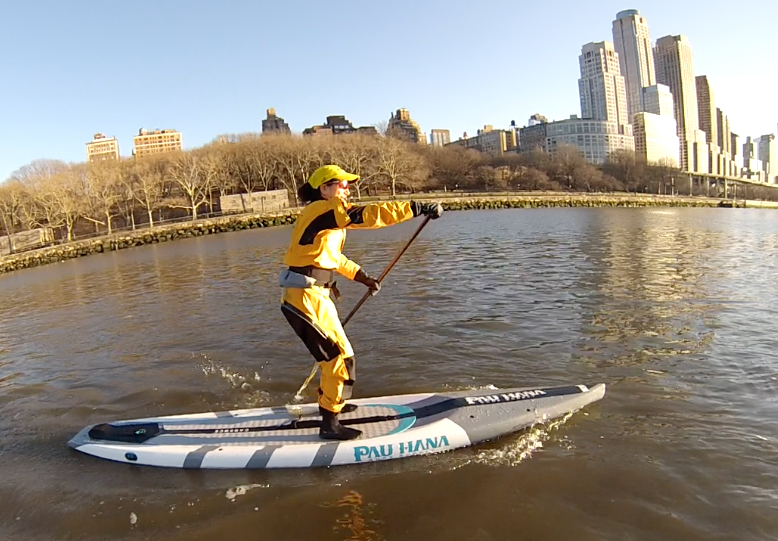 Clad in a banana yellow Kokatat drysuit, Dakine waist belt PFD , neoprene booties and thick winter gloves, I reached forward and dug my Werner carbon paddle deep into the 40-something degree water. The Pau Hana was sprite and responsive - and thankfully forgiving when I leaned a little too far to the side. It was instant love.
The sounds of our boards shush, shush, shushed as we passed the commanding Intrepid Sea, Air & Space Museum and headed north, from 44th street, against the current. In the distance, the sprawling George Washington Bridge spanned the Hudson, connecting New York and New Jersey. Massive cruise ships were docked at weather worn wooden piers.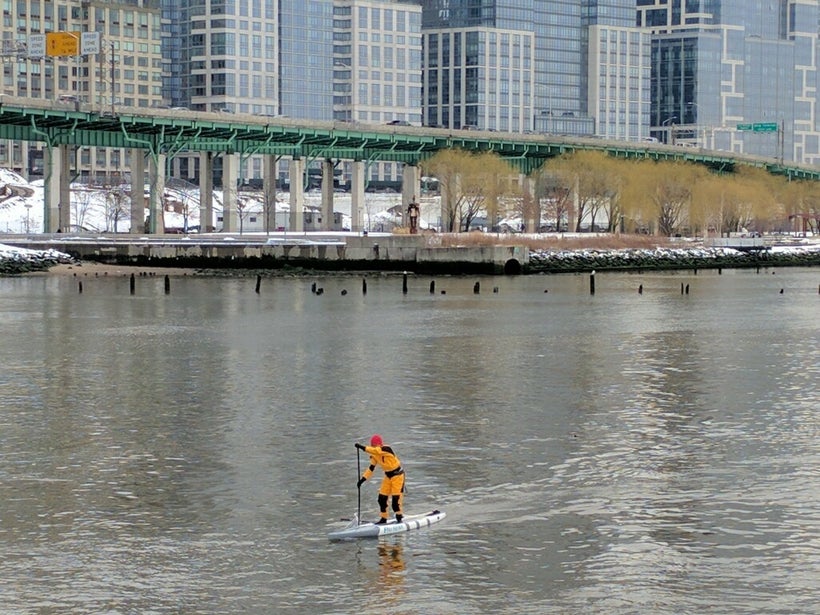 The sun warmed the nape of my neck as I swapped New Year's Eve stories with my paddling pals. Unlike spring and summer's controlled chaos of recreational boats, sailboats, Circle Liners and endless commuter ferries cohabitating on the river, it was empty – even peaceful. It felt like we were the only one's awake in NYC.
As we reached 63rd street, a few runners and dog walkers peppered the tree-lined path, adjacent to the river. But further north, Pier I, a popular outdoor bar, was shuttered and the 79th Boat Basin café' was dark. On a nearby dock, a flock of seagulls congregated next to sailboat mooring-buoys dry-docked for winter.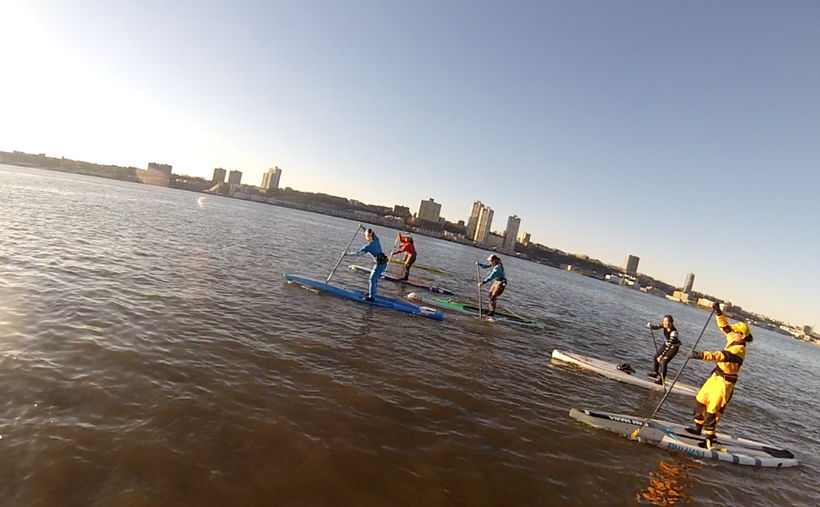 We took a welcomed ride on the south flowing current back to the boathouse. The sparkly sunshine danced atop the undulating water. Tall skyscrapers, patches of trees and expansive residential buildings bookended the river for as far as the eye could see.
A tidal estuary, the Hudson River ebbs and flows with the ocean tide, changing the direction of current approximately every six hours. So, each paddle brings fresh dynamic charm.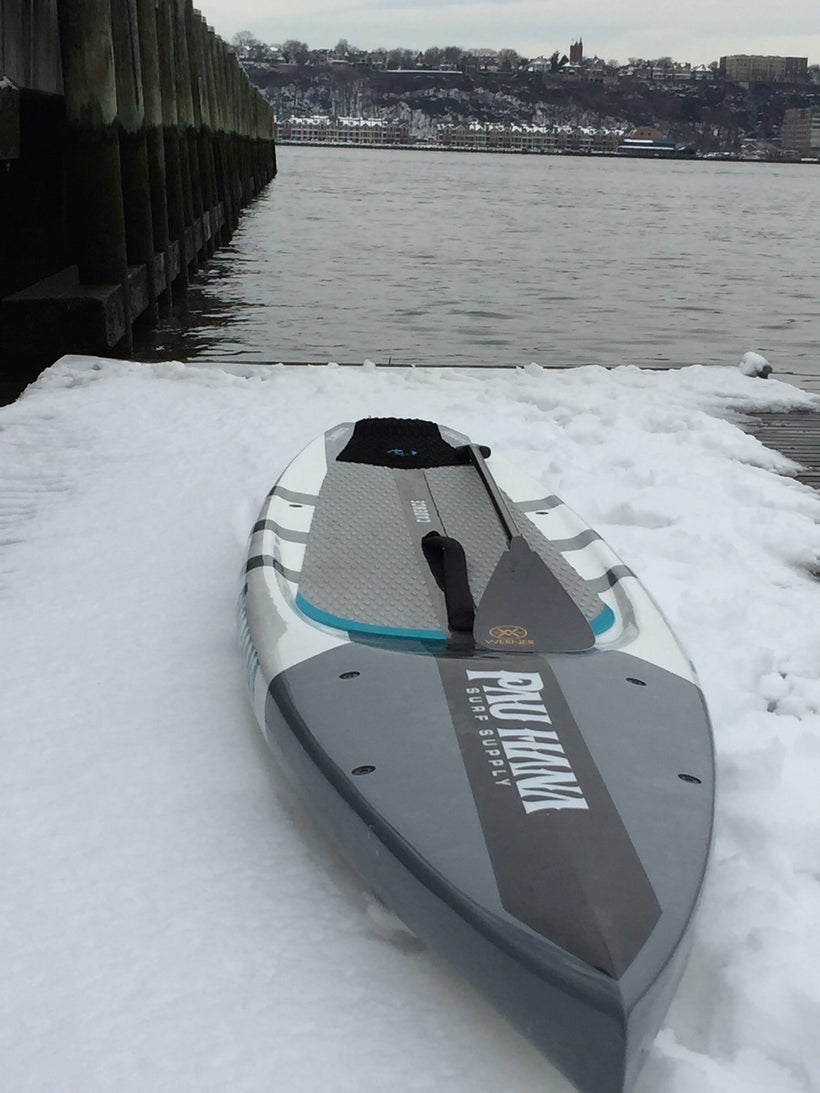 Later that week, sunshine and calm winds prevailed, though temps were in mid-30s. At 10:00am, I crunched through snow on the dock and set off paddling under bluebird skies. My eyelashes occasionally stuck together upon blinking. This time I was solo, which was a bit eerie. I waved to a police boat trolling the water and a few workers on a nearby barge. Otherwise, I was alone on the long barren river. As I paddled north against a light ebb tide, under the guise of the imposing skyline, there was an unexpected Zen quietness - a novelty in NYC. I returned to the boathouse feeling relaxed, rejuvenated and I rejoiced over my newfound appreciation for this waterway, I thought I knew so well.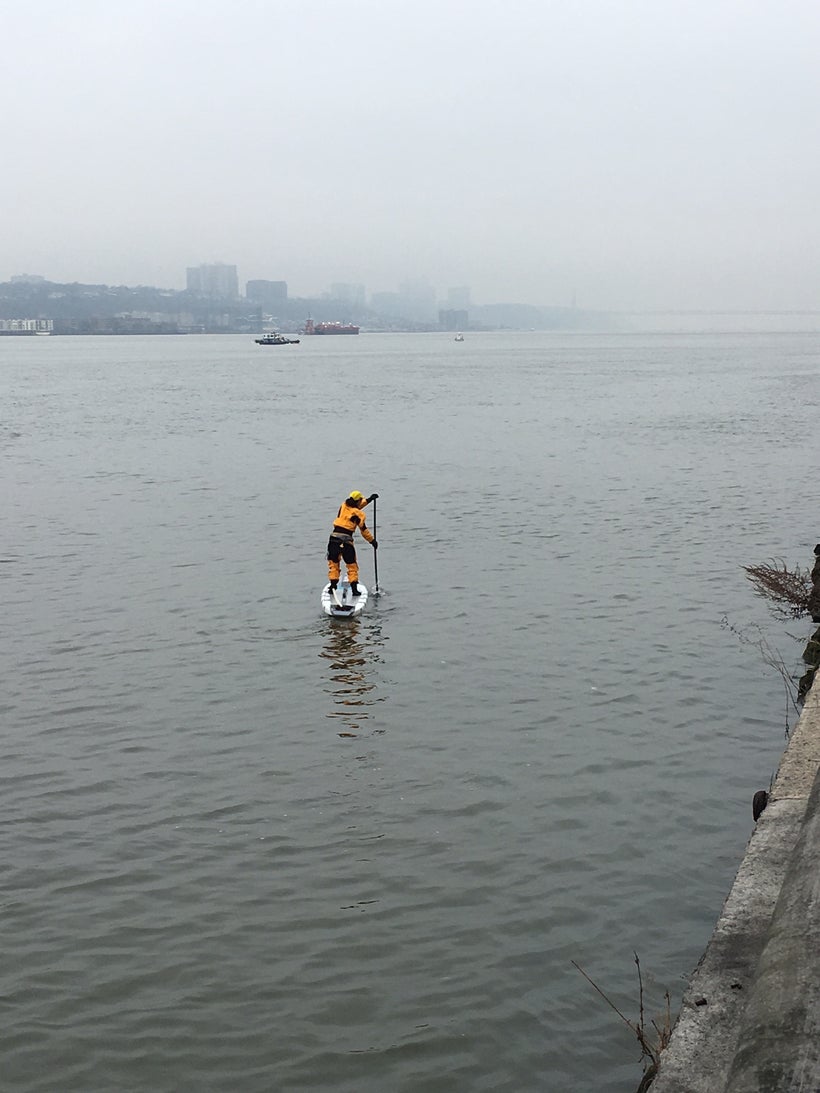 Throughout the winter I continued to sneak away from my computer to the river every sunny, calm day I could. One mid-February day reached record-shattering 62 degrees. While, it wasn't balmy, it certainly felt like spring. There were women running in jog bras, men cycling bare-chested and sun worshippers lounged in Riverside Park's grass and on benches. Some inquired about my urban aqua adventures, others waved and took photos on their iPhones.
Ironically, the next day NYC got nearly 10 inches when a snowstorm blasted the northeast. I went cross-country ski in Central Park.
As winter melded into spring, the Hudson River awoke from hibernation. Sailboats returned as did jet skiers. The Circle Line and dinner cruises clicked into full action, while the Scream Machine thrilled passengers with a need for speed. I ditched my drysuit and traded in my neoprene booties for slip-on, Hawaiian Lifeguard Association approved, OluKai 'Eleu Trainers. While, I was happy for the arrival of warm weather, it was a bittersweet to lose my private urban paddling paradise. Alas, as Caranto said, it was time to share the stoke.
This post was published on the now-closed HuffPost Contributor platform. Contributors control their own work and posted freely to our site. If you need to flag this entry as abusive,
send us an email
.