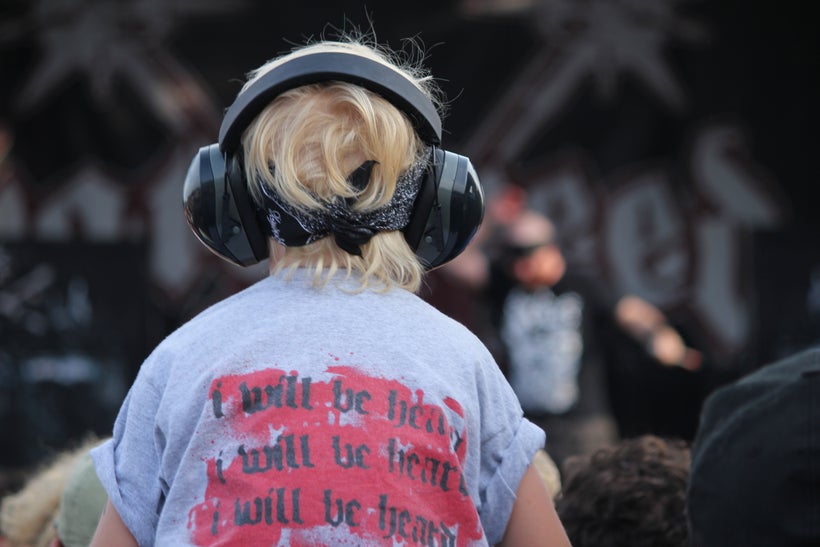 Tony Foresta, vocalist from the thrash metal band Municipal Waste (who have a new album out now titled Slime and Punishment on Nuclear Blast Records), tied a nice a bow in how the Warped Tour is by describing it as "almost like a traveling circus, a summer camp for weirdos." And that's how it felt once again attending the 2017 edition of the Van's Warped Tour and feeling quite a part of this spectacle. Everybody has this idea of what Warped Tour is and isn't, but I feel like tour founder Kevin Lyman and his crew do a good job of mixing up different ingredients into this musical gumbo.
For a band like Municipal Waste, they stick out like a sore thumb on Warped, but it's still not such a stretch and bands from different niches end up finding some common ground. "It's weird," says Foresta. "We're hanging out with bands that if I saw their video, I'd be like 'Fuck that band!' and I wouldn't be caught dead in one of their shirts, but now I'm like those are my homies!"
For the 2017 edition of Warped, the lineup went a bit heavier in comparison to recent years with the likes of Hatebreed, Gwar, Carnifex, Stick To Your Guns, and Candiria, to name a few, as marquee bands. There's a loyalty existing with fans of heavy music, no matter the sub-genre, where they show up to events with so much passion for the bands they like. "People are really coming out for the heavy bands," says Carnifex vocalist Scott Lewis (Carnifex has a new album out now titled Slow Death). "No disrespect to anyone on the tour, but there's a conception about what a "Warped Tour band" is. I think when you look at the metal scene, we're kind of unsung to a degree. People really come out and come out for years and years and years. They're not fair-weather fans."
The loyalty of these fans is one of many cornerstones of the Warped Tour making it such an ever-evolving event each year. Not to say fans of other styles of music are not as loyal, but in a place where there is variety like this tour, the fans that show the most exuberance almost become the driving force of it all. "I think having the metal bands on there is really making a difference because those fans come out year after year after year," explains Lewis. "The metal crowd, they don't get the credit they deserve. It's easy to laugh at metalheads because we're sweaty, we're shitty, and we play bars, but those people come out and support their bands. Its evidence how many people are watching heavy bands."
As much as people come out for the more known bands of the tour, it's the camaraderie and the spillover of the crowds into other aspects of the festival that makes Warped special. With smaller punk adjacent bands like Bad Cop / Bad Cop or Sonic Boom Six, they have their dedicated group of people each stop who did their Internet research beforehand and make it a point to watch their set, but their energetic stage shows matched with a placement near the bigger stages caused many new people to their music stop for a second when walking by and have some point of interest in them, many staying for a while.
"It's been great actually," describes Laila K, vocalist of Sonic Boom Six. "Our stage is always next to a main stage or there's a nice walk through that have to. Basically, people are forced to watch some of our set. That's the best for us. We normally have 10-20 people waiting to see us and that just shocks me because I'm glad that you know who I am. For us, it's been great. People stop, they're a bit unsure, they come in and they stay. Our walk up is brilliant."
While people do have their ideas of what a band on Warped will or should sound like, there is an actually quite a nice variety if you really think about it and find out what some of the more lesser known band sound like. "People do their homework," explains Laila K on the discovery of bands at Warped. "People will listen to bands that they haven't heard of. We're a very odd band. We don't sound like anybody else. I don't sound like anybody else. Since I was a little kid, I knew about Warped before I knew about Reading, Leeds, Download. To me, it's always been a celebration of being unique and being able to be a band like Paramore playing next to a band like The Pietasters. The other day we played, it was Andy Black, us, then Save Ferris. When would you ever see that again? We are such a mixture of so many different things, we refuse to be pinned down to a genre. That's our thing."
For a band like Sonic Boom Six hailing from Manchester, England, opportunities like the Warped Tour are life-changing. This is their first tour like this in the United States. While they have played shows all across the globe, the celebration of music on this festival along with just the toughness of getting through it all is a learning experience. "We've toured all over the world, so we've played in Japan, all over Europe, nothing like this," says Laila K. "You're on site 8am of every morning. You help unload the truck. You set up the merch. I like routine. We're over four weeks in and people are like 'How are you so happy still?' I'm like I'm in a band. If you're in a band and you want to play music, and you want to play music to people that are at Warped Tour because it's phenomenal."
While Warped is a traveling festival that promotes unity, it is a difficult tour to get through because there is so many moving parts. A true testament headed by Kevin Lyman and his staff getting through it each year for so long. "You learn a lot when you're on tour," explains Ansley Newman, vocalist of Jule Vera, who played Warped for the first time in 2015 and now are back this year. "I think you learn something new on every tour. You have to learn fast if it's your first tour, especially if it's Warped because it more of a difficult tour. There's just tour etiquette that you learn along the way like how to talk to people and you get better stage wise and stuff."
For this 2017 edition, special names like CKY or Hatebreed lit up the eyes of fans when the lineups were announced. CKY, who is back with their first album in over eight years The Phoenix, and Hatebreed, who haven't played Warped since 1998, along with bands like Adolescence, Sick Of It All, and Gwar, bring this sense of nostalgia to the overall history of the Warped Tour. "It's a super cool, unique tour," says CKY's Chad Ginsburg. "You get to meet a bunch of bands you might never have even heard or seen before or maybe never got the chance to see before. Old people. New people. A lot of new friends. It teaches you to just open your heart and your mind to new things. You get to travel around like a big rock-n-roll punk rock summer camp. "
The generations of fans come together at Warped and find something new each year. This are attendees who came when they were teenagers and now are back with their own kids. "I think the good part about it is there is a lot of young kids that know the name, whether they see these young bands that they're coming to see wearing our shirts or hear them talking about us, or they're just curious," explains Frank Novinec, guitarist of Hatebreed, about the band's place at Warped. "When Jamey asks how many people are checking us for the first time every day, it's almost half the crowd, which blows my mind 22 years in the game. That's 100% why we're out here doing this. I always feel like it's best for a band to keep themselves current, especially when you've doing it for as long as we've have. I think the gist of it is that it's a nice blend of different kinds of music and we fit in there just fine."
While bands and their fans alike are involved in Warped for a different, positive experience, it's also a place to almost escape from the world for a day and try to find something they can connect with. "I think people just want to get their frustrations out and heavy music is definitely the way to get that done," says Carley Coma, vocalist of Candiria who released their first album in seven years While They Were Sleeping last fall. "Everyone's going to have a different belief system, different views on life, but the one thing that everyone here has in common is the love of music. I think it's good that everyone for the most part is getting along."
With all the wild people in the midst of the traveling Warped Tour, it doesn't get any wilder than Gwar, who have a new album The Blood of Gods dropping on October 20th via Metal Blade Records. Satire in nature, Gwar might cross the line with their comments at times, but its intentional in the matter of making people think about issues regarding the music industry, culture, and society. When asked about their views of the Warped Tour and advice they would give to other bands, Gwar members Pustulus Maximus and Blothar offered this bit of comic relief (well, I assume its comedy).
Pustulus Maximus: "It's been depressing. Imagine a whole festival of nothing to watch but Gwar. Its just all padding. It's all fluff. "
Blothar: "Now that the barber left, there's no reason for us to be here. There used to be a barber on the tour. I would just sit and watch him cut hair all day. Now there's nothing to watch."
Pustulus Maximus: "These tours are definitely hard on these younger bands. I see all of these little fellas running around in their sister's clothes and they can't even afford socks. Times must be tough for everybody. They really should just stop. I'm just praying for the music industry to collapse. I've been biding for it for a long time now because the only people that are going to be left are the people that want to create music, not people that want to be rock stars. I see a lot of people working out. That's devoting a lot of time to vanity."
I'm sure Pustulus Maximus and Blothar have no real contempt for anyone on Warped this year, and from my vantage point, it's a place where people of all ages can have fun and find something to believe in, whether it's the bands performing, the advocate groups on display, or just the fellow attendees. If you can't find something fun at Warped Tour, then maybe it's just not for your, but you're welcome to stay anyways.
Listen to the full interviews with most of the artists quoted in this article on my Fresh is the Word Podcast below:
This post was published on the now-closed HuffPost Contributor platform. Contributors control their own work and posted freely to our site. If you need to flag this entry as abusive,
send us an email
.