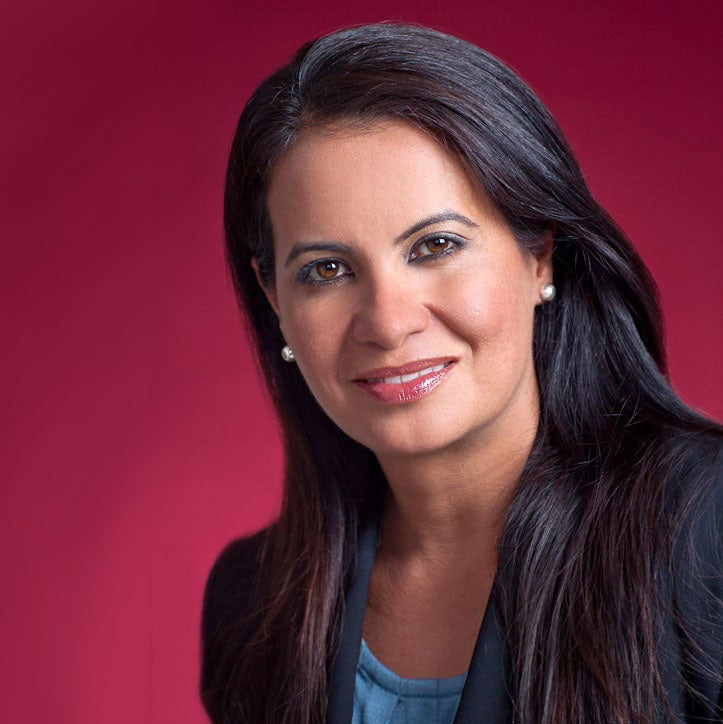 As co-founder and concept development director of Burger 21, Arlene Johnston directed the new concept development process and now guides strategic direction for Burger 21, the "beyond the better burger" fast-casual franchise concept.
In her role, Johnston oversees all interdepartmental projects for Burger 21 and collaborates with the vice president of operations to supervise the operation of Burger 21's company-owned restaurants in the Tampa Bay area. She also works with the construction and design and new restaurant opening teams to guide the process of replicating the Burger 21 concept in new locations.
With 10 years of previous management experience in the hotel industry, Johnston holds a bachelor's degree in management and an associate's degree in hotel and restaurant management from St. Leo College. Arlene and Mark have twin sons, Jared and Joseph.
How has your life experience made you the leader you are today?
I came to the United States 30 years ago from my native land in Puerto Rico to attend college in Florida. My parents always worked hard in several businesses of their own. Many were successful and some not as successful. However, the consistency that I always saw in both of my parents was their hard work ethic, earning an honest living, and never giving up. I met and married my husband who was also a hard working businessman and already established in the restaurant industry. And I was reminded once again of all the risks, the hard work and sacrifices that come along with being in a business of your own. Today, my husband and I are in business together, which I saw growing up with my own parents. For many it can be very challenging to be married and run businesses together, but for me it is not such a foreign concept since I lived in that same arrangement most of my childhood.
How has your previous employment experience aided your tenure at Burger 21?
I held several managerial roles in the hotel industry following college in Tampa. It was clear early in my career that I definitively had a passion for the hospitality/service industry. I placed my career on hold after my twin boys were born. And once my sons started school, the desire to create a unique restaurant concept with high quality food sparked my husband and I to expand his already established restaurant brands. I felt strongly about the need to diversify the existing casual dining brands that we owned by entering the growing and popular fast casual segment. In 2009, we founded Burger 21 and our first location opened in Tampa, FL. Since there was experience franchising a restaurant brand in the family, we decided to franchise Burger 21 after the success of our first location. Today we have 22 locations in 8 states, and approximately 15 units in development. And with every new restaurant that opens, we also receive interest in expanding Burger 21 to more cities and states that feeds my excitement.
What have the highlights and challenges been during your tenure at Burger 21?
Businesses as we know, are cyclical. Highlights are at their highest in the beginning stages. The creative and development process, the excitement of people discovering your new product, the accolades and the teamwork remain the top highlights among many for me. It all brings back great memories of those amazing fun times and hard work. Currently, I have a spectacular team at our home office in Tampa, FL for the two restaurant brands we own. I value each and every one of them immensely. Their love and passion for the Burger 21 brand is gigantic and the synergy we have as a team is fantastic. In the end, a job could be found almost anywhere, right? But our Burger 21 family is unique and strong and that is not something which is found easily. We cultivate it day after day, and we keep going strong! More than half of our team members are in fact creative women, making the right decisions while driving the brand in the right direction.
The challenges today are mainly keeping operations of our franchise-owned locations on par with our operating brand standards as the network continues to expand in the competitive restaurant industry.
What advice can you offer to women who want a career in your industry?
I will say that the restaurant industry is extremely tough, it is dynamic and totally non-stop. Sometimes candidates come through our doors to purchase a restaurant franchise thinking it will be an easy business to have, and it is exactly what we stress: not easy. We are honest and we tell them that in fact, it's extremely life changing! We all have to sacrifice time with our families, holidays, and adhere to non-traditional daily/hourly schedules while focusing on making a return on investment.
As far as the corporate world, women need to be ready to work with all the misconceptions of our roles and capabilities in the business world. Very often, we are underestimated, myself included. We just need to continue to work hard at excelling while acquiring knowledge to make us more successful in guiding our teams and companies. I have not come across anyone yet who knows everything! I always tell my team, if you don't know something don't make decisions without the proper knowledge. Instead, reach out to vendors, further your education and utilize industry peers for more knowledge before making important decisions. Making a rushed decision, which results in the wrong choice, in my honest opinion, makes you lose credibility as a knowledgeable and competent professional.
What is the most important lesson you've learned in your career to date?
Clear and detailed communication is key. We have several departments per brand and without clear and precise communication channels and efficiencies, we would not be able to meet our goals as a team. A minor word in a sentence can at times reverse the actual intended meaning. I personally tend to zero in on the nitty-gritty details for most things. Although at times this can certainly be a negative, it proves that most of the time, it's all in the details! And certainly, when it comes to communications.
How do you maintain a work/life balance?
Balance to me means to provide my undivided attention to things I value. For example, when I am having a conversation with a friend, I provide that friend my undivided attention. We see this in our society nowadays constantly; people focused on their phones, not making time for friends and family, answering emails, saying they are "busy, busy", resulting in not zeroing in on the important moments with loved ones. Instead their attention is all over the place, not capturing the essence of important moments in life. People need to understand that a business or a career can be gone tomorrow. Don't be in a hurry. Where do you have to go? Dedicate time! Relationships and important people in your life should be a top priority to really make it a balanced life.
What do you think is the biggest issue for women in the workplace?
I feel it is not giving women the credit they deserve, together with the many traditional misconceptions. Luckily, there is great improvement on such perceptions, given how the amount of women in the workplace continues to rise, making us evolve and become stronger.
If your first language is not English, as in my case, it is even harder. The minute your audience detects that you in fact have an accent, perhaps the look is a different one and at times their comprehension of your message is blurred by the fact they are hearing an accent, even if you are actually delivering your message on point while speaking perfect English! It comes with the territory. I have taught myself to be strong, better myself everyday and face up to any challenges or duties that my career demands.
How has mentorship made a difference in your professional and personal life?
Unfortunately, I did not have formal mentors in my professional life. I would say the substitute of an actual mentor in my career was belonging to family businesses from a young age.
As for my personal life, I am blessed to have many friends who are like family no matter what the circumstances. A couple of them are my rocks, and you could say they are my life mentors.
Which other female leaders do you admire and why?
One of our industry's leaders, Kendra Shier, is someone I've had the pleasure of working with and collaborating with over the years. This successful woman is unstoppable. The passion she has for restaurant industry knowledge makes her a powerhouse. Her impressive pedigree includes 25+ years in marketing and operations with restaurant chains such as Pie Five Pizza, Pizza Inn, The Melting Pot Restaurants, and also Gameworks and TravelHost magazine. Kendra has been the Chairperson for the National Restaurant Association's Marketing Executives Group for the last three years. She is always willing to help, mentor and connect others to allow success for those who seek growth in their careers. I am always touched by professionals who find the time in their busy lives and have the desire to inspire and help others succeed.
Also, Ivanka Trump is a leader I admire for how multifaceted she is, while raising a young family. In spite of her family name, this woman works as hard as any man, while having a commitment to strong family values. Young role models such as Ivanka are not seen that often these days. She is definitely inspiring.
What do you want Burger 21 to accomplish in the next year?
I envision all of our franchise locations operating to the highest standards while continuing to bring our high quality favorite menu offerings to a growing audience of loyal Burger 21 guests. In addition, we will remain dedicated to the two main pillars that our brand was founded upon in 2010: the high quality of our product and teamwork.
This post was published on the now-closed HuffPost Contributor platform. Contributors control their own work and posted freely to our site. If you need to flag this entry as abusive,
send us an email
.