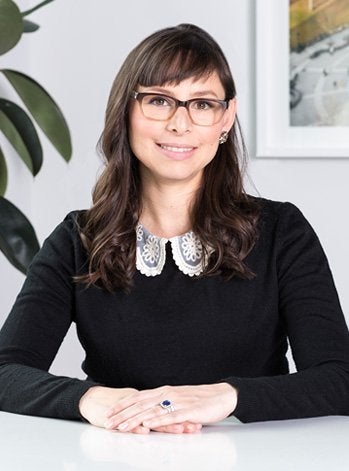 Cristina Miller is the Senior Vice President of Seller Relations at 1stdibs where she oversees supply-related initiatives, such as new category growth, and leads seller-facing functions, including sales, account management and support for the company's 2,500 dealers in the Americas. Prior to joining 1sdibs in 2014, Cristina was the President of the Franklin Mint. She also led and oversaw the successful sale of the company to Sequential Brands Inc. In addition, Cristina has held senior roles at Group Commerce, Gilt, and Store Adore. Cristina holds a BA from Stanford University and an MBA from the Harvard Business School. She resides in New York City with her husband and two children.
How has your life experience made you the leader you are today?
I've been lucky to have diverse experiences and people in my life — from my multi-cultural family, to my education to my work — and I've tried to take something from each experience to create the person and leader I am today. It's an ever-evolving process!
I grew up in D.C. where my parents were involved in the diplomatic community and I was surrounded by many cultures – from food to art and music. I was exposed to so much at such a young age, and I was fascinated by all of it. My mother is an artist and my father an economist, so I grew up having that balance of art and science and developed a love for both. (I was a classically trained ballet dancer and left school at noon every day to spend 6-7 hours at the Washington Ballet, which probably contributed to my sense of discipline.) I worked in management consulting when I was younger and traveled the world to learn about a wide array of business challenges and opportunities that most companies face. I met people with amazing backgrounds in business school and became interested in small businesses and how the internet was disrupting Main Street, U.S.A.
I think in terms of style, I have seen a lot of leadership examples – both good and bad. I try to do more on the good side of course, but genetics does play a part. So, I tend to combine my dad's rational evenness and my mom's view that anything is possible if you put your mind to it.
How has your previous employment experience aided your tenure at 1stdibs?
I've been fortunate to have had great experiences at all my jobs — from management consulting where I got to learn so much by helping companies solve a range of business problems to my more recent experiences in ecommerce, such as being an early employee of Gilt Groupe. I've learned how to raise money and launch a business, how to build a small business and how to scale medium-sized businesses. I've learned about business adversity, failures, setbacks and how to recover, and I've learned how to build effective teams that embrace diversity of all kinds – just like my upbringing which taught me how much better life is with different cultures and points of view.
I've also taken some people from my previous work experiences with me to 1stdibs. Sure, you can pick up skills and lessons at jobs, but building long-lasting relationships that can follow you throughout your career is completely different. I find when you know someone's strengths and weaknesses from a previous job, it can make working together again quite effective.
I am proud of the excellent team we have at 1stdibs, and I am proud that we are focused on making everyone a better and happier member of the team. Everyone knows that great teams produce great outcomes, so it's important to focus on the smaller elements that give teams their foundations — like the people. 1stdibs is not a hierarchical place, and people at all levels are presented with opportunities to make a real difference.
Highlights and challenges during your tenure at 1stdibs
One of the biggest challenges we have faced as a business is also our biggest opportunity and 'raison d'être' – to bring the world of antiques, fine art and luxury design, with sale prices easily within the five to seven figures range, online. Together with our thousands of small business seller partners, we have transformed a market best defined by the Paris Flea market (which is amazing, but about as analog as it gets) to one that is easily 'shoppable' on a website and mobile app — where a six-figure Murano glass chandelier once owned by an Italian duke can arrive in days to your home halfway around the world. We have had incredible success as buyers become comfortable spending large sums with a trusted, vetted site like 1stdibs, but our work is never done. We have a long list of enhancements to the experience for our sellers and our buyers. For example, we recently launched a new category of luxury design: New and Customizable furniture by the best artisans and artists living today. It's our fastest growing category and has distinct needs when compared to vintage and antiques, so we are rapidly building new tools and experiences to keep up with this new demand.
Advice for women who want a career in this industry?
Pursue what you are passionate about and don't be intimated to dive in and learn. When first starting out in a new industry, be willing to start at the bottom and work your way up, and think about how your skills from a previous role may be applicable. Take courses and read. Network, go to lunches and panels — You can learn so much this way. If you're interested in the fine arts or decorative arts, find courses near you. I minored in art history and to this day, those classes remain my favorite or the most interesting of all. You can always browse 1stdibs for a free, global education in the absolute best in design – with 650,000 exquisite pieces, profiles of famous creators and Introspective articles that will captivate you, there is plenty to work with!
Most important lesson in my career to-date?
Focus always wins. It's just not possible to do many things and do them all well — At least for me and in the types of companies I have worked at. This is a lesson I am still learning and it goes somewhat against my natural tendencies. I lean more toward trying to do every project, chasing every opportunity and satisfying every customer (I still think that one is possible!). It can be hard to prioritize and give things up or say no to things and I am not the best at it, so I always try to focus on focus.
How do you maintain a work-life balance?
Focus also applies to the elusive state of having work-life balance, and I have yet to figure it out. I have a two and three-year-old at home, so chaos is my balance at the moment. But I also don't really strive for balance because by definition, it's is a zero-sum game: If one side goes up, the other side goes down. I seek ways to make the whole pie bigger so I don't have to feel like more family time equals less work time or vice versa. It's about better quality time — and more of it. Maybe I'll coin the phrase "work-life chaos," because I am pretty good at that.
Biggest issue for women in the workplace?
Women face a lot of issues in the workplace, but in my opinion, the biggest is implicit bias. It's all the little things we learn as kids and throughout life about gender, race or other differences that we don't necessarily notice explicitly. Over time, they can build into a set of expectations that I find pretty troubling. It's there in the color-coded aisles of a toy store (another reason I like buying toys online), it's there in a coloring book when the pilots are men and the flight attendants are women. It's there in every Disney movie. Fast forward to the boardrooms of Silicon Valley (apparently) or Hollywood and you think, 'Well of course, were the signs pointing any other way?' There are a lot of well-meaning men and women out there who carry a great deal of bias and do not yet possess the tools to deal with those underlying instincts.
How has mentorship made a difference in your professional and personal life?
I wouldn't say I have specific mentors who have guided me through my life or career. I like to take a little advice from a lot of people and solicit multiple views and opinions. I appreciate blunt feedback and straightforward advice, and I've been lucky to have many helpful people in my life who play that role for me — from a group of friends from grade school to family to former and current colleagues. I also think it's important to make yourself available to be a mentor or just allow people to bounce ideas off of you if they wish to. It doesn't have to be time consuming and the benefits often go both ways.
Which other female leaders to do you admire and why?
There are a good number of female role models out there, but lately I've been more focused on the lesser-known leaders. I admire all the women we don't necessarily read about or see on TV every day — the mothers at my kids' school, whether they are running a household, a business or a department; the executives making an impact on the world at various levels; women risking their lives to defend our country or help others here and around the world. Most of the women who play a role in furthering other women's positions in the world aren't famous and never will be, which makes everything they do that much more admirable and important.
What do you want 1stdibs to accomplish in the next year?
1stdibs is a fast-paced, exciting place to work and we set out to accomplish a great deal each year. One of our core principles is to "improve relentlessly," and I think we do a good job of that. We release new code every week, so our website, apps and tools are always being enhanced. In the next year, I am especially excited about launching local language websites around the world, continuing our growth in our New and Customizable furniture category, and creating a best-in-class experience for our interior designer buyers who have their own special login for 1stdibs that comes with amazing tools and services.
Most of all, I'd like for every one of our sellers to sell more of their beautiful pieces through 1stdibs in 2018 than they will in 2017. With the rate we are growing, that is certainly achievable.
This post was published on the now-closed HuffPost Contributor platform. Contributors control their own work and posted freely to our site. If you need to flag this entry as abusive,
send us an email
.