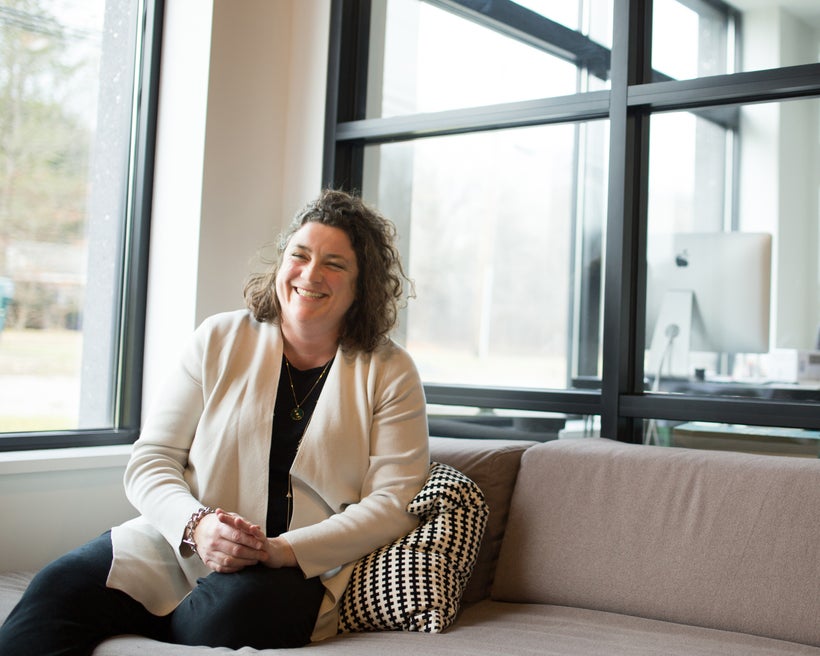 BRIGADE Founder and Executive Creative Director, Kirsten Modestow, is one of Graphic Design USA's 'People To Watch" in 2016. Over the last 10 years, she pioneered a new model for how creative product is developed in the 21st century, building an exceptional branding and design studio, BRIGADE, in a remote New England town that produces award-winning design for a notable roster of global clients. Under her leadership, BRIGADE has won 2 Effies for SVEDKA Vodka, multiple Addies for Own Skincare and Foodzie, including a gold for the YesTo guerilla campaign, and GDUSA American Package Design Awards for Vertical Water, Weleda North America, Frontier Bites, and SVEDKA Vodka, among others.
Before founding BRIGADE in 2006, Modestow achieved national recognition for her work on Electronic Arts, CMT Networks, and Dunkin' Donuts. As a former All-American swimmer, she thrives on intense situations, including tight timelines, demanding clients, and controlling (with varying degrees of success) a giant dog and husband and two not-so-giant-yet children.
How has your life experience made you the leader you are today?
Leadership has come naturally to me, but being a leader has not. I spent half of my lifetime as a high level competitive swimmer and I know how to work hard and win. When it comes to running a branding firm, my swimming experience has worked as a perfect model for creating award-winning work on a National stage. But the same logic has not applied to motivating, training and stewarding a staff of young designers. My most recent life experience has been wrapping my head around creating a business that will endure.
How has your previous employment experience aided your tenure at BRIGADE?
I've worked at great shops with great people including fellow designers, art directors, writers, strategists, marketing experts and lots of notable clients. I have learned to check my ego at the door. I have learned to listen to everyone and that great ideas come from everywhere. I also understand that our clients are partners, and without them, we cannot succeed- while it sounds canned; trust, respect and honesty are paramount.
What have the highlights and challenges been during your tenure at BRIGADE?
Some of the highlights have been watching us grow from a startup in my house (with my wandering small children) to then, ten years later, watching the same company sign an 8,000 square foot lease. Those same highlights have also been our greatest challenges. Going from a small startup with offbeat, hands-on leadership to instituting a management team for our 25 people is a problem we're thankful to have the opportunity to solve.
What advice can you offer to women who want a career in your industry?
There is so much baggage that comes with being a woman in a traditionally male dominated industry—don't let the noise define you. Some of the things women are criticized for are the things that make us great. I think as a woman I bring empathy to my staff and my clients. I talk about emotions and how I want our work to feel, and I think that these intangible things are exactly what makes our work and our place to work—something special.
What is the most important lesson you've learned in your career to date?
I think I've misunderstood goals all along. I thought I had to accomplish certain markers in my career like becoming an Associate Creative Director and then a Creative Director and then an Executive Creative Director to truly succeed. Now, I realize now that enduring over the long haul and having small victories are much more impactful. Seeing our work featured on a packaging site, or in a store, or on a shelf still has that "Christmas morning" excitement to it—small successes versus the big wins are crucial to enduring the long haul.
How do you maintain a work/life balance?
Every year my mother gives me an ornament at the holidays that represents my "year"—as I unpacked them last year, I realize I have 11 years of "Seeking Balance" ornaments on my tree. Basically, every single day I struggle to find this supposed balance. As a business owner and Executive Creative Director to 25 people, mother of 2 kids under 8, dog owner, and wife to an oversized husband and 4 chickens—to hell with balance. All of that said, my workplace adheres to a rigid 40-hour work week and we are at the perfect point between big city and small town—I envy those who have a job here :)
What do you think is the biggest issue for women in the workplace?
I think the biggest issue for women in the workplace is that we're equally suited for being great bosses, great moms and great leaders, so trying to pick one path is extremely difficult—I meet women in similar positions as myself and we always joke about juggling kids, careers and demands. I'm not sure if men feel the same three-way pull as women often do—although my husband might say otherwise!
How has mentorship made a difference in your professional and personal life?
Along the way I have had incredible mentors that have literally changed my life—from teaching me the craft to more recently helping me find my way as a business leader. I feel indebted to these people and try to pass on the impact to other people whenever I can.
Which other female leaders do you admire and why?
Katie Ledecky, 2016 gold-medalist swimmer, is extraordinary. She dominates in the swimming pool with a confidence and attitude that makes her an incredible role model for people everywhere—my 7-year old daughter and I are her biggest fans.
What do you want BRIGADE to accomplish in the next year?
The next year provides an amazing opportunity for BRIGADE to capitalize on our recent growth and successes. We are seeking game-changing clients to add to our roster, while still nurturing and continuing to push the clients who have helped get us here. Our talented, hard-working team will continue to produce award-winning, strategically positioned work. I want us to be the most sought-after small branding firm in the country because we are kind, smart, talented and unstoppable.
This post was published on the now-closed HuffPost Contributor platform. Contributors control their own work and posted freely to our site. If you need to flag this entry as abusive,
send us an email
.