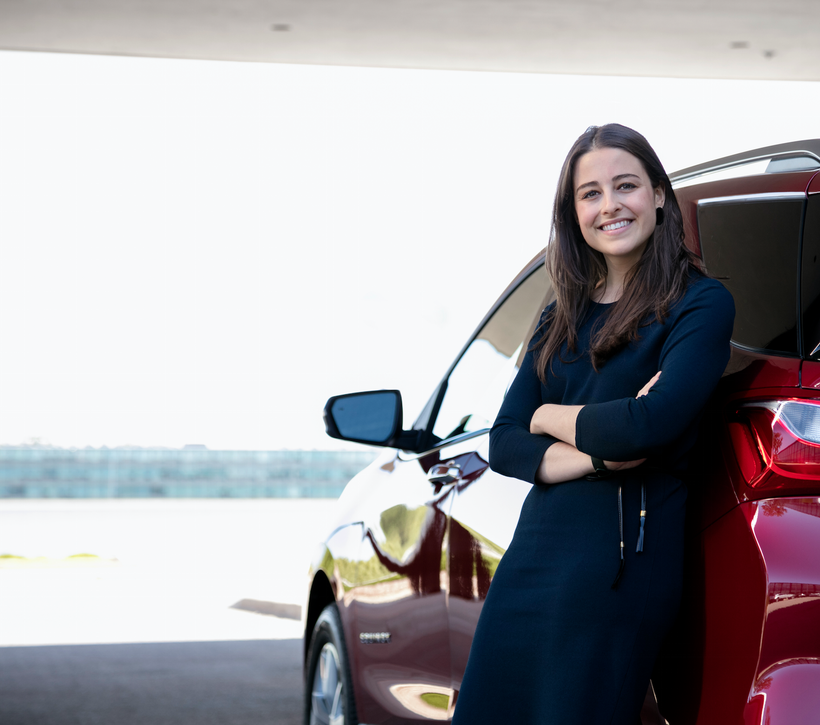 Mara Kapsis is a Creative Designer in the Chevrolet Color & Trim studio. She currently works on Chevrolet passenger cars and crossovers and is a member of the 2018 Chevrolet Equinox design team.
"As a color and trim designer, my focus is on material and color developments ranging from textiles and soft materials to embellishment techniques and decorative finishes," said Kapsis.  "We consider all of the surfaces that our customers engage with and design material strategies to enhance their experience in the vehicle."
Kapsis earned her Bachelor of Arts in Textile Design from the Royal Melbourne Institute of Technology in Australia.  After completing a student internship with the GM Australia Design Studio, she stayed on as a color and trim designer for several years.  Her contributions included the Holden VF Commodore as well as some advanced projects.
Mara also spent some time running her own small textile business designing and making homewares before relocating to the U.S. and joining the company in 2015.  During that period she also worked as a floral stylist and still loves to put arrangements together for special occasions.
How has your life experience made you the leader you are today?
Many life experiences have influenced the Chevrolet designer I am today.  Growing up, crafts and particularly textiles were a natural part of my surrounding.  I remember my maternal Grandma teaching my sisters and I cross-stitch amongst the piles of quilting fabrics and embroidery projects.  Rummaging through fabric stores with our Mom is still a well-loved pastime and our kitchen table often transformed into a sewing bench, as Mom made many of our clothes.  When not knitting or doing needle work, my paternal Grandmother was also a dedicated gardener and it was always a treat to put together an arrangement from her lush backyard.  Looking back, this interaction with materials was an inherent part of my upbringing and it was a natural transition into a career as a color and trim designer for Chevrolet.
How has your previous employment experience aided your tenure at Chevrolet?
One of the most valuable parts of running a small business was being able to engage with customers directly.  I was selling my homewares at Design markets and that interaction with customers helped me to learn why they were drawn to a product or what might have discouraged a purchase.  This has certainly guided me at Chevrolet, where we design with our customers' needs at the forefront
My homewares products were also all handmade, so I was up close and personal with the process.  My mom would sew the fabric I printed, and while automotive is another world of manufacturing, understanding the fundamentals of materials has made me a more hands-on designer today.
What have the highlights and challenges been during your tenure at Chevrolet?
Being able to share the wonderful work of the team has certainly been a highlight.  It's been great to be able to see the color and trim concept through to production.  The design process takes over three years and some of the challenges we face along the road can steer us off our original intent.  In the Equinox, the color and trim concept of creating a durable yet elegant interior has really come to fruition.
Automotive design was once described to me as the most complicated puzzle you could imagine and to make a vehicle a reality it takes an incredible team of experts across a breadth of disciplines.  It is mind boggling to see how all of the intricate pieces come together as a sketch transforms into a physical, functioning vehicle. The balance of engineering requirements and design vision can come with tension, but this push and pull between the two is what delivers a thoughtful and refined vehicle at the end of the day. 
What advice can you offer to women who want a career in your industry?
My advice is: not be discouraged from considering automotive color and trim if at first you didn't study this discipline.  Within Chevy's color and trim design team, I am fortunate enough to work with people from varied backgrounds.  Not only are the designers from all over the world, they have experience in everything from fashion and footwear to interior and graphic design.  This diversity is what gives the team such a great perspective on design. 
What is the most important lesson you've learned in your career to date?
Communication is key.  It's no good having an amazing idea that only you understand.  Learning to adapt to your audience and welcoming them into your story is critical.  At Chevrolet, we're very passionate about creating color and trim strategies that are more than just beautiful, we delve deeply into our customer needs, wants and lifestyles and tailor color and materials around these.  For example, the Equinox seats are trimmed in a denim inspired fabric that is very attractive but also helps to disguise everyday dirt and is easy to clean.
While there may be pages of inspiration, boxes of samples and numerous scribbles behind it all, the ability to share your vision in a concise and accessible manner is a necessary skill.  You need to be able to take people on the journey with you.
How do you maintain a work/life balance?
As a color and trim designer, I'm constantly taking in visual references as inspiration.  Exploring design stores or scrolling Instagram and picking up on material trends is sometimes where the line of work and life is blurred.  There is no on/off switch for creativity and that inspiration can come at unexpected times and places.  Being flexible with time is necessary.
What do you think is the biggest issue for women in the workplace?
I'm really encouraged by the conversations that are taking place in the workplace and the acknowledgment and openness around the challenges for women.  Possibly one of the biggest issues is shifting those well ingrained cultures.  Breaking through those old ideologies and attitudes takes patience and persistence.  The positive thing is that these conversations are happening and as we continue to educate and inform we are moving in the right direction.
How has mentorship made a difference in your professional and personal life?
I have never sought out a mentorship in the traditional sense, but found less structured interaction with role models was more suited to me.  Personally, the opportunity to simply observe leaders at all levels has helped me to identify character traits to aspire to.  For example, how to facilitate successful collaboration or problem solve under pressure.  I'm also fortunate that, within Chevrolet, I have some trusted advisors whose honest design feedback allows me to continually grow.  Having a supportive ear and someone that will share their candid opinion is truly valuable.
Which other female leaders do you admire and why?
It's always hard to share a short list of this kind, especially when I am lucky enough to be surrounded by a family of admirable women.  My Mom, sisters, and close female friends are constantly teaching me about patience, inclusivity and the many shades of strength and persistence.
I also adore listening to Krista Tippett.  Her podcast On Being has opened me up to so many stories and perspectives.  I'm really drawn to these reflective conversations and admire the diversity of voices as well and honest storytelling.
Lisa Gorman, whose Australian fashion label 'Gorman' is my all-time favorite, is someone I admire for her bold aesthetic that paves its own path.  Gorman is also a huge advocate for collaboration and continually pairs with a range of artists and designers. This sense of a design community as well as showcasing and giving opportunity to others is something I truly respect.
What do you want Chevrolet to accomplish in the next year?
Chevrolet has had some really exciting launches this year already with the all-new 2018 Chevrolet Equinox and 2018 Chevrolet Traverse.  In the color and trim studio we are busily developing next generation Chevrolet concepts.  We're always exploring new and improved materials and ways we can enhance the driving experience for our customers. I hope to see some of these ideas realized and happy customers behind the wheel.
This post was published on the now-closed HuffPost Contributor platform. Contributors control their own work and posted freely to our site. If you need to flag this entry as abusive,
send us an email
.