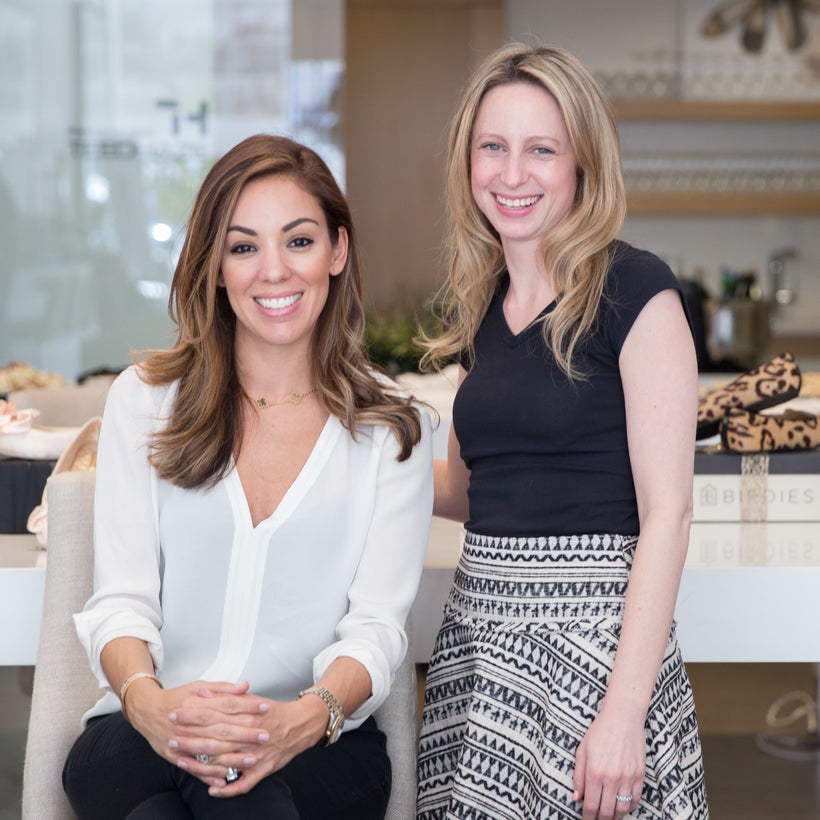 Long before hatching Birdies with her co-founder Bianca and when most kids were spending their weekends on the little league field, a young Marisa was out with her father, a merchandising veteran, racing through the shops and streets of New York, learning to spot the latest fashion trends. Her love of the fashion business was born and Marisa went on to build a career advising leading executive teams in the retail industry.
Marisa served as the Group Vice President of Strategy at Ross Stores in New York City and was a Senior Manager at Bain & Company. In those roles, she focused on growth strategy, performance improvement, and organizational design.
Marisa received an MBA with Honors from The Wharton School at the University of Pennsylvania and received a BS from Cornell University. Outside of working on Birdies, you can find Marisa chasing her two daughters around their backyard, gushing over amazing interiors on Pinterest, and hosting low key taco nights at her home in Northern California, surrounded by friends, family, and comfortable, stylish slippers.
Bianca has always loved entertaining at home, despite being a terrible cook. She believes there is something special about inviting friends and family into the comfort of her home. Even living in NYC just out of college, where going out was the norm, Bianca preferred hosting people in her tiny apartment. But there was always one problem: she could not find the right slippers to finish off her stylish outfit.
Today, living in San Francisco with her husband and two kids, entertaining at her home has become even more of a passion. After a 15-year quest for fashionable, comfortable slippers, Bianca decided it was time to solve this problem. 
In addition to working on Birdies and entertaining her friends and family at home, Bianca has spent the past five and a half years leading retail partnerships at Facebook & Instagram. Prior to that, she was a Sales Executive at Viacom and Univision and is a graduate of the University of California at Irvine. Bianca remains a terrible cook but has finally solved the hunt for the perfect slipper.
How has your life experience made you the leader you are today?
MS: My parents have always been exceptionally hard workers and those expectations translated to me as well. I learned early on that hard work yields better results and that you can't be afraid to get your hands dirty. I've always expected that of teams I've led and have modeled that behavior by standing with them in the trenches. I've also seen that my own career growth has been driven by strong leaders who challenged me to take on more, even when I didn't think I was up for it. Being empowered to do more has driven tremendous personal satisfaction in my career and empowering others to take on increasing responsibility has become a consistent focus of my leadership approach.
BG: I've always felt the need to hustle, climb, create something out of nothing and I've never believed that things were out of my reach. In college, I started importing a facial cream from Argentina and with nowhere to sell it – I began selling it to my customers at the restaurant where I waited tables. A few years later I convinced Univision to hire me without any network sales experience and I'd focus on the clients that wouldn't call them back. Within a year I landed T-Mobile, L'Oreal brands and negotiated a multi-year World Cup sponsorship with Hyundai/Kia. Birdies is by far my biggest opportunity yet. We have enormous vision for the company and a huge opportunity and we are going to take advantage of it.
How has your previous employment experience aided your tenure at Birdies?
BG: For the past five and a half years, I've led retail partnerships at Facebook and Instagram. I work with some of the most aspirational fashion and home retail brands in the world to help them launch new products, acquire new customers and communicate their brand message at massive scale.
At Facebook, we have a set of core values that guide us. My two favorite values are Be Bold and Move Fast. Marisa and I first contemplated starting Birdies in February of 2015. By November of 2015 we were selling our first collection and by November of 2016 we were in every major holiday gift guide and worn by many celebrities and influencers. I talk to a lot of entrepreneurs with good ideas but the hard part is developing the courage to launch your idea and get feedback from the market.
MS: Before launching Birdies, I was a corporate strategy executive focused on the retail, an experience that has proven invaluable in building Birdies. I've had the good fortune of working with brilliant leaders from a variety of backgrounds. As a management consultant, I learned how to think through key decisions, typically with limited data, in the context of limited resources, to progress toward our business goals. At Birdies, we are doing this every day. We know where we want to head and are constantly moving the pieces around to get there. On the retailer side, I worked with merchants who taught me the nuts and bolts of the business—including the need to think through every decision from your customers' perspective and understand how you can constantly improve their experience with your brand.
What have the highlights and challenges been during your tenure at Birdies?
Both: We've been fortunate to have a lot of highlights to share. From Meghan Markle and our other celebrity fans sharing Birdies with their networks, to the simple moments like our first sale that came from someone we didn't know. Knowing that there are women across the country who enjoy Birdies as much as we do is a daily highlight! At the same time, every day is a challenge. We're constantly pushed out of our comfort zone. We are not only co-founders, but overnight we became accountants, lawyers, shippers, shoe designers and tariff experts!
What advice can you offer to women who want a career in your industry?
Both: Becoming a successful entrepreneur can't be done alone, put yourself out there and don't be afraid to ask for help. We're of the belief that when women support and help each other, they can do even greater things. We would not be where we are today without the help of many others—whether it was hosting a trunk show, telling a friend about how much they love their Birdies, or recommending someone who we should work with, our network of supporters have enabled us to grow and build a brand we are truly proud of.
What is the most important lesson you've learned in your career to date?
MS: You have to blaze your own path, not somebody else's. Know yourself and let that guide you. The hardest thing as defined by the outside world is not necessarily the best for you, or even the most challenging. Be courageous and set your own standard.
BG: Identify your passion and strengths early and find ways to leverage them in your career. You'll not only perform at a higher level but they will make you a better leader because people love being around passionate people!
How do you maintain a work/life balance?
MS: Running a startup is all consuming and we are involved in almost all aspects of the business on a day to day basis. It's hard to balance that with a personal life. Even before Birdies, I've always had demanding jobs that require a lot of focus. I learned early on that prioritizing where you need to spend your time is key. You can always get involved in every detail, but ruthlessly prioritizing where you can have the biggest impact and where you can delegate is critical to finding balance. I actively think about this week to week with dedicated time to review my upcoming calendar and make sure I am using my time wisely. The whole concept of Birdies is built around our desire to spend time with friends and family. I try to build my schedule so I'm around for family dinners and bedtime, even if that means working later into the night.
BG: These days I find myself juggling many roles so I have to be disciplined with my time and identify my priorities. At the beginning of each year, I write a letter to myself dated a year ahead, taking a look at the year that just passed. In this letter I lay out my personal and professional goals and identify potential challenges and highlights in achieving them. I use this as my roadmap for the year which helps me achieve greater work/life balance and allows me to lead my life with purpose.
What do you think is the biggest issue for women in the workplace?
MS: There are a number of issues preventing women from achieving their full potential in the workplace. The one that hits closest to home for me is the perception that women need to make a tradeoff between going for it at work and having a family. Whether it is organizations not providing reasonable maternity leave, prioritizing facetime at the office over impact, or an underlying perception that when you have a family you are not all in at work, women have to go above and beyond to prove that they want more professionally.
Bianca and I are both very fortunate to have spent large portions of our career at very family friendly organizations. We've seen firsthand how organizations can support women going for it at work and at home, and that is absolutely a priority for us in building the culture and career opportunities at Birdies.
How has mentorship made a difference in your professional and personal life?
BG: Mentors have made a big difference in my life and I've been lucky enough to be surrounded by strong mentors my whole life. My first mentors were my parents – teaching me what it means to be a kind, generous person who would no doubt graduate from college, build a career and lead a life with purpose.
After college, I was lucky enough to interview with an amazing sales executive at Univision, Judy Kenny, who took a big chance on me – hiring me as the youngest sales person ever at Univision. She believed in me and helped me develop many of my best sales skills that I still lean on today. She also encouraged me to make my next professional move – and even helped me negotiate my salary! Most recently I'd say that my best mentors are my peers. I started the first Lean In Circle 4 years ago with a goal of surrounding myself with like-minded women that support and encourage each-other to go for our dreams. They have lifted me up in my most challenging times and have been there to encourage me to take my next bold move.
Which other female leaders do you admire and why?
BG: There are many women who have inspired me over the course of my life but three women in particular come to mind – my mother, Sheryl Sandberg, COO of Facebook and Carolyn Everson, VP Global Marketing Solutions at Facebook who I had the pleasure of working with at both Facebook and MTV.
My mother immigrated from Bolivia at 22 after marrying my dad and did not speak any English or have a college degree. She worked hard to support my dad while he studied to get his masters and later his PhD. She did this while learning how to speak English and later raising four kids in a country where she did not have any family. I admire my mom for her strength, perseverance and unconditional love.
Sheryl Sandberg exemplifies what it means to be bold and I love her honesty and authenticity. She is a great example of leading a life with purpose and being honest about the challenges that women in the workforce face today. Sheryl is the reason I joined Facebook and has inspired me to stretch myself as a sales executive at Facebook and now as an entrepreneur.
Carolyn Everson brings an intoxicating energy both in business and in her personal life. What I admire most about Carolyn is her passion for life and the mantra she lives by - #lifeisshortcreatememories. Carolyn started FUEL at Facebook – encouraging us to find the things that "fuel" us to live a fuller life.
What do you want Birdies to accomplish in the next year?
Both: We know that there is a lot of opportunity in the historically sleepy slipper market. Women want to feel comfortable at home but don't want to sacrifice looking and feeling great. We see women having multiple pairs of Birdies, giving them as gifts year round and living their best moments at home with stylish and comfortable slippers. To do that, we are introducing a broader collection of styles this coming fall—with lots of embellishments and glamorous options perfect for entertaining and even running errands outside if you need to! We're also focused on expanding our distribution to expose more women to Birdies. We have begun wholesaling to some of our favorite shops and have a number of opportunities to continue to grow our retail base this year. As we grow our organization, we are excited to build a passionate, creative and smart team dedicated to the success of Birdies.
This post was published on the now-closed HuffPost Contributor platform. Contributors control their own work and posted freely to our site. If you need to flag this entry as abusive,
send us an email
.