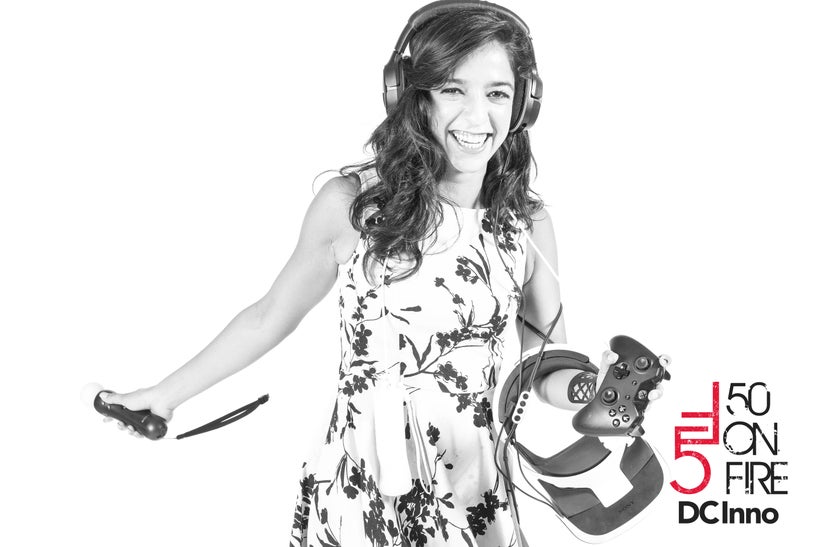 Nika Nour is the Director of Federal Government Affairs for the Entertainment Software Association and an Internet Association Alum. As a triathlete and avid Batman fan, she strives to bridge technology policy issues and Capitol Hill. Currently she focuses on pursuing meaningful changes in regards to STEM, copyright, patent reform, and immigration. Her background as a former congressional staffer for the House Committee on Energy and Commerce committee allows her the perspective to represent the video game industry. 
How has your life experience made you the leader you are today?
I'm lucky to have a support system that keeps me in check and constantly reminds me that we're always striving for better. No one is 100% awesome at anything, and I was taught early on that there's always room to grow. I also come from a very ambitious household. Like many immigrants, my family moved to America with $0. Since arriving here, they've consistently persevered financially and intellectually as full members of the community—the true embodiment of the American dream. Their principles instilled in me a sense for the value of a dollar, investing resources mindfully, and using obstacles to learn and improve. 
How has your previous employment experience aided your tenure at ESA?
Before joining ESA, I worked on Capitol Hill and then started a trade association on behalf of the Internet industry. Both of these positions had a start-up mentality. On the Hill, I was focused on messaging policy initiatives but faced extreme technical deficiencies and had a somewhat limited understanding of how digital platforms worked. In starting a trade association, I inevitably took on the job title of every possible position that would be concretely defined later (I was the IT guy, the communications director, the furniture builder, the H.R. Manager, etc.). Both experiences gave me quick road maps on how to accomplish many goals with very limited resources by not taking no for an answer. "Impossible" is never an attitude that runs well in the tech industry. 
What have the highlights and challenges been during your tenure at ESA?
The biggest highlight has also been the biggest challenge: there's so much to accomplish. It sounds ridiculous, but when you're offered a role that is practically your dream job with the right boss and incredible resources, you feel like you owe it to the tech industry and gamers to get something done. I'm constantly battling with how many hours are in the day. Each night I ask myself: Did my output make a difference? How many impactful Hill meetings did I fulfill this week? What will I do more effectively tomorrow? There's an incredible level of autonomy that comes with this role, and being strategic with time and impact is immensely important. 
What advice can you offer to women who want a career in your industry?
Take every meeting. Be everywhere. Stay incredibly positive. Don't give up. And pay it forward. Remember that the world is much, much bigger than you. If you're having a bad day, just go to bed. You'll always feel better in the morning. 
What is the most important lesson you've learned in your career to date?
If you work hard, keep your head down, and do good, the world will repay you. Every action has a boomerang effect. As long as your intentions are to break new ground and improve the quality of life for others, your results will reflect that.
How do you maintain a work/life balance?
I don't and that's okay. My career revolves around the video game industry, and my favorite perk is my access to gameplay. With all the new virtual and augmented reality available to demo, I'm always "working," even if it looks like I'm playing with video games.  
What do you think is the biggest issue for women in the workplace?
Women still tend to refrain from speaking up, and are often afraid to share their thoughts, opinions and counter perspectives. When a woman is bold, confident or even just verbal, it's sometimes viewed as "pushy/bossy/sassy," which is a very real and unfortunate double standard. Never once have I called my male peers "bossy," while I am certain I've been referred that way.
How has mentorship made a difference in your professional and personal life?
You're always going to need someone to lean on. I constantly try to compare notes with my mentors; it's how I take care of myself and make sure that I'm maintaining my own personal set of checks and balances. Too often we think we're alone or the only ones impacted by a specific incident, which is just not true. There's always someone else who has suffered a similar issue or experienced the same series of unfortunate circumstances who will have insight to provide. 
Which other female leaders do you admire and why?
Lucille Ball - For a woman of her time, she really had gusto. Her creativity and leadership changed the television and media industries for the better. Her ingenious idea to start taping her live sets allowed for audiences to witness a female lead and role model. Her character, charm and charisma led to a movement that brought smiles and laughter upon millions, even though her own personal life wasn't quite "Hallmark ready." 
What do you want ESA to accomplish in the next year?
I'm most focused on outlining a plan to fill the number of jobs available in our industry, which currently stands at over 146,000 positions in 36 states. It is imperative to make sure that we're building a robust pipeline for students to achieve success after college by starting from an early age. Especially young girls, who begin to identify career paths and potentials via exposure by ages 5-7. It's important to make sure we're equipping the American education system with the right materials to provide knowledge on coding, IT/Hardware, and software development. At the same time, we need to work with key stakeholders on skills re-training to open opportunities for those interested in transitioning into careers in the video game workforce.
This post was published on the now-closed HuffPost Contributor platform. Contributors control their own work and posted freely to our site. If you need to flag this entry as abusive,
send us an email
.