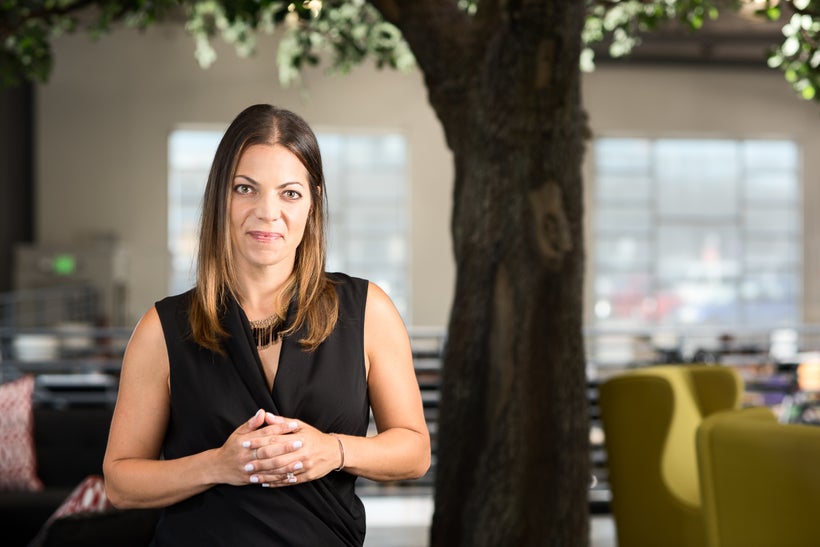 Rachel has been leading at Pitch since the very beginning, when the advertising agency was launched in 2008. Now, as Pitch's CEO, she is the living, breathing embodiment of the agency's working philosophy that demands a 'Return on Creativity'. Rachel has been instrumental in Pitch's year-over-year success – recognized by Advertising Age on their prestigious "Agency to Watch" list and with two of their "Best of the Decade" campaign awards. In 2016, Rachel was named one of Business Insider's 30 Most Creative Women in Advertising. Before Pitch, Rachel held a variety of marketing positions in the entertainment field from 20th Century Fox to MTV Networks and is now a proud member of the Young Presidents' Organization. A born and bred Jersey girl, Rachel has found a true appreciation for the left coast as she raises two Cali-boys with her husband and their golden retriever, Frankie, who is also the agency mascot and greeter, proudly commanding the floor at Pitch.
How has your life experience made you the leader you are today?
As a young girl with an older brother I idolized and a Dad who was a feminist of sorts, I found myself naturally ignoring gender boundaries and limitations. I didn't act timid or quiet because I wasn't aware I was supposed to.
Along with that confidence came a boldness that was reinforced by people I admired telling me that they were proud of me and were rooting for me, which is addicting. So, I did more things to stand out. I spoke up, loud and proud.
I think my East Coast upbringing shaped me the most as a leader. I'm a born and bred Jersey girl. That means I don't often filter my true intent. I have a filter, I just don't overuse it. As a leader, it's important that others see that you are earnest and transparent.
The straight-to-the-soul friendships and relationships I cultivated in the 80's in the small suburbs of South Jersey gave me an edge and a drive that's all very honest and unambiguous. People know where they stand with me. They know what to expect from me and what I expect from them. These are crucial attributes for anyone who plans to lead. I'm proud that I have found a way to embrace and grow these qualities.
How has your previous employment experience aided your tenure at Pitch?
Before I entered the fast and furious world of advertising, I enjoyed a successful career in entertainment marketing. I was extremely fortunate to ignite my career at MTV Networks in the early 2000's. MTV fostered an environment of openness where young people were encouraged to speak up and seek advice from anyone. I remember approaching popular on-air personality Gideon Yago at the ATM machine and inviting him to grab a coffee - and he said yes!
The MTV culture of openness was so exciting and pervasive that I began to believe it was the norm in the entertainment industry. I quickly found out after moving to Los Angles that it was the exception. In L.A. I worked in the studio world, which I found was blessed with some of the most innovative and talented people I had ever known. However, there was an inescapable culture of closed doors and competition. People held projects and ideas close to the vest for fear they would be stolen. I learned that one's status in the industry was directly correlated with the size of their office, location of their parking spot, and which events they attended. It wasn't always about the work. At that time, the studio system seemed designed to shut down collaboration, innovation, and personal growth.
I hated every second of it, but it taught me a lot about what not to do. It taught me to jump into any open space in front of me so I could learn and grow. It taught me to foster collaboration and create a learning environment. And, it led me to make sure that Pitch was infused with an open culture where there was no place to hide.
What have the highlights and challenges been during your tenure at Pitch?
These are two sides of the same coin. It's only through challenges that you can create your highlight reel, and together they add up to real accomplishments.
I believe my greatest accomplishment has been making Pitch not just a great place to work, but also making it into a part of me, a part of my soul. I know that sounds corny, but it's true. When a company becomes deeply and indelibly linked to a person, there's something honest and authentic about the dynamic. I admire great leaders like Mark Zuckerberg, Jeff Bezos, Bill Gates, and Richard Branson, who have connected so intensely with their organizations that they are totally intertwined. The passion from the top radiates through the entire organization. Growing, delivering for clients, and attracting and retaining the best-and-brightest talent can be challenging. But, when you fire on all cylinders and meet the high expectations you have set for yourself and the agency, there is nothing better.
What advice can you offer to women who want a career in your industry?
Don't focus on being a "career woman," but on being the best version of yourself. Wear that individual identity as proudly as you do your intelligence, your humor, and your passion. Don't work around it. Work it. Make it work for you in business as strongly as it does in your personal life.
What is the most important lesson you've learned in your career to date?
My first boss at MTV pulled me aside at the ripe age of 22 and said: "You are incredibly smart and you will do great things in life – but you must learn to listen first."
My most recent boss taught me: "Don't try to fill the silence."
So, the most important lesson I've learned is to first take it all in and then respond.
How do you maintain a work/life balance?
I don't believe in a work/life balance. What does it even mean? Who determines the balance and what does that look like? It's an unanswerable question in my opinion and it sets us up for failure.
I believe it's all a matter of making the right choices and being fully present in the moment. Often, I have to catch a flight to a meeting even though my two boys beg me not too. So, I Facetime them, write them little notes, and do the best I can to get home fast. When I'm talking my sons, I'm really listening to them. Sometimes I read them a story during a busy time at the office. It's an important break for all of us. Being upfront and honest with yourself, your loved ones, and the people with whom you work helps everyone understand your choices.
I tell everyone who interviews at Pitch that we trust them to be an adult. I encourage them to do an amazing job, and live their life. If you are doing an amazing job, no one will ever clock you in and check on your whereabouts.
What do you think is the biggest issue for women in the workplace?
I'm concerned about the generation coming up. So much emphasis is being placed on women in the workplace. I think we absolutely must shine a spotlight on equal rights, pay, and opportunity. I think we must teach and help young women to be successful and help older generations reinvent themselves. We must reinforce how important it is to demand respect and just rewards. At the same time, I worry about a backlash. I want us to make sure we set reasonable norms for future generations. Women are badass, intelligent, bold, and capable. They can be anything. My great hope is that we make their trajectory a fact, not a fad.
How has mentorship made a difference in your professional and personal life?
Seeking out the right mentors has helped me become more disciplined and made me focus on exactly what I want and why. It has helped me prioritize my goals.
A few years ago, I was fortunate to be invited to join the Young Presidents' Organization (YPO). I met so many amazing entrepreneurs who were insanely successful in all walks of life. It was a bit overwhelming and one of the rare situations when I became self-conscious and circumspect. However, as I listened and learned, I soon realized that it was okay to reach for the top and approach the people I most admired, the individuals I wanted to emulate professionally and personally. Discovering that self-assurance in a professional context and the ability to laser focus on my goals helped me almost as much as the mentorship itself.
Which other female leaders do you admire and why?
Kim Getty, president of Deutsch LA. She leads a complex agency in a tough industry and has a massive band of loyal followers who think the absolute world of her.
Sara Bamossy, chief strategist of Pitch. She is a beautiful person with a beautiful mind and an amazing balance of intelligence, curiosity, and willingness to grow while still being confident in everything she does and is.
Ruth Bader Ginsburg and Sandra Day O'Connor – it takes real balls to quietly rise up and emerge as the most powerful people in the room without making others feel you knocked them out to get there.
What do you want to accomplish in the next year?
Increase levels of happiness at home and at work for me and my troops. Boosting our performance will bring more joy and recognition, and that matters. And, I'm working on managing my instinctive edginess so I'll be OK when the calm and quiet sets in.
This post was published on the now-closed HuffPost Contributor platform. Contributors control their own work and posted freely to our site. If you need to flag this entry as abusive,
send us an email
.