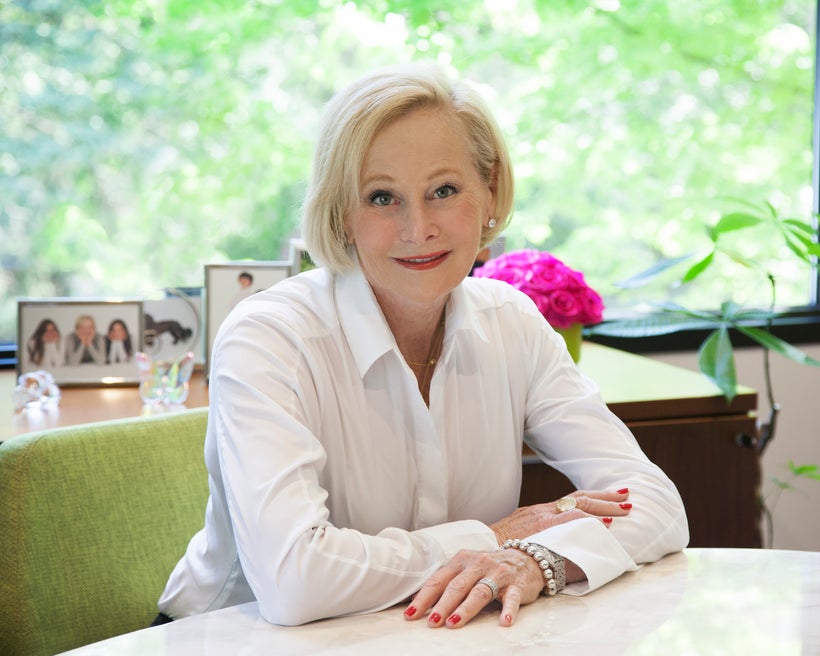 Randy Rubin set out with a vision to create a stylish commercial textile that was stain, water and odor resistant. She had no idea she would one day own three powerhouse brands that are all synonymous with performance: Crypton, industry leader in contract upholstery performance textiles; Nanotex, leading fabric innovator providing nanotechnology-based textile enhancements to the apparel, home and commercial/residential interiors markets; and Crypton Home Fabric, a performance fabric technology specifically developed for residential furnishings.
Her Crypton adventure began in 1993, when Randy and her husband Craig started the business in the basement of their Franklin, Michigan home. At the time, the only option for high-traffic commercial upholstery was vinyl or vinylized fabric. Inspired by amazing functionality and convenience of disposable diapers, which where new at the time, they set out to patent soft, antimicrobial, stain and moisture-resistant upholstery fabrics. Through trial and error, Craig developed the process and with Randy's strong background in branding she took the product to the patent office and then took the industry by storm. The resulting textiles were perfect for commercial interior use because they weren't hard, cold and vinyl-coated, the only way to make them until then. From this a new category of textiles was born, performance textiles, and Crypton became tantamount with performance just as Kleenex is with tissues.
Today, Crypton is ubiquitous in major hotels (Hilton, Marriott, Wyndham) and in office, restaurant, education and healthcare settings. Crypton is available globally, uses only US-based textile mills and has expanded into the residential interiors with the launch of Crypton Home.
An avid philanthropist, Rubin has made giving back a core value of all of the Crypton companies. She has been devoted in supporting the dramatic revival of design and commerce in her home city of Detroit, which was recently named a UNESCO City of Design. She is also on the board of New Detroit, a featured speaker on NEWH's new conference series for women in the hospitality industry, and co-chairing "Strictly Business," Detroit's largest event for business leaders.
Randy is a graduate of Wayne State University, and she continued her advanced degree work at Oakland University.  She is devoted to her family and enjoys honing her golf game when time permits.
How has your life experience made you the leader you are today?
Many years ago, I found myself divorced and flat broke with two small children to support and no viable job opportunities at the time. I was a former teacher when I was suddenly left by my husband and there were no teaching positions at this time. That experience made me determined to never let myself be in such a vulnerable position again. So I found my inner strength and honed my ability to put myself out there in a new way. Sometimes the product was me and my abilities to do a job and sometimes it was an idea or project I believed in. I quickly learned that a peddler always has a job—if you can bring an employer more money than you cost her—you have a job. 
How has your previous employment experience aided your tenure at The Crypton Companies and Nanotex?
Before the birth of Crypton in 1993, I was a spokesperson for Chevrolet in the Women's Marketing Division. It was here that I learned to plan way ahead, be totally organized and be comfortable speaking in front cameras and thousands of people. For example, when I was in charge of recruiting keynote speakers for the large career conference called Strategies for Success, I needed to be able to manage personalities, develop content that was relevant, keep things moving, and motivate the speakers to spark inspiration in those attending the conference.
To be a good leader you have to recruit amazing talent, network effectively and most importantly learn the art of negotiation.
What have the highlights and challenges been during your tenure at The Crypton Companies and Nanotex?
A recent highlight was when we invited some of the biggest names in the interior design industry to see a demonstration of how Crypton Home Fabric can perform for them. They are accustomed to working with very high-end fabrics such as silk and fabrics that costs hundreds of dollars a yard. I was fearful they would reject our fabrics—instead they went nuts over it and could not believe what they were seeing. We showcased to this group that performance technology is the future of textile industry and it can and should be utilized in all aspects of design – from home to contract. Then…they actually started to incorporate it into their projects. 
A huge challenge that we turned into a company crown jewel was when Crypton had to start its own manufacturing plant. The initial business model was to outsource manufacturing, and concentrate on owning intellectual property and licensing the brand. While outsourcing the manufacturing it became apparent that we were running into a potential disaster with quality control. We took this challenge in hand and created a state-of-the-art facility in Kings Mountain, NC with a tight research and quality control team. Our facility is now part of the future of US textiles and is considered a best-in-class for producing quality performance technology for textiles while maintaining respect for the environment.
What advice can you offer to women who want a career in your industry? 
The textile industry has traditionally been a very male dominated world, however, many company leaders have been there for too long and I see this industry as wide-open for fresh, visionary talent. I think with the right education, technical knowledge and management skills it is prime territory for women. Like any situation, my advice is to size up the places you may want to work—really study it.  There is a desperate need for new leadership, and it is time for textile industry to move into a more progressive role.  I'm lucky to be in a position where I can cultivate talented women for leadership positions. Crypton supports several organizations both locally and in the fabric and furnishings industry such as WithIt, Sustainable Furniture Council, International Textile Market Association (ITMA), and NCTO to help cultivate young talent so we can grow the industry into a US powerhouse once again.
What is the most important lesson you've learned in your career to date? 
It is critically important to me to know that I'm investing my time and work into something that is unique and different. I have no interest in a business that is based on a commodity. Unless I can bring something to market that is innovative, preferably patentable and brandable my interest is low. The lesson to me is that I know my strengths, and I surround myself only with those who are innovative, inventive and inquisitive. That is how I helped create the performance textile category nearly 25 years ago. I may not always have been a good employee, but I am a great employer.  
How do you maintain a work/life balance?
My absolute first priority is my family and nothing will take precedence over them for any important occasion or a committed date.  Next is work and then comes fun.  I give this thought every day of my life in terms of staying focused on what is really important.  I was once so focused on work that my entire identity was built on my title—in one day that was taken away and to this day I realize that my life cannot be just my job. What means the most to me, my family, must come first and I cherish the opportunities I have with them each and every day. This is how I maintain my clarity.
What do you think is the biggest issue for women in the workplace?
In some areas we are afraid to get in the same sandbox as men.  Some women do get in the sandbox but then they stop short. We need to build castles in the sandbox!  We just have to start thinking BIGGER.
How has mentorship made a difference in your professional and personal life?
It has made all the difference. During my tenure at Chevrolet I directed a series of career conferences across the country called Strategies for Success.  These were huge events with thousands of women and we featured great women to headline the program.  To this day I can see and hear Maya Angelou telling me that when she walks there are countless women behind her that she constantly felt and got strength from continually.  When I go into a very important meeting I think of her, then I put my shoulders back and know that I too have that support.  I always say to myself – They Need Me!
Barbara Walters once told me not to be scared of getting even more power and success. She said when I get scared that things are going too well just knock on wood and keep going. It may be a superstition, but it has worked for me. I realized then, and still do, that when things are going very well I am happy, but a little scared at the same time…which is truly silly. 
Which other female leaders do you admire and why?
I think Ruth Bader Ginsberg is remarkable—small, Jewish, brilliant and mighty. She is a trail blazer in every way. Her perseverance through the death of her husband and recent illness is something awesome to behold. She speaks her mind, and has the gumption to back it up. That is something to admire and emulate whenever possible. 
What do you want The Crypton Companies and Nanotex to accomplish in the next year? 
This year I'm determined to keep the momentum going with our newest venture, Crypton Home Fabric, through our expanded partnerships with companies such Pottery Barn, Jo-Ann Fabrics, Calico and more than 60 other furniture manufacturers - making our performance textiles available in thousands of retail outlets. In 2016, we doubled our projections, this year we are on track to surpass that growth. I want to see more white couches and become a household name! 
Nanotex has been gaining brand recognition through our product lines at the Gap, Target and QVC and the brand's mantra of Expectations Exceeded is delivering. Because our performance technology offers a point of differentiation and a reason for consumers to purchase, retailers are starting to reach out to us because they love what we are offering – performance technology for apparel.
My ultimate goal is for all three of our companies to be known in their industries as a brand that defines performance. I am excited to be a part of shifting the momentum in the textile industry to one of performance. I want our brands to speak to the consumer in a very personal, relevant way and be a household name.
This post was published on the now-closed HuffPost Contributor platform. Contributors control their own work and posted freely to our site. If you need to flag this entry as abusive,
send us an email
.