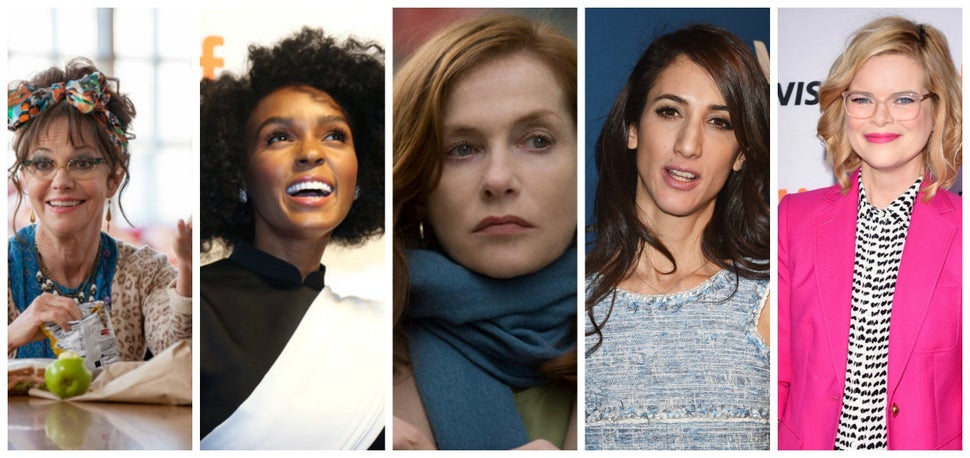 On the whole, 2016 was not an easy year for women. America's president-elect became a president-elect after footage was released of him saying, "I'm automatically attracted to beautiful women — I just start kissing them [...] I don't even wait. And when you're a star, they let you do it. You can do anything."
In filmmaking, gender parity developments weren't as bleak. In January, The New York Times reported an uptick in films directed by women; in 2015, nine percent of top-grossing films had women at the helm, a two percent increase from the previous year. It's small, but it's something. No one ever said progress would come in floods, or even a steady stream.
Behind this progress, there's a fleet of vocal screenwriters, directors, producers and actresses ― some of whom speak up because they're constantly barraged with gender-related questions, others because parity is a focal point of their work. We talked with several of them this year, ranging from household names like Sally Field to directors toiling away at short filmmaking, hoping to secure feature-length funding.
Below is a sampling of takeaways on how to achieve gender equality in the film industry, culled from some of our favorite 2016 interviews and profiles.
"Carrie Pilby" screenwriter Kara Holden on creating flawed female characters:
"Hugh Grant can get away with it. And 'High Fidelity,' I mean, John Cusack's character is a mess, but you love him. You love him. I feel like, you know, that's another way that gender equality needs to come in. We need to allow women characters to have all facets. To be flawed, to be wonderful, to be frustrating, to be inspiring. Because we are all those things. Period."
We need to allow women characters to have all facets.

Kara Holden
Actress Janelle Monáe on working as a black woman in Hollywood:
"We're all connected. We need allies, period. We're the minority. It's not something I look at as a weakness, or like we should play victims. It is simply highlighting our collective voices and saying that it's important to highlight the stories of these nuanced individuals so that when we're out in the real world and we come across someone that feels familiar, that feels like the character you saw on TV, you think differently on how you treat them. We deserve to have the same opportunities, the same respect as any other person in society."
"Maggie's Plan" director Rebecca Miller on production companies' harmful diversity quota mentality:
"Not every man who directs a movie about the mafia is himself in the mafia. That means that women might be able to direct films that don't directly line up with their realm of experience. It's almost like a quota mentality. I think this goes for women and minorities both. [Movie executives] say, 'We really want a woman to direct this movie.' The minute you say that, you mean that we're all the same. Any woman could direct this movie, and it doesn't matter which one?"
We deserve to have the same opportunities, the same respect as any other person in society.

Janelle Monae
Actress Sally Field on the persistence of gender inequity in filmmaking:
"Listen, it's always been difficult for women. That's nothing new. You could look at the statistics in '79 or '80, when I did 'Norma Rae.' It's always been difficult for women — that is just the way it is. It's a good thing that people are standing up and hollering now. It isn't just women now standing up and hollering, and I think if it were just women, we would be silenced again, as usual."
Filmmaker Kiki Lambden Stout on the more diverse medium of short film:
"Most shorts are financed independently so short filmmakers don't have to ask permission to cast actors of color or older actors. Women directors don't have to wait for a studio to hire them to get a chance behind the camera."
Women directors don't have to wait for a studio to hire them to get a chance behind the camera.

Kiki Lambden Stout
Actress Viola Davis on race and opportunity:
"I probably have the same kind of past as a Julianne Moore or a Sigourney Weaver or any of them, but they far surpassed me in terms of their opportunity. And that's the difference. Your work and what you invest in your talent doesn't match the opportunity of the narratives that are out there. So you have to take all that you have and pour it into [playing] the detective in 'Disturbia.'"
"Mustang" director Deniz Gamze Ergüven on writing intimate scenes about girlhood:
"It's so funny the things you say inside of a sisterhood. 'Who has one boob that's bigger than the other? Your ass is fatter.' There's all that ping-ponging that's very prevalent. It's part of my intimate experience."
Yes, having more women behind the camera is just as, if not more, important than still continuing to try and make more roles for women in Hollywood.

Judy Greer
Director and actress Judy Greer on a transition to working behind the camera:
"There's been a lot of talk in the last year or two about more roles for women, but I think that it really starts at getting more women in positions to hire women and make movies about women and to cast women in movies. So yes, having more women behind the camera is just as, if not more, important than still continuing to try and make more roles for women in Hollywood, in television and in film. And I'm excited to be a part of that." 
Writer and curator Giulia D'Agnolo Vallan on woman directing genre films:
"I love genre, in all its forms — Western, horror, noir, sci-fi. That's my passion. And as a filmgoer I always resisted the idea of "women films" — or "men films," for that matter. I think it is important to embrace women that don't subscribe to those clichés. The idea that a woman director has, by definition, less affinity for an action scene than a male one is silly. Kathryn Bigelow can out-direct most of her male colleagues in Hollywood. It's a matter of vision, talent, stylistic and poetic inclinations. Not gender."
Kathryn Bigelow can out-direct most of her male colleagues in Hollywood.

Giulia D'Agnolo Vallan
Actress Isabelle Huppert on her character in "Elle":
"It's like giving birth to a new prototype of a woman. Of course it's a fiction character and it's certainly not someone you would meet walking in the subway, meaning it's not a completely realistic character. But it's a very, very special character. Even in fiction, you've never seen someone like her."
Filmmaker Catherine Fordham on directing a violent short film starring a tough heroine:
"I wanted to make a film that wasn't about a superhero, or a physically powerful woman, but just an ordinary woman with a fire inside her. What strength is possible if we can tap into that power?"
BEFORE YOU GO
PHOTO GALLERY
11 Films With Black Stars To Look Forward To In 2016