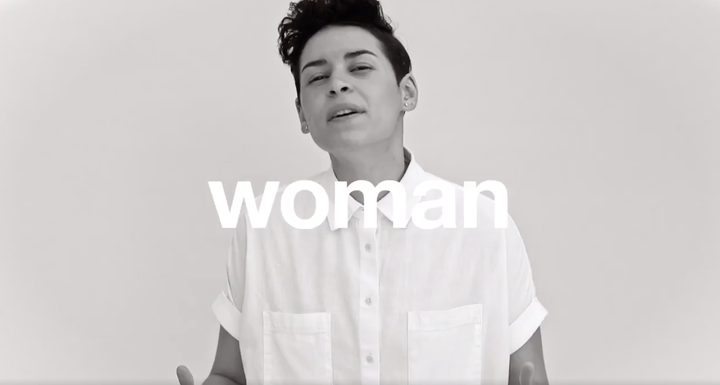 Twitter's new ad campaign #HereWeAre is drawing some criticism from the very women the platform is trying to empower. 
The one-minute video aired during the 90th Academy Awards, which took place in Los Angeles on Sunday night. The ad, which was the platform's first-ever Oscars commercial, was shot in black and white and promotes diverse representation and women's empowerment. 
The ad features queer poet Denice Frohman performing a spoken-word poem as the faces of strong and influential women flash across the screen. Director Ava DuVernay, actress Issa Rae, Oracle executive Jennifer Renaud and Twitter's senior director of marketing and communications, Nola Weinstein, all appear in the video. 
"I heard a woman becomes herself the first time she speaks without permission," Frohman begins her poem. "Then every word out her mouth, a riot. Say beautiful and point to the map of your body. Say brave and wear your skin like a gown."
Twitter announced the ad on its platform, writing: "We stand with women around the world to make their voices heard and their presence known. To bring them front and center, today and every day." 
According to a 2015 study, 88 percent of social media harassment occurs on Twitter. While there are many types of harassers online, much of the vitriol has historically targeted women. It often includes body-shaming comments, sexist language and even rape and death threats. Although Twitter has taken steps recently to prevent online harassment and bullying, many users still believe more needs to be done.
While many people applauded the powerful ad, dozens of women tweeted their disappointment on Sunday night. 
"#HereWeAre, still watching as Twitter does little to nothing about the rampant misogyny & racism that infects this space," feminist author Jessica Valenti tweeted. 
Jewish activist and feminist Rebeccs Krevat pointed out that the ad was very powerful, but problematic.
"That @Twitter commercial was powerful, but also feels odd considering that I spent this past weekend being harassed by misogynist fat-shaming trolls, only [to] be told that the Tweets didn't violate their standards," she wrote. "Do better, Twitter, where it matters."
Feminist organization and documentary film "Miss Representation" also criticized the ad, tweeting: "It's amazing to see all these amazing women in this @Twitter ad, but if the platform really wants to encourage women's voices they need to update their Safety Guidelines."
Read more criticisms about Twitter's #HereWeAre ad below.