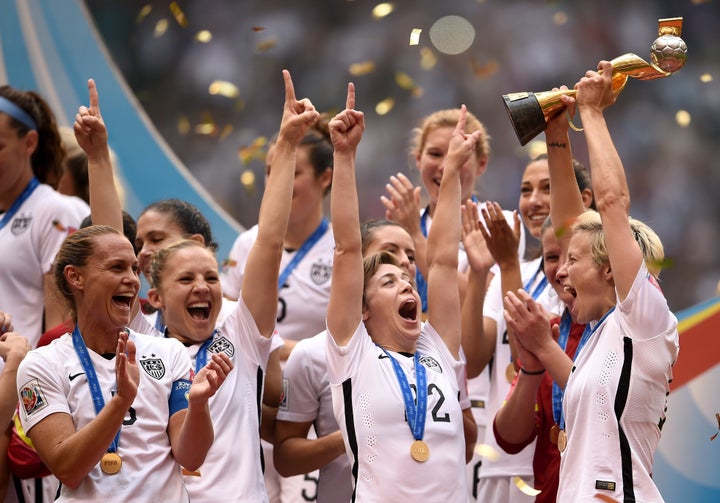 WASHINGTON -- A Senate committee hearing Wednesday was supposed to focus on corruption within FIFA, soccer's international governing body, and for the most part it did. But it also veered into another hot topic for the sport: disparities in pay between male and female players, an issue that hit the headlines after the U.S. Women's National Team won the World Cup earlier this month.
For their victory, the American women earned $2 million in prize money, a pittance compared to the $35 million that Germany's men collected for winning their World Cup a year ago and just a quarter of the earnings that the U.S. Men's National Team won for reaching the tournament's round of 16. The gender gap led to widespread criticism of FIFA and online campaigns calling for more equal pay.
Those campaigns have an ally in U.S. Soccer, the governing body of American soccer, according to one of its top officials.
At Wednesday's hearing before a Senate Commerce subcommittee, U.S. Soccer CEO Dan Flynn said the federation wants to use its power -- and U.S. Soccer President Sunil Gulati's seat on FIFA's Executive Committee -- to push for more opportunities for women soccer players, and better compensation too.
"We are a strong advocate for the women's game," Flynn said in response to a question from Sen. Richard Blumenthal (D-Conn.), the committee's top Democrat. "We will continue ... to push for continued development on the women's side. And one of those items would be an increase in compensation for those competing and participating teams in the World Cup and other competitions as well."
Flynn did not commit to equal pay. But he said he had met with top officials from Canada's soccer federation during the World Cup's final weekend to discuss the preparation of a post-event report about different issues around the Canada tournament. In those conversations, he said he brought up compensation and other areas that had drawn criticism, including the housing of opposing teams in the same hotel (which doesn't happen with the men's teams).
Flynn did not speak to the media after the hearing, and U.S. Soccer did not immediately respond to a request for further details about how it could push FIFA toward greater payouts for women's teams. During the hearing, Flynn said the federation would advocate through Gulati's position on FIFA's Executive Committee, which awards and oversees major tournaments.
Sen. Amy Klobuchar (D-Minn.) also pressed Flynn about the disparity in pay for women's soccer players. Sen. Patrick Leahy (D-Vt.) introduced a resolution calling for equal pay in international soccer on Monday.
FIFA dictates the total pot of prize money handed out at its events. Payouts from the men's and women's World Cups go directly to the federation, Flynn said. The American teams are compensated based on separate collective bargaining agreements they have negotiated with U.S. Soccer.
The disparities between men's and women's soccer were a recurring theme throughout the latest World Cup cycle. The issue drew attention in 2014 when multiple women's teams, including Jamaica and Trinidad & Tobago, struggled to fund trips to the United States for World Cup qualifying. And in March, FIFA released its own report about the lack of investment in women's soccer worldwide. It has pledged to foster greater investment in and more opportunities for women and girls who want to play and work in the sport.