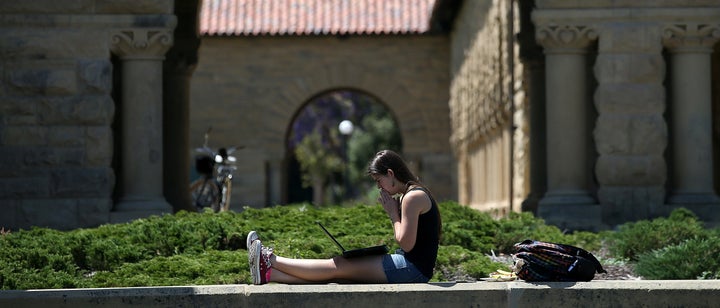 A new ranking of the world's best universities released Wednesday shows the United States' traditional lead is slipping. 
The Times Higher Education's annual ranking of the top 200 universities worldwide includes 63 American institutions, down from 74 the year before. The U.S. still has 14 of the top 20 schools, however. 
Times Higher Education, a London-based magazine, credited America's slip to a "surge of innovative European and Chinese schools." This year's rankings are the most inclusive, looking at 800 institutions, and refined aspects of their methodology, explained on their website.

California Institute of Technology, or CalTech, was named the No. 1 school in the world, for the second year in a row. The United Kingdom's biggest rivalry was won by the University of Oxford this year, as it beat the University of Cambridge, at No.s 2 and 4 respectively. 
Stanford University, the Massachusetts Institute of Technology and Harvard University follow up at third, fifth and sixth places. The University of California, Berkeley, at No. 13, is ranked the best public university from the U.S. 
The rankings are based on a mix of teaching ratings, research, international outlook and citations by faculty. 
The top 25 universities in the world in 2015-16, according to Times Higher Education:
| | | |
| --- | --- | --- |
| Rank 2015-16 | Institution | Country |
| 1 | California Institute of Technology | US |
| 2 | University of Oxford | UK |
| 3 | Stanford University | US |
| 4 | University of Cambridge | UK |
| 5 | Massachusetts Institute of Technology | US |
| 6 | Harvard University | US |
| 7 | Princeton University | US |
| 8 | Imperial College London | UK |
| 9 | ETH Zürich - Swiss Federal Institute of Technology Zurich | Switzerland |
| 10 | University of Chicago | US |
| 11 | Johns Hopkins University | US |
| 12 | Yale University | US |
| 13 | University of California, Berkeley | US |
| 14 | University College London | UK |
| 15 | Columbia University | US |
| 16 | University of California, Los Angeles | US |
| 17 | University of Pennsylvania | US |
| 18 | Cornell University | US |
| 19 | University of Toronto | Canada |
| 20 | Duke University | US |
| 21 | University of Michigan | US |
| 22 | Carnegie Mellon University | US |
| 23 | London School of Economics and Political Science | UK |
| 24 | University of Edinburgh | UK |
| 25 | Northwestern University | US |