by Kelly Senyei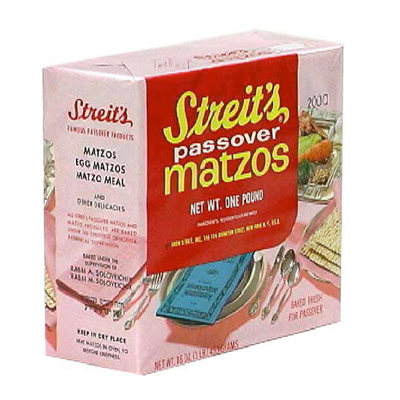 Passover starts tonight, which means brisket, charoset and perhaps even a matzoh house, are soon to make their debut on your holiday table. Gathering family and friends for seder marks a celebratory and often memorable occasion -- just ask rabbi Simcha Weinstein, director of the Rohr Jewish Center, who's had his fill of unforgettable seder moments. We caught up with the best-selling author of Shtick Shift, Up, Up, and Oy Vey!, and The Case for Children to talk seder faux pas, unruly guests, and the best gift to give at Passover.
Epicurious: What's seder like in your home?
Simcha Weinstein: Seder in my home is artsy, creative, bohemian, and a lot of fun.
Epi: What's the biggest seder faux pas anyone can make?
SW: As a rabbi, it would have to be passivity and not asking questions. The seder is all about questions and making it real and relevant to you, so to just sit there and not be engaged would be the biggest faux pas.
Epi: Do you cook? If so, what's your go-to holiday dish for Passover?
SW: I'm more of the prep chef, so I prep and then I schlep. I'm a prepper and a schlepper. And I peel things. My wife is the chef. She makes a mean brisket, which is our go-to dish for the holidays. I'm also a matzoh-chist because I eat an inordinate amount of matzoh. We go through boxes of the stuff. We buy the hand-baked matzoh that tastes somewhat like the box it comes in, but I actually enjoy that simplicity. We're so consumed with tastes and flavors all the time that there's something special about that simple food and simple taste. It's the food of humility.
Epi: What's one of the more unusual events to occur at your seder table?
SW: I work with a lot of art students because the community where I live is very artsy and bohemian, and so I always try to encourage the students to make seder real to them. There's a tradition where we break the middle matzoh, and I was encouraging the students to think about what it is inside of them that's broken, and how we could learn to fix it. And one guest ended up giving an entire lecture about celebrity breakups, highlighting the top five recent celebrity couples that had broken up. And then that started a whole long discussion about who was broken up, and who was dating who, and we went on this long side route in the middle of the seder. But I guess the Jews wandered for 40 years before they got to the Promised Land, so I figured it was fine.
Epi: What's your best Passover-related memory?
SW: It would have to be when I've led the seder in Israel. Passover in Jerusalem is so beautiful because you know there's something very special going on in every house. You leave the seder at 3 o'clock in the morning and the streets are just as busy as they are at 3 o'clock in the afternoon. That experience would have to be my best memory.
Epi: What's the best gift someone can bring to a friend's seder?
SW: Wine, wine, and then more wine. If you're over 21, you drink four cups of wine at the seder, and there's no reason why that wine should be the syrupy stuff. Nowadays, Kosher wine has gone mainstream, so why not drink really good wine at seder?
Epi: How would you deal with an unruly guest at the seder table?
SW: I would definitely welcome an unruly guest. And I would actually rather have an unruly guest than a guest who's put into a sermon-induced coma. I'd channel the unruly guest to have them ask questions and be empowered, engaged, and involved. In fact, I'd welcome a whole table of unruly guests at Rabbi Simcha's house.
More from Epicurious:
5 Common Recipe Mistakes
Best Burger Recipes
Make a Better Roast Chicken
Easy Family Dinners
25 Sandwich Makeovers
How to Eat Your Spring Veggies