By Kelly Senyei, Epicurious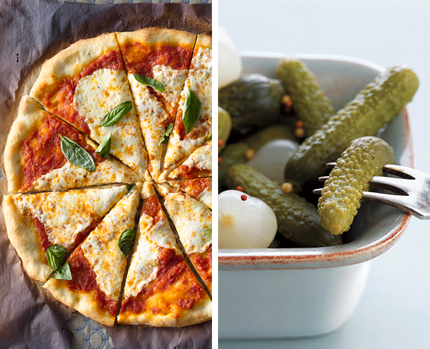 Photos: Gourmet/Romulo A. Yanes
For as long as I can remember, pizza has always been enjoyed with a side of sweet pickles. It wasn't until a few years ago that I realized my favorite food pairing wasn't a common one, but rather a salty-sweet combination adored by my mom, who passed the taste preference on to her three children. To this day, if I'm eating pizza, I'm eating sweet pickles, regardless of how many stares each bite attracts.
I know we all have strange food combos that we adore, whether that means publicly admitting to them or privately enjoying them. And so I asked my fellow editors around the Epicurious office if they'd share their favorite less-than-common food combinations, which include:
tuna salad and ketchup
peanut butter and cheddar cheese
egg sandwich and jam
ham and cream cheese
Brie cheese and milk chocolate
ketchup and macaroni and cheese
French fries and ranch dressing
For some, it's that irresistible mashup of salty and sweet. For others, it's a characteristic crunch accompanied by a creamy counterpart. To each his own, I say.
What's your favorite strange food pairing?
More from Epicurious:
5 Common Recipe Mistakes
Best Burger Recipes
Make a Better Roast Chicken
Easy Family Dinners
25 Sandwich Makeovers
How to Eat Your Spring Veggies