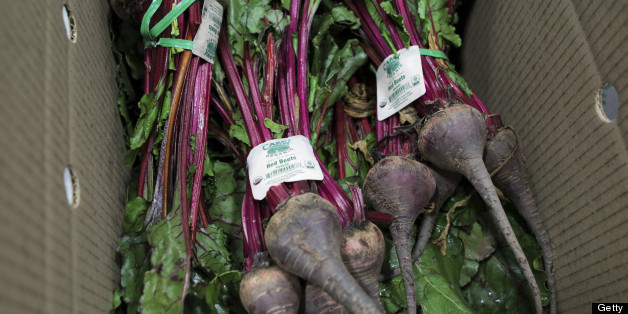 by Kemp Minifie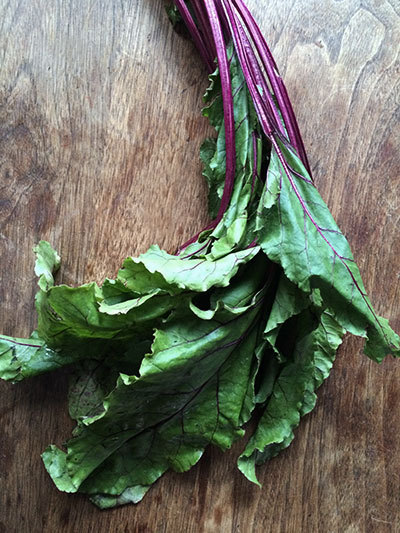 Check out the beautiful greens in the photo above. Gorgeous, right? Would you believe I pulled those greens right out of a trash can in the produce section of my local supermarket this morning? Workers there were systematically chopping the bushy greens from bunches of beets and no joke, stuffing them in the trash!
My arm got tired holding my tongue, but there was no point in getting upset with the workers. They were following orders. I did take the opportunity, however, to encourage them to take the greens home to cook for themselves. And with their permission, I grabbed a couple of bunches for myself. (Does it qualify as dumpster-diving if you snag the freebies inside the store?)
SEE MORE: Halibut with Roasted Beets, Beet Greens, and Dill-Orange Gremolata

Beet greens are some of the most nutrient-rich greens around. They contain more antioxidants than the bulbous roots, according to Jo Robinson, author of Eating On The Wild Side, and they are right up there with kale in terms of their general health benefits. If I had my choice between a plate of braised beet greens and one of braised kale, I'd pick the beet greens every time. They're much sweeter than kale, and the leaves cook up as silky as spinach. Plus, beet greens and stems get to tender faster than kale.
The simplest way to prepare beet greens is to braise them:
Swish leaves and stems vigorously in a big bowl of water to remove the sand from the leaves, which also gets lodged between the ridges of the stems.
Cut the stem and the thick part of the center rib from each leaf (the easiest way to do this is to fold the leaf in half along the rib). Chop the stems and leaves separately.
SEE MORE: Farfalle with Golden Beets, Beet Greens and Pine Nuts
Film a large skillet with olive oil and in it cook some chopped onion, shallot, or garlic over medium heat, covered with the lid, until softened, 1 to 5 minutes. Add the stems, 1/3 cup water, and salt to taste and braise the stems, covered, until tender, 4 to 6 minutes.
Add the leaves and a few tablespoons of water if the pan looks dry, and simmer, covered, stirring occasionally, until the leaves are tender, 3 to 4 minutes. Season with salt and pepper.
See more from Epicurious:
The Best Chicken Wings in America
An Insider's Guide to Eating in New York