Humankind has always been fascinated by the notion of time; measuring it has always been our challenge and through the art and science of watchmaking, we were able to contain it. If Maropeng in South Africa is known to be the Cradle of Humankind, a place where fire was first discovered by our ancestors, La Vallée de Joux, in Switzerland, is recognized to be the Cradle of Haute Horlogerie, a place where we can find the first traces of crafting high-complication timepieces.
Switzerland's horological past is decorated with great names such as Vacheron Constantin, Patek Philippe, Jaeger LeCoultre, Breguet and Audemars Piguet -- companies that have lived to see the 21st century against all odds. I think it is safe to assume that watchmaking is an essential cultural heritage of this nation. As a testament to this, the best watches in the world often bear the "Swiss-made" seal. Curious to know how the watchmaking industry plans to evolve in a digital world and wanting to understand the simple history of watches, I sent out an invitation to interview Olivier Audemars from Audemars Piguet, a key player of this business -- an invitation he accepted!
Audemars Piguet was established in 1875; however, these two families have been making watches since early 18th century. Olivier Audemars, a descendant of the Piguet family, showed me a vestige of the company's history, a pocket watch created and assembled circa 1740 by his ancestors in La Vallée de Joux and precisely in the remote village of Le Brassus, which is named after its river. Farmers of Le Brassus experienced short and pleasant summers, and suffered harsh, long winters. Not being able to cultivate the lands but restricted to farm work during this semi-glacial period, some of the villagers decided to engage themselves in watchmaking activities. After all, such leisure requires an important amount of concentration, patience, calmness, and the main ingredient that they possessed abundantly: time. Of course, the geographical location of Le Brassus is a gift by nature itself. Iron oxide is plentiful in this region and forests encircle it -- the fire from the woods is used to extract the iron from the stones and mold it.
Members of the Audemars Piguet family took this hibernation period to perfect their knowledge of chronometry -- a unique savoir-faire that is passed on to their descendants and oftentimes to their apprentices. Watchmaking for those farmers was a means of survival and through the years was transformed into a sacred familial tradition and family in this context is not only blood related since the whole valley represents a unity.
Olivier Audemars has explained that each watchmaker and each of his/her creations contribute to the Audemars Piguet DNA. All of which contributes a new link to lock to the invaluable chain. Watchmaking in the past was a common effort in the duration, somewhat a contradiction in today's world where mass-fabrication has taken over the market. A handcrafted watch therefore becomes something precious and above all, unique. As Vincent van Gogh's brush strokes are easily identifiable to the untrained eyes, each maître d'horloger (i.e. master watchmaker) leaves its signature in the pieces that she/he creates, though this time it is surely only perceivable by experts. Please note that there are female maîtres d'horloger in the industry, though it is quite rare!
This DNA comparison is also noticeable when one is confronted with a grand complication watch. Due to the intricate mechanism and miniaturism contained in one small object, such masterpiece takes years to create and a multitude of hands collaborating for its finalization. Each watchmaker contributes a piece at a time, a savoir-faire at a time. These gestures, consistent with Audemars Piguet's watchmaking, will be repeated, studied and mimicked by others through the ages. Sacred movements that are always precise in order to recreate that same machinery which is very distinctive to the brand.
When I came to ask Olivier Audemars why anyone would disburse quite a hefty amount of money for his watches (i.e., a simple yet elegant model would cost you around $20,000), he gave me quite a poetic answer. From his point of view, we live in a world that we understand less and less. As he has illustrated, we are rarely able to explain how things work around us i.e. how does the light switch turns on the light or how does a car moves? An Audemars Piguet watch is an object whose mechanism is graspable, requires no batteries nor electricity to "tick," and fabricated by the most elaborate of machineries available to us: the human-hands and mind. A paradox I must say since these non-battery watches are simple enough for me to understand yet very complex at the same time! For what I know, it is simply fascinating!
Beyond this, we are currently living in a world of mass consumption and are accustomed to throwing away broken things instead of fixing them. Audemars Piguet has set a specialized atelier who repairs 200-year-old watches; therefore it is a perennial object and perhaps an eternal one. All of which contributes, to some extension, to the final cost. After all, an Audemars Piguet watch is considered as an art of chronometry, and art as we know it is something rather difficult to calculate or evaluate when it comes to pricing. One thing is for sure, Audemars Piguet is collaborating with different Swiss universities in order to assess the inherent value of the mechanic watch -- i.e., what pushes amateurs and aficionados in purchasing a mechanical timepiece, based on an obsolete technology, instead of a quartz-watch when the latter is known to be more precise and much more affordable. Somehow we can imagine that there is a certain relationship between the watchmaker, the watch and the owner which is born upon owning such a precious object. The whole watch industry is currently analyzing this issue. However history has shown that these mechanic watches have survived the quartz-crisis and many others. Hence there is a good chance that the industry will prevail if another challenge arises.
Furthermore, Audemars Piguet is one of the rarest family-owned watchmaking companies left in Switzerland. Therefore I was curious to know if the company would be interested in joining a holding (based in Switzerland) such as Swatch Group or Richemont to name a few. To this, Olivier Audemars has simply answered me: "How can I sell something that does not belong to myself nor to my family"?
Indeed, both current members of the families are firm believers that the brand and the company have always belonged to the Vallée de Joux and primarily to Le Brassus, which is its true guardian. The stakeholders constitute the foundation of this business, not the shareholders. The mission that Olivier Audemars and his family have undertook is to preserve the necessary optimum conditions which allow the company to continue existing and evolving. The Audemars Piguet Foundation is genuinely involved in worldwide forest preservation through environmental protection and youth awareness. As stated by Olivier Audemars, the company is profoundly indebted to the forests surrounding Le Brassus; for without it, no timepiece would exist. As a result, the current families see it as their mission to protect the Audemars Piguet values and install this in the next generation. Olivier Audemars, as a family member, must also create the next link to the company's DNA. I sincerely hope that his children will perpetuate this wonderful legacy when the time comes! To underline the importance of its origins, the brand has gone through some major transformation recently and has now metamorphosed into "Audemars Piguet - Le Brassus."
As it was explained to me, one must know that the company's course did not always run smooth. It had experienced difficult setbacks and had to make numerous sacrifices to sustain itself during rough periods. At one time in between the two world wars, there were just two watchmakers working for the company and only a few timepieces were born. One of them is this Women Jewelry timepiece dated 1932.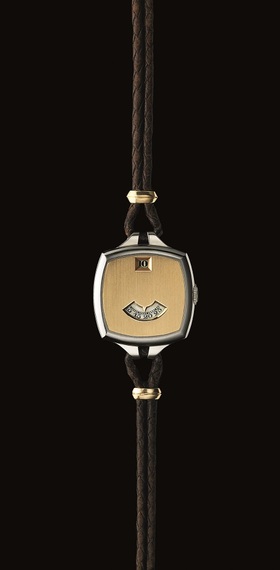 Image courtesy of Audemars Piguet - Le Brassus
Olivier Audemars is conscious that there have been a great deal of hardships over the past decades, notably during World War II and the quartz eras, but that has contributed somehow to the success of Audemars Piguet today.
Finally, after almost two hours of uninterrupted discussion within the posh and beautiful Audemars Piguet boutique located right in the center of Geneva, I had to cut our wonderful discussion short... (time is precious, they say!) I asked Olivier Audemars to provide me with a word describing Audemars Piguet. After a thoughtful pause, he said in French the word "aboutissement," which can be translated as an outcome, a completion, however it should not be perceived narrowly as such. Audemars Piguet, as he explained, is a culmination of different ingredients which is continuously evolving towards an indefinite perfection. The brand certainly has more to offer than its Royal Oaks! After all, an Audemars Piguet timepiece represents a concentration of knowledge, curiosity, passion and ingenuity.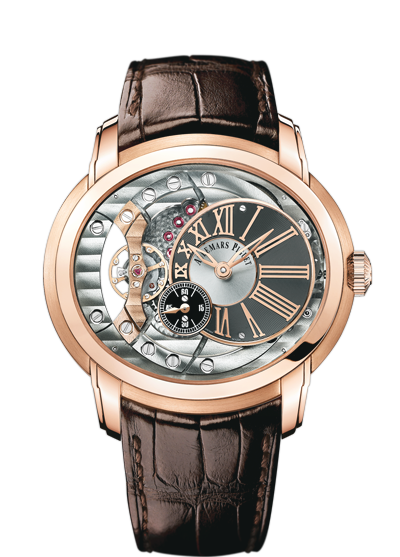 One of Olivier Audemars' favorite piece, AP Millenary - Image courtesy of Audemars Piguet - Le Brassus
In conclusion, I would like to quote Dr. William O'Hara: "Before the multinational corporation, there was family business. Before the Industrial Revolution, there was family business. Before the enlightenment of Greece and the empire of Rome, there was family business." Approaching a company such as Audemars Piguet, rich with its history and values, filled with its beautiful timepieces and learning about the meticulous effort put into the creations, this all has helped me understand what watchmaking is all about, the challenges which are laid ahead for this industry and the importance of family when it comes to business.
In my opinion, these mechanical timepieces are here to stay for the next century at the very least! So tell me, would you want to own one?
As for me, if I could dream of owning an AP watch, I believe my choice would be the Royal Oak Automatic, like the one here below! (I personally prefer men's watches in general.)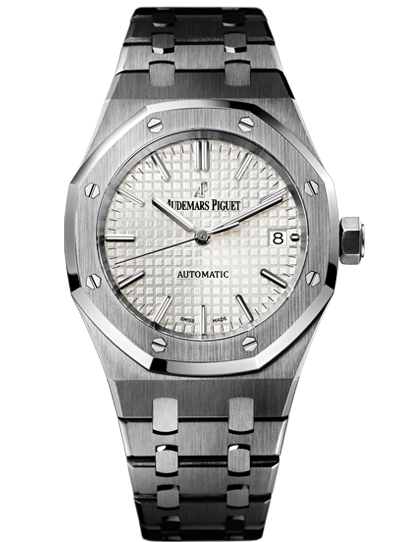 Image courtesy of Audemars Piguet - Le Brassus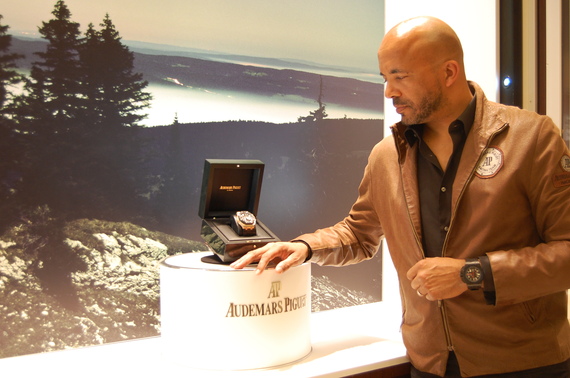 Olivier Audemars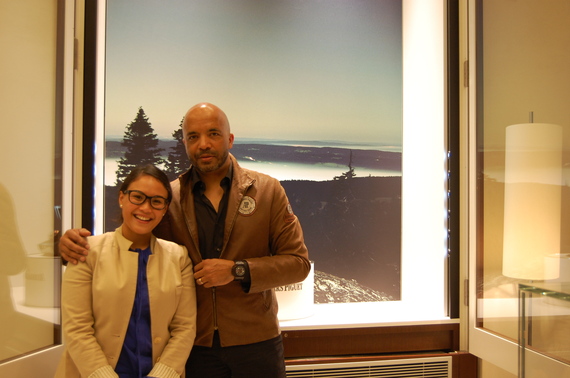 A souvenir picture was called for!