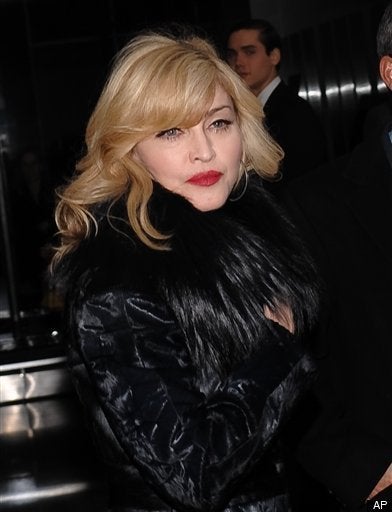 I'm poolside at the Copacabana Palace, watching light play against the water as a devil moon slides across the southern sky. Last time Madonna was here she met the richest man in Brazil and walked away with $7 million for her favela charity work. And now she is focusing on helping out in Haiti.
But beyond cause related marketing, there's a potentially lucrative business project out there waiting for bigger than Hollywood help that could be the mother of all career builders for Madonna's friend from Brazil, Jesus Luz, and what better place to buzz it up than here on HuffPo...
For the past five years, a new version of Rififi, the French film noir classic, that sparked Ocean's 11 and three generations of Hollywood heist films has been foundering in development hell, which in 90210 speak is worse than being south of Wilshire.

Al Pacino and Stone Village Pictures have been desperately seeking funding for a remake. But Hollywood shekels in the current economic crisis are thin, particularly so when trying to finance what the fresh princes of filmland dismiss as low earning "art movies."
What does Rififi mean? It's one of those je ne sais quoi French words that got into the slang of the French underworld. Some might say in English it would simply be "dicey" or "risky" or "trouble." What did Psycho mean when Hitchcock used it for his film? A condition, an action Like going "postal"... different things to different people.
Usually, when Hollywood gets its hands on a French property they Americanize it. But Rififi is about international gangsters and the best tactic for success is to globalize funding and production strategy. Ironically, the original Rififi was shot by blacklisted Hollywood director Jules Dassin in post World War II France for less than $250,000.
Rififi is a great vehicle for Madonna to solidify her reputation as the most powerful woman in the global entertainment industry and put some lustre on the Marlene Dietrich tradition. Madonna is perfect as Vivianne, sensual chanteuse originally played by Magali Noel who sings the theme song Rififi and went on to star in films by Federico Fellini.
Big names and big action unfolding in Paris, and Rio translate into big box office, cable syndication and a spin-off global TV series. From Hollywood to Bollywood. France, Brazil, Britain and Europe- and add to that Russia's obsession with crime films- will give this film-and a prospective Rififi brand- massive global appeal. This could be the next "just do it" in one word... The sound says it all.
Rififi is a night club movie and the French style boites aroundCopacabana's Praca do Lido are just around the corner from the Avenida Atlantica, one the world centers for trade in gems and jewelry. The architecture of the area is distinctively French too.
The drama of the big heist scene could be a visual blockbuster, cinematography featuring the backdrop of Carneval in Rio, when everyone, including police and Interpol is drunk and distracted by the biggest party on the planet.
 
A killer soundtrack could feature a mix of original French content and new tunes. Modern sounds from composer and songwriter Roberto Menescal, who was there with the Bossa Nova and saw everything could play big here. And a cameo by former culture minister Gilberto Gil and some tunes by Seu Jorge, the Paris-based Brazilian music icon, could add to the mix.
Pacino is perfect for one of the senior gangster roles. Ditto French star Jean Reno and De Niro can provide that quality of Gallic introspection that is one of a kind. Jesus Luz would be comfortable in this crew as the young gun.
Rififi is a project with blockbuster postential that needs to get off the launch pad. Brazil loves Madonna. The French do too. Avenida Atlantica is a long way from Eight Mile and when it comes to the global entertainment industry nobody knows more about fate and passion than Madonna. Maybe a percentage of the earnings can be donated to helping kids in the favelas. One more caipirinha and I'm on the road ...