Last week, WWE's momentum was derailed by some cringe-worthy "Three Stooges" cross-promotion. This week, Raw hopes to get back on the track built by the newsworthy return of WWE-UFC megastar Brock Lesnar. The night's big fight is a no-holds-barred title match between defending champ C.M. Punk and the behemoth Mark Henry, who has twice gotten the best of Punk via technicality. We're live (via tape delay) from the O2 Arena in London, England.
Quick Results
C.M. Punk defeated Mark Henry
Santino Marella defeated David Otunga
Kane and Zack Ryder fought to a No Contest
Daniel Bryan defeated Kofi Kingston
Brodus Clay defeated Dolph Ziggler by Disqualification
The Big Show and the Great Khali defeated Epico and Primo
Lord Tensai defeated John Cena
The Good, the Bad & the Ugly: WWE Raw, April 17, 2012
WWE World Championship Challenge - C.M. Punk (Champion) vs. "The World's Strongest Man" Mark Henry - No Disqualification, No Countout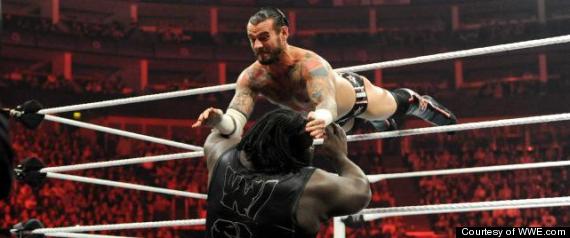 The show doesn't waste any time getting into the night's biggest contest. We get boxing-style introductions to give this match a big fight feel. Despite being Chicago-born, Punk has the support of the London crowd -- and it's pretty overwhelming to boot.
Punk wrestles a classic "David vs. Goliath" fight, making multiple attempts to wear down the WSM. He takes advantage of the "extreme rules" and introduces a chair into the proceedings. The British crowd rallies him with plenty of "Yes!" chants. Punker does his best to avoid Henry's power moves and dish out some desperation kicks. Big Mizark brings about his own downfall by charging head-first into a steel chair, and Punk capitalizes by dropping a top-rope chair shot on the prone monster.
Winner: C.M. Punk
As soon as Punk's hand is raised in victory, Chris Jericho appears on the big screen (in front of a liquor shelf) to inform Punk that he gets another shot at Punk's title. At the Extreme Rules pay-per-view -- hosted in Punk's hometown -- Jericho will get his rematch in a Chicago Street Fight. The champ welcomes the challenge... but according to Jericho, this confidence can only mean one thing: Punk is drunk. Jericho then shows a paparazzi-style recording from Monday afternoon, capturing Punk entering and exiting a pub. The Best in the World blows the accusation off because he was merely having some fish and chips with a few local friends.
That's not what happened according to Jericho however; you see, Punk is surrounding himself with booze because he's going down the same path as his alcoholic father. Before Punk can respond to this, Jericho bails.
Verdict: Good. This was a hard-fought realistic contest that was given ample time to develop. At this point, the Jericho-Punk rivalry can go into cruise control until the PPV. My only disappointment was that Mark Henry's part in the storyline is done.
Backstage: Sherlock Truth and Little Jimmy Watson Investigate
R-Truth decides to do some detective work and help the newly-demoted Teddy Long find a better job. Welp, it looks like we're stuck with this all night.
Match #2: United States Champion Santino Marella vs. David Otunga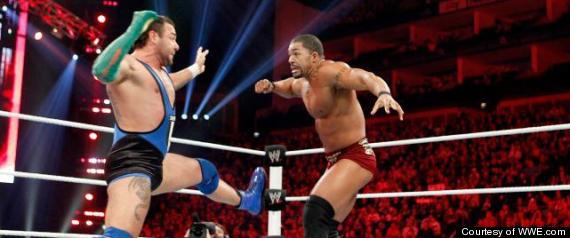 Santino tries to suck up to the local crowd by sporting the hometown soccer jersey but wearing Arsenal colors only gets him boo'ed. He switches to Chelsea -- more boo's. Manchester City? Boo. Manchester United? Boo. The national English team? Hooray!
The WrestleMania Team Captains compete in a short match; Otunga thought he had the match won, but Santino's foot made it to the rope before the three-count. The Milan Miracle quickly recovers and strikes with the Cobra.
Winner: Santino Marella
Verdict: Bad. Too short, too whatever.
Josh Matthews Interviews Lord Tensai
Sakamoto tries to brush off the tiny journalist, but Tensai grants him permission to speak. The Master of Japanese Wrestling explains (bilingually) that while we fear the unknown, he knows what we should fear.
Announcement: WrestleMania 28 has become the highest-selling wrestling pay-per-view in history.
Okay.
A Special Conversation With Brock Lesnar
The WWE Universe is treated to a UFC-style hype video for Brock, touting his athletic accomplishments in high school, college, WWE and mixed martial arts.
There's no point in attempting to analyze Lesnar's message, so here's a few bon mots straight from the horse's mouth: "I'm not a superstar, I'm an ass-kicker... This isn't a feel good moment, I didn't miss the fans... This is strictly business. We need someone to legitimize this company, we're sick of John Cena's bullcrap. There's nothing about Brock Lesnar that's fake ... This isn't a wrestling match, this is an Extreme Rules match... Beating people up makes me happy."
Then he closes it out by explaining that Cena is p***ing and s***ing himself in fear.
Verdict: Good. Damn, that was some straight-up trash talk. WWE is no longer cool because it chased after a kid audience, instead of trying to entertain red-blooded adult males. UFC swooped in and stole that audience of guys who want to live vicariously through two dudes hitting each other. It's exciting to see that WWE taking Lesnar seriously, on his own terms, rather than try to force him to fit into the Cena-centric image of sports entertainment. You have to wonder what it was like for all of Cena's pint-sized admirers as they watched this big meathead verbally humiliate their hero, use curse words and speak matter-of-factly about hurting people..
Match #3: Kane vs. "Long Island Iced Z" Zack Ryder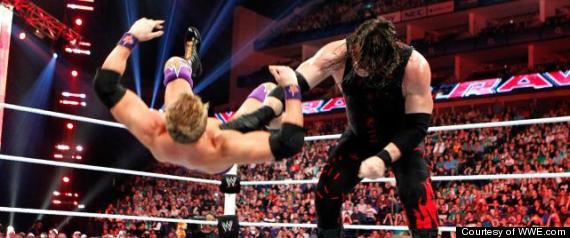 The Broski is attempting to get some revenge for the pre-WM pain inflicted by the Big Red Machine... and it doesn't go well. The Devil's Favorite Demon -- fresh off injuring Randy Orton and his father on the "Blast From the Past" SmackDown -- lays out Ryder before the bell even rings. He knocks him out with a chokeslam.
Winner: No Contest
While the ref is checking on the downed Ryder, Kane grabs the microphone to taunt Orton. He expected Orton's dad to go down without a fight, but he was surprised that the Viper would give up so quickly. He punctuates his speech with a maniacal laugh that would make the Legion of Doom jealous (the "Superfriends" bad guys, not the 80s tag team).
Verdict: Bad. Throughout January and February, the crowd was pulling for Ryder to stand up to Kane and fight back. Instead, Ryder was used as cannon fodder for a Kane-Orton feud that was thrown together at the last minute.
Backstage: Kofi Kingston Talks With Daniel Bryan's (Ex) Girlfriend AJ
Daniel Bryan walks up to find his opponent and his ex, making with the small-talk. He assertively informs Mr. Boom Boom, that just because he dumped AJ on SmackDown (in front of "Rowdy" Roddy Piper no less!), it doesn't make it open season on her. Bryan then promises to make Kofi tap out with the LeBell Lock... but then stops himself mid-thought. The former World champ realizes that Gene LeBell never beat anybody; so from here on out, he's rechristening the Judo submission hold as "The Yes! Lock." You see because when the ref asks "Do you give up?" you'll be screaming "Yes! Yes! Yes!" In case this wasn't clear enough, Bryan proceeds to scream "Yes! Yes! Yes!" for a good thirty-seconds. The London crowd agrees and responds with "Yes! Yes! Yes!"
In the Ring: John Cena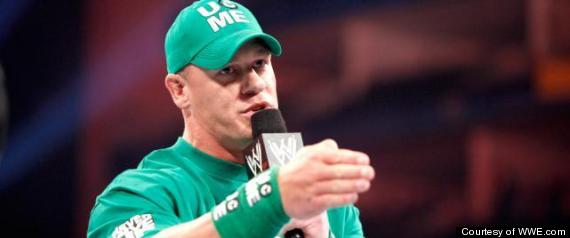 The London crowd is not receptive to the face of the WWE Universe. Cena recaps the motivations of WWE General Manager John "Johnny Ace" Laurinaitis in a thoroughly expository manner. Ace wants to replace Cena (London chants "Yes! Yes! Yes!"). He understands why the fans chant "Cena Sucks" and it doesn't phase him (sounds like it does John). Unlike Rock, he's not in the mood for entertaining, promoting movies, shaking hands or having laughs (actually that's exactly what you did for the past seven years John) and Brock goes for none of that. Brock is a destroyer (London: "Yes! Yes! Yes!"). And while Brock may give Cena the beating of a lifetime, he won't go down without a fight (oh right cause you're an "underdog," even though you've lost a grand total of three times in the last twelve months).
Johnny Ace interrupts to explain that with his new domain over the WWE Universe, it's an era of "People Power!" The people subsequently boo this notion.
Next week on a special three-hour episode of Raw, Ace will hold an in-ring contract signing for the Extreme Rules main event between Cena and Lesnar. But tonight, he'll get an Extreme Rules warm-up against a mystery opponent.
Verdict: Good(ish). If Cena's character wasn't going to progress (which he's been guilty of far too many times) then this whole segment would appear to be some stubborn delusion that foolishly ignores the crowd's distaste for him. But for once, it feels like they're letting the dissenters be the majority and not the minority; bit by bit, Cena is starting to realize that everyone wants to see him fail. It's going to take all spring, and possibly summer, to see how he deals with it. So they didn't need to do anything radical tonight.

Backstage: Sherlock Truth Investigates
The crazed sleuth appears out of a secret passageway in a bookshelf, to the astonishment of Hornswoggle. The vertically-challenged Superstar tries to access the secret passage, but it won't open for him... which doesn't make any sense because Hornswoggle has displayed magical leprechaun powers on many occasions. Did Santa's Christmas wish, granting him the ability the talk, inadvertently render him mortal. Did I just type all of that?
Match #4: Daniel Bryan vs. Kofi Kingston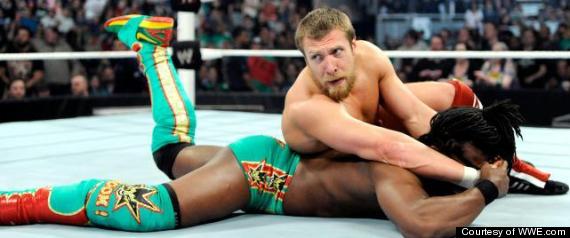 Michael Cole berates Kofi for hitting on the vulnerable AJ, then reminds viewers that Bryan will get another shot at gold when Daniel challenges the World Heavyweight Champion Sheamus in a "Best 2 Out of 3 Falls" match at Extreme Rules. During tonight's bout, Jerry Lawler tries to put Bryan in his place by detailing all the accomplishments of Gene LeBell; Michael Cole thinks Bryan's marketing re-branding strategy is brilliant.
Pop Quiz: 1.) Did Kofi and Bryan have a competitive match? 2.) Was it a clash of agility against matwork? 3.) Was the crowd firmly on Bryan's side? 4.) Was Kofi's offense greeted with some sort of vocal denial from the audience? 5.) Did Kofi tap out when he was placed in a move formerly known as the LeBell Lock?
Answers 1 through 5: Yes! Yes! Yes! Yes! Yes!
Winner By Submission: Daniel Bryan
After the bout, Bryan looks to the crowd, to find them chanting "Yes!" like an army. He then puts the Yes! Lock back on Kofi (as a warning to stay away from AJ, according to Cole). This prompts Sheamus to run out and put a stop to the bullying, in the process earning his second weekly paycheck as the official "Be A Star!" mascot. Before he can plant Bryan with a Brogue Kick, the Yes-smith gets out of harm's way. Sheamus and Kofi get pelted with some resounding boo's.
Verdict: Good. I honestly, don't know what's going on with Daniel Bryan, but it's fun. Jerry Lawler still tries to portray him as the jerk, but the crowd is clearly on his side. Producers are not trying to stifle the "Yes!" chants -- in fact they're letting him embellish them. They won't acknowledge the heckling Sheamus is getting, but it's evident any time the show is live.
They're letting the fans naturally fall on whatever side they want to root for. The only problem this whole storyline has is that Bryan is still playing the verbally abusive boyfriend. It confuses the whole "folk hero" aspect.
Match #5: "The Funkasaurus" Brodus Clay (with the Funkettes) vs. "The Show Off" Dolph Ziggler (with Vickie Guerrero and Jack Swagger)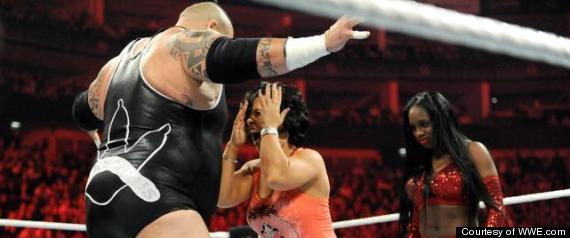 London is pumped to see the only living, breathing Funkasaurus in captivity, but Michael Cole is ready to toss out some dinosaur factoids that don't make Clay sound so special. A couple more weeks of this and Cole is ready for his paleontology equivalency test.*
The match barely gets underway, when Swagger pulls Ziggler out of the ring, to avoid a T-Rex-sized massacre. The ref DQs Ziggler for this.
* That doesn't actually exist.

Winner By Disqualification: Brodus Clay
Guerrero gets into a shoving match with the Funkettes, but the cougar retreats when she comes face-to-face with the Funkasaurus.
Verdict: Bad. Just checking in, keeping up appearances.
Backstage: Johnny Ace and David Otunga
Ace is trying to cheer up his assistant after tonight's big loss, when that jezebel Eve arrives on the scene ready to have a very important meeting with the General Manager. Ace and Otunga lead her into the office and they shut the door on the camera. Whatever this meeting is about, it's top secret.
In Memoriam: Chief Jay Strongbow
A sweet, sentimental package is aired for the legendary Hall of Famer, who passed away last week at the age of 83.
Backstage: Sherlock Truth Has Solved the Case
Well actually, it was Little Jimmy Watson who came up with the perfect job for Teddy Long: SmackDown General Manager. When Long informs Truth that he already had that job, Truth explains he needs to get it back. I just assumed that was the plan all along.

Match #6: The Big Show and The Great Khali vs. World Tag Team Champions Epico and Primo (with Rosa Mendes) - Non-title Tag Match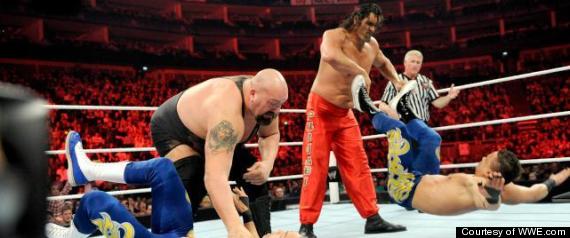 The champs have been complaining on Twitter that they don't get enough TV time, so this contest is their reward/punishment. AW (Abraham Washington) scouts this match from the ramp, still looking for the perfect client to sign. Rosa tries to convince the champs to walk away from this fight, but Big Show drags them back to the ring and the two giants make quick work of the duo.
Winners: The Big Show and The Great Khali
Verdict: Ugly. Look, Primo and Epico are not on the level of the Hart Foundation or the Hardy Boyz (or even the Bushwackers), but for the good of the tag team championships, they shouldn't be made to look this pathetic.

Main Event: John Cena vs. Lord Tensai - Extreme Rules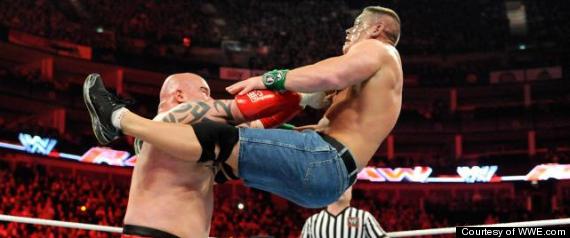 Ace personally introduces Cena's opponent, but not before offering some much-needed luck to the underdog. He and Otunga then make their way to ringside to get a front-row seat for the carnage. Cole and Lawler ponder Cena's mindset, ever since he lost the "can't lose" WrestleMania match against the Rock. Our broadcast team also runs down Tensai's dominant fighting record in Japan, while the hulking new superstar, adorned in Japanese war tattoos, happily takes advantage of the match's Extreme Rules. He ignores the crowd's taunts of "Albert" and introduces the steel steps to John Cena's body.
Cole and Lawler speculate that Cena may never be the face of the WWE Universe again, and his crushing WM defeat is reminiscent of Tiger Wood's downfall (actually it's not like that at all). Cena is able to mount a comeback, but Otunga rushes the ring. Cena lays him out with an Attitude Adjustment, but when he turns back to Tensai, the Lord sprays his mysterious green mist all over John's face. Blinded by the Asian acid, Cena gets dropped by Tensai, who scores a surprise pinfall.
Winner: Lord Tensai
Refs tend to Cena, washing his eyes out with water. Cole and King feel like Ace's proclamation of permanently replacing Cena is drawing near.
Verdict: Good. Whoa, that was a surprise. Tensai got to look like a million bucks and this losing slump storyline is the most interesting thing to happen to Cena in a while. With Ace placing Lesnar just around the corner, it's only going to get worse for him.
Show Verdict: Good (5), Bad (3), Ugly (1). All the main event storylines were great, it's just the undercard content that still feels like a rushed afterthought. That's always been WWE's biggest problem, but at least the main event is getting populated by new blood like Punk and Bryan, and it's being tackled in a more mature manner. (As mature as wrestling can get.)
The Real Main Event: Lord Tensai. He can ride the momentum of tonight's victory for a good while.
The Curtain Jerker: Epico & Primo or Zack Ryder. The poor guys were made out to be sacrificial lambs.
Next Week: A special three hour episode is anchored by the contract signing between John Cena and Brock Lesnar, for their Pay-Per-View showdown in Chicago.

The Line-Up for Extreme Rules (So Far)
John Cena vs. Brock Lesnar - No DQ, No Countout
WWE World Title Match - C.M. Punk vs. Chris Jericho - Chicago Street Fight
World Heavyweight Title Match - Sheamus vs. Daniel Bryan - Best 2 Out of 3 Falls