The big showdown from the Mar. 12 Raw, live in Cleveland, Ohio is a musical battle between John Cena and the Rock.
We're two weeks away from "WrestleMania 28" on Sun., April 1. Live from the Sun Life Stadium in Miami, Florida, headliners Cena -- the face of World Wrestling Entertainment -- will be squaring off against wrestler-turned-movie star Dwayne "The Rock" Johnson at the Super Bowl of wrestling.
But before we get ahead of ourselves, onto this week's showdown:
Opening Segment: John Cena's Battle Rap
Cena comes out in full "Doctor of Thuganomics" gear, complete with Cavaliers jersey. Despite the local sports team pandering and wrestling fans' love of nostalgia, Cena is met with a divisive crowd. He lays down some pretty vulgar rhymes, including wanting to give Rock a Cleveland steamer. Cleveland, uh, appreciates(?) the shout-out.
When John Cena used to do this Mark Wahlberg-esque thug routine in 2003, he was the most popular guy in WWE because he seemed like a cool guy that used cuss words (which is all it takes to appeal to teenage boys). Now, there's just something silly about it.
And as clever as Cena's rhymes may be, they've always been painfully slow. Still the rap itself was classic trash talk and the emotion behind it was tough.
Verdict: It was good, but it just reminds us that we don't get this version of Cena every week.
What appears to be a hype video for another Undertaker-HBK-Triple H confrontation is interrupted by Vickie Guerrero, who comes out to complain about Daylight Savings Time (seriously), which then segues into...
Match 1: Dolph Ziggler (with Vickie Guerrero) vs. Sheamus
The Celtic Warrior and the Show-Off have what ends up being the night's lengthiest contest. And it's not a bad fight. The problem is that it's inevitable that Sheamus will win. There's no way he's going to have his momentum cut out from underneath him after winning the Royal Rumble. Ziggler shouldn't feel like such an after-thought, especially after the incredible matches he's had over the past year. And double especially, when we're this close to WrestleMania.
During the course of the match, Josh Matthews tries to conduct a skybox interview with World Heavyweight Champion Daniel Bryan. It's cut short when Josh asks AJ about Bryan's treatment of her; she responds with an "everything is fine," while her eyes clearly scream for help. Daniel Bryan is great at playing a smarmy jerk and undeserving champion, but because Daniel and AJ look like two hipsters, it doesn't have the cartoonish madness of "Macho Man" Randy Savage and Miss Elizabeth. Instead, it reminds me of Fred Savage and Candace Cameron in "No One Would Tell."
Winner: Sheamus
Verdict: Perfectly fine television wrestling.
Raw General Manager John "Mr. Excitement" Laurinaitis walks out to provide commentary for our next match...
Match 2: Mixed Tag Team - United States Champion Santino Marella and Aksana vs. David Otunga and ?
Santino and Mr. Jennifer Hudson are announced as the captains for their respective teams at WrestleMania ... but not before a ridiculous flexing display from Otunga that required at least three whole bottles of baby oil. Just as the action gets underway, Laurinaitis decides to change the match from a mixed tag to a handicap match....
Match 2, Take Two: Handicap Match - Santino vs. Otunga and the World's Strongest Man, Mark Henry
During the match, Smackdown General Manager Teddy Long comes out to try to support Santino, but since Big Johnny runs this show, he's powerless. Long retaliates by hilariously shoving Laurinaitis down and then walking away, but it doesn't affect the action in the ring. Santino puts up a noble underdog effort, but he's expectantly put down by Henry in quick fashion. Otunga and Henry proceed to beat up the champ after the bell. First, Kofi Kingston and then R-Truth race out to help Santino, but they are both squashed by Henry. Mr. Excitement announces Henry as the second member of his WrestleMania team (duh).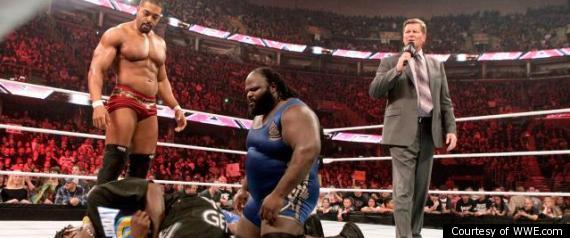 Winner: David Otunga and Mark Henry
Verdict: This bid for power between Long and Laurinaitis is so much more enjoyable than anyone expected, and it's giving a lot of the guys in the locker room something to do. The 12-man tag team match for control of all WWE programming could be a surprise crowd favorite at WrestleMania.
Behind-the-Scenes Feature: The Miz's upcoming guest appearance on this Wendesday's episode of "Psych." Whatever.
Recap: John Cena's battle rap
We just saw this 38 minutes ago. Sure, wrestling fans cheered Sgt. Slaughter after he became an Iraqi sympathizer in 1991, but we're not so dense as to forget something we saw less than an hour ago.
During the recap, Michael Cole utters a word that he repeatedly uses during the course of the night in regards to Cena's rap: "attitudinal." This company has spent years trying to re-brand itself away from the Jerry Spinger-esque "Attitude Era" of "Stone Cold" Steve Austin and D-Generation-X, and start selling itself as an "American Idol"-like family friendly circus that appeals to Nickelodeon and Mattel Toys. And the face of this new image has been John Cena. But then the Rock came back and verbally annihilated him with a creative freedom that no other modern wrestler had been given, and suddenly, Cena didn't seem as cool to all those kids that buy his t-shirt.
It feels like WWE is in major damage control to protect their merchandise cash cow, so he isn't totally neutered by a legit Hollywood star. Every skit involving Cena has framed him as being bullet-proof in a way that he just isn't, especially when Rock can show up and get a Cena insult to trend worldwide on Twitter within 60 seconds.
Recap: Maria Menounous interviews the WWE Divas on "Extra"
Oof. Alicia Fox talks about how her outfit is more important than a match at WrestleMania, then she giggles. Are they even trying to sell these women as athletes anymore?
Backstage at the Arena
That jezebel Eve comes across Zack Ryder, who does his best to resist her feminine wiles, but he finally caves when Eve suggests they become "friends with benefits." Sounds like Vince McMahon finally added "No Strings Attached" to his Netflix queue. Then, Divas Champion Beth Phoenix wanders onto the scene to complain about Maria Menounous hogging her spotlight. She makes a vague threat about showing up on "Extra" to show Menounos who is boss.* After Ryder leaves, Beth compliments Eve on the way she totally manipulates Zack and asks if she could borrow him. Eve gets crazy eyes and tells her to back off.**
*Because if there's one thing beer-drinking wrestling fans from the Midwest want, it's forcing them to watch glossy celebrity coverage from the likes of Nancy O'Dell.
**Because if there's one thing all women have in common, it's being a manipulative, paranoid, backstabbing shrew (apparently).
Backstage (Again)
Mr. Laurinaitis is busy making deals happen when he's interrupted by the Miz. To prove he deserves a top spot on the WrestleMania card, Miz brings out "Psych" star James Roday. For the first time in history, a WWE executive is not impressed by a minor basic-cable celebrity, and Johnny forces Miz into a match with WWE World Champion, CM Punk. If Miz wins, he gets a spot on Laurinaitis' WrestleMania team. Roday ad libs a few jokes about Howard Finkel with the Raw General Manager and now I want Laurinaitis to grace other USA Network shows with his weird deliberate anti-charisma.
Match 3: "The Funkasaurus" Brodus Clay vs. Jinder Mahal
Brodus Clay is a 400-pound dancing superfly with back-up dancers and fireworks. Jinder Mahal has a scowl and a turban. Clay's victory celebration actually goes longer than the match.

Winner: The Funkasaurus
Verdict: Clay didn't even get to do his mid-match bits like "My bad" or "Should I get him?" Those are the best parts of his schtick.
Verbal Confrontation: "The Heartbreak Kid" Shawn Michaels and The Undertaker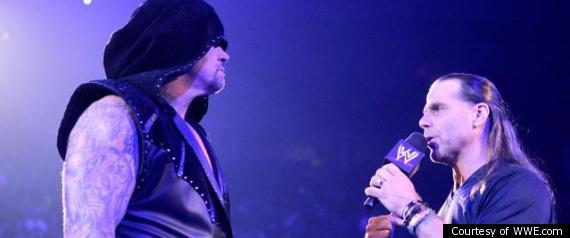 During Michaels's walk to the ring, we get the sign of the night when someone plants "Explain GTV" in full view of the camera. (Was it Goldust? Tom Green? Headbanger Thrasher?)
HBK reiterates the same points we've been hearing for the past month regarding the upcoming WrestleMania match: This 'Taker-Triple H blow-off will be the "end of an era," blah blah blah. Undertaker's music hits, we fast-forward 17 minutes and he's standing face-to-face with Michaels. And then, we get more of the same points reiterated in super dramatic fashion: How dare anyone accuse Michaels of failing to get the job done? He will gladly count the pin on 'Taker, 'Taker has no problem ending Michaels if he doesn't call the match down the middle. Triple H comes out at the end to crotch chop the Deadman; enjoy the callback to DX for these last few weeks because at WrestleMania, it will be the end of an era.
Verdict: Crowds are getting restless. These long. drawn-out monologues are getting heckled with more and more "what" chants from the crowds, and this storyline is too corny and old-school for them to react to that. Look, we know the actual cage match is going to be amazing, but they don't really need to fill 15 minutes of live TV every week harping on the same three points with all the gravitas of an episode of Lorenzo Lamas' "Renegade." In conclusion, when are they going to get to the fireworks factory?!

Match 4: WWE World Champion CM Punk vs. The Miz
James Roday comes out to do guest ring introductions and looks like he actually wants to be there, unlike Burt Reynolds at WrestleMania 10 in 1994. Crowds are decidedly mixed for this encounter because, despite being the most obnoxious bad guy in wrestling, Miz is getting plenty of hometown love from the Cleveland crowd. In fact, Miz's reception might be warmer than Cena's. After a few minutes of solid action, Punk locks Miz with the Anaconda Vice submission and Miz has no choice but to tap out. His losing streak continues so close to WrestleMania.
Winner: CM Punk
Punk's victory celebration is interrupted by Chris Jericho on the big screen. The feud gets awesomely personal when Jericho brings up Punk's real childhood and tells the crowd that Punk's alcoholic father is the reason he's straight-edge. His slimy dissection of Punk's sarcasm, tattoos and character are punctuated by the point that Punk will always be a failure in his father's eyes and he'll end up a pathetic drunk too ... when Jericho humiliates him at WrestleMania. For the first time in his WWE career, Punk is near tears and speechless.
Verdict: The match was fine, but the aftermath was classic pro wrestling. Punk and Jericho's title bout just got personal like Ric Flair and Ricky Steamboat, in the glory days of 1989. We already knew Punk-Jericho would be an athletic display, but now it's going to have some real heat behind each blow. Hopefully, the crowd in Miami responds in kind.
Commercial: The Law Offices of David Otunga
Need legal counseling? Contact @DavidOtunga who will help you win your case, when he's not busy winning matches. Hilarious wrestling bad guy-ism in the spirit of Irwin R. Schyster (the evil taxman) or The Genius (the evil academic) that reminds us of one of the sport's oldest truisms: Wrestling fans do not like white collar jobs.
Match 5: "The Viper" Randy Orton vs. Jack Swagger (with Vickie Guerrero)
Technically sound, just like Ziggler-Sheamus from earlier, but it suffers from the same problem in that the bad guy needs more credibility than he has. Orton predictably puts Swagger away with an RKO, but Orton is startled after the three count by an eruption of Kane's hellfire and brimstone.
Winner: Randy Orton
Verdict: Fans were expecting some kind of physical confrontation between Orton and Kane; a WrestleMania match between Orton and the revamped monster could make for a great match, but it feels so last-minute.
Smackdown Preview
Christian returns from injury to host a special edition of his in-ring interview segment "The Peep Show" with none other than dueling Managers John Laurinaitis and Teddy Long. That one should be legitimately enjoyable.
Too bad it's going to have to wait untill Saturday morning as I don't want to be the kind of wrestling fan that stays in on Friday nights.
Next Week on Raw
John Cena takes on the World's Strongest Man, Mark Henry.
Shawn Michaels, The Undertaker and Triple H will all be in the ring together for something called, no joke, "The End of An Era Prediction." Here's hoping they think of something new to say, or else that drunk Philadelphia crowd is going to heckle them mercilessly for 15 minutes of live awkward TV ... actually, I hope that's exactly what happens.
Closing Segment: Dwayne Johnson's "Rock" Concert
WATCH ON WWE FAN NATION
Say what you will about the Rock's movies, but the man can control a crowd like nobody's business. He can get tens of thousands of people to chant whatever he suggests at the drop of a dime, so you can't really blame him for goofing around. He quickly gets into the business at hand and tears into Cena, calling him the bastard child of Vanilla Ice and the purple Teletubby (
Wiki tells me this is Tinky Winky
).
Rock picks up his six-string and entertains the crowd with a bluesy reworking of "Jailhouse Rock." It picks up momentum in the second verse when he pulls together some lingering story threads regarding Cena making out with Eve. He then turns his attentions to Cena's adult male fans and zings them for being virgins. At least he didn't make fun of them for "being gay" -- you take any progressive victory you can get in pro wrestling, no matter how tiny it is. Finally, he closes it out with a verse about nailing Cena's mom.
But wait there's more! He leads Cleveland in a karaoke version of "We Will Rock You" that slides "Cena Sucks" perfectly into the beat. Rock thanks the crowd and we're out.
Winner: Like any Battle of the Bands, the winner is determined by the fans; tonight, the Rock was the clear favorite.
Verdict: This is the most heavily-hyped main event in WrestleMania history and it's just not clicking. When Hulk Hogan and the Ultimate Warrior finally collided at WrestleMania 6, it really split fans across party lines. Both men had die-hard followings and the collective audience's mind was blown when they finally came to blows. That's not happening now.
The Rock is bigger than wrestling and beloved by pop culture on a whole other level. To make him anything other than the clear crowd favorite is counter-productive, but that's what WWE is intent on doing. Any current WWE Superstar would have trouble trying to steal cheers away from the Rock -- maybe CM Punk could do it -- but to task John Cena with the job is such a bad idea.
It's not that fans don't respect Cena's athleticism, but he represents everything that is corporate and neutered in modern WWE. He's the spokesman for a very PC image that goes against the aggressive, super-masculine freakshow that is pro wrestling. To exert hour after hour of broadcasting time telling us that Cena's fanbase is just as strong as the Rock's -- when we can hear that to be false -- just angers those people who are frustrated with WWE. And then, they take it out on Cena.
The Rock doesn't need to come back to wrestling. His movies make a lot of money and 2012 could be one of his biggest years at the box office. To try to paint him as the guy who went "Hollywood" and lost his edge isn't working with fans because if he really went Hollywood, he wouldn't come back at all. Fans aren't going to buy Cena's trash talk. Cena may be here for the fans every week, but the fans don't want him. So the fans are just going to tune everything out and enjoy the Rock when they can. And that means completely forgetting about any kind of heavily-hyped pay-per-view fight, because Rock is telling funny jokes right now.
The Real Main Event of the Show: Jericho's brutal character assassination of CM Punk. It's the only match at WrestleMania that's got real hatred between opponents.
The Curtain Jerker: The foreshadowing of more Divas cattiness with NBC's "Extra." Maria Menounos versus Beth Phoenix is a far cry from Cyndi Lauper versus The Fabulous Moolah (no offense to Beth).