Quick Results
Match 1: Daniel Bryan & Kane defeated Randy Orton & Sheamus
Match 2: Santino Marella defeated David Otunga
Match 3: Kelly Kelly defeated Eve
Match 4: CM Punk went to a no-contest with Christian
Match 5: "The Funkasaurus" Brodus Clay defeated Curt Hawkins
Match 6: The Big Show defeated Primo
Match 7: Mark Henry defeated the Great Khali
We're less than a week away from WrestleMania 28, and this final episode of Raw before the big event is emanating live from Atlanta. Before the show began at 9pm, USA aired a one-hour documentary on Cena and Dwayne "The Rock" Johnson's separate paths to their WrestleMania main event. It was well-done, but nothing about it was "Can't miss." Especially because WWE aired supplemental packages all throughout Raw, detailing Rock and Cena's history.
The Good, The Bad and The Ugly: WWE Raw, March 26, 2012
Match 1: Sheamus & Randy Orton vs. Kane & World Heavyweight Champion Daniel Bryan (with his girlfriend AJ) - Tag-team Match.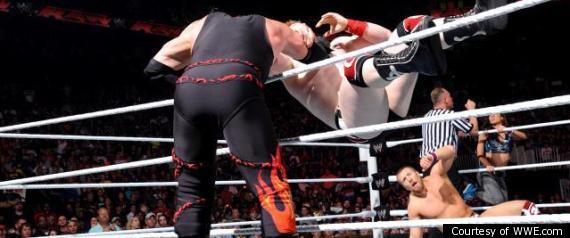 Jerry Lawler, Booker T. and Michael Cole -- our commentators for the evening -- work overtime in trying to convince us that Kane and Orton's rivalry has been building for months, (and isn't just them scrambling to address a lingering plotline involving two of their biggest main eventers).

Bryan starts the match off with a good luck kiss from his girlfriend and the Atlanta crowd is disgusted. The four have an energetic match, but the crowd seems to be at its most enthusiastic when Orton and Bryan are in the ring. During the bout, Lawler rightfully calls out Cole for his flip-flopping stance on Bryan. The end comes when Randy (who just returned from a legitimate concussion) takes a nasty head-first collision into the ring post. Sheamus is about to lay out Bryan with the Brogue Kick, but AJ rushes the ring and pleads with the Celtic Warrior to not beat up her boyfriend. During the distraction Kane lays out Sheamus, and Bryan, ever the opportunist, steals a pinfall.
Winners: Kane and Daniel Bryan
Bryan busts out his post-match victory celebration, and heads into his WrestleMania showdown with the advantage.
Verdict: Good. Bryan and Sheamus have had a classic wrestling rivalry and there are enough x-factors involved in their world title match (a cowardly champ, a girlfriend henchman willing to take a bullet for her unappreciative boyfriend, a gigantic strongman that loves fighting) that no matter how this feud resolves itself, it's going to be sweetly satisfying. Orton and Kane however, are seriously lacking in anything resembling drama.
In-Ring Announcement: Michael Cole Endorses Raw General Manager "Mr. Excitement" John "Johnny Ace" Laurinaitis
Cole, sporting a "Team Johnny" t-shirt, announces that he will be the official team commentator for the big WrestleMania 12-man tag match. Laurinaitis comes out and introduces his team's official flag-bearer: Vickie Guerrero. It's all of WWE's most-hated non-wrestling personalities! The crowd hates this -- and I love that!
Mr. Excitement next welcomes team captain David Otunga, who's added another 10 liters of baby oil to his pre-match flexing display. Booker T. has had enough of this malarkey and reveals that he will be the official commentator for Team Teddy Long. The Smackdown General Manager arrives on the scene with his team captain, Santino Marella, and his official flag-bearer: Hornswoggle the Leprechaun (yes, I really typed that).
Match 2: David Otunga vs. United States Champion Santino Marella - Non-title match.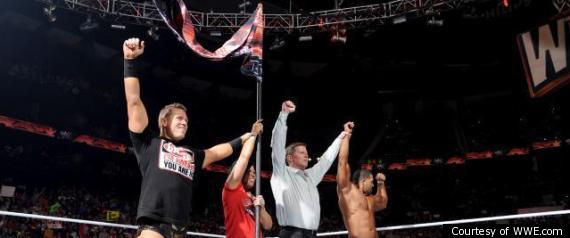 Within a matter of seconds, Otunga and Hornswoggle start fighting over flags meaning Guerrero has had this job for four minutes and she's already screwed up. Santino lays out Otunga with the Cobra and scores a quick pinfall.
Winner: Santino Marella
Teddy Long and Johnny Ace get into a shoving match after the bell rings and when it looks like Mr. Excitement is in trouble, the Miz appears from out of nowhere to lay out Santino with the Skull-Crushing Finale. Ace announces that Miz is the final member of his WrestleMania team.
Verdict: Bad. This was short and stupid. It was mostly harmless and we still love the battle of rival General Managers, but anytime an evil Harvard Lawyer is outsmarted by a wrestling leprechaun, it's an automatic bad.
Video Package: The History of Undertaker and Triple H
We chronicle the two legends' respective careers up to their brutal showdown last year at WrestleMania 27. Another great trailer but this is, like, the fifth week in a row where they've reiterated the same points.
Match 3: Eve (with Divas Champion Beth Phoenix) vs. Kelly Kelly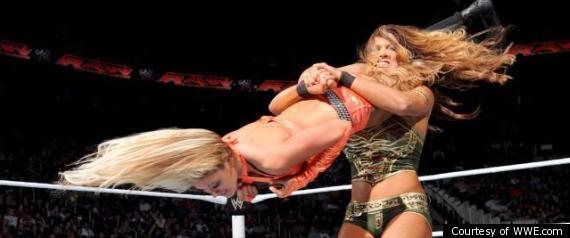 This is a preview of WrestleMania's tag match pitting Eve and Phoenix against Kelly Kelly and... (sigh) "Extra" host and "Dancing With the Stars" competitor Maria Menounos. It's a typical match for the Divas: quick, kind of sloppy and to an apathetic crowd. Kelly wins with her only offensive maneuver, a surprise roll-up.
Winner: Kelly Kelly
Verdict: Ugly. Menounos' tacky involvement feels like some kind of consolation prize for not getting Stacy Kiebler back. Also if Kelly just outsmarted the two bad girls on her own, why does she need Maria's help at WrestleMania? Also, why are we treating Menounos, who is not a trained competitor, like she can just hop into the ring, prepared to fight? Doesn't she need to learn how to throw a punch or something?
Number of WrestleMania Matches
WCW Icon Sting: Zero
Bruiser Brody: Zero
TV's Maria Menounos: One
Match 4: WWE World Champion C.M. Punk vs. "Captain Charisma" Christian - Non-title match.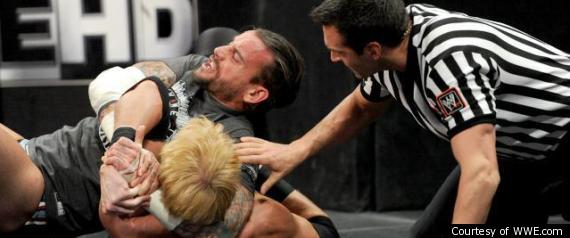 Before the fight gets underway, Jericho appears on the big screen to troll Punk some more. Two weeks ago, it was his alcoholic father, last week, it was his substance-abusing sister. This week, Jericho feels the need to share information about Punks' mother. It turns out she's drug-free, so he's got nothing to mock her with... buuuut Jericho has also discovered that Punk was born before his parents were married -- making him the legal definition of a b***ard.
Christian takes advantage of this distraction to attack Punk from behind. Punk eventually recovers and unloads all his frustration on Captain Charisma, culminating with a Go2Sleep on the steel steps. He applies the Anaconda Vice submission hold, as refs try to pull him off Christian.
Winner: No contest, the match never officially started.
Verdict: Good. This Jericho-Punk rivalry feels like the kind of old-school wrestling feud that was a little too violent for Saturday mornings, like Jake the Snake vs. Randy Savage or Ric Flair vs. Terry Funk. That's a good thing. If I wasn't traumatized by any of those brawls, then these modern kids will be fine. My only gripe was that Christian, who just came back from injury, was made to look like a chump.
After the commercial break, Cole and the announce team inform us that Christian may have re-aggravated his neck injury, putting his WrestleMania status is in jeopardy.
Match 5: "The Funkasaurus" Brodus Clay vs. Curt Hawkins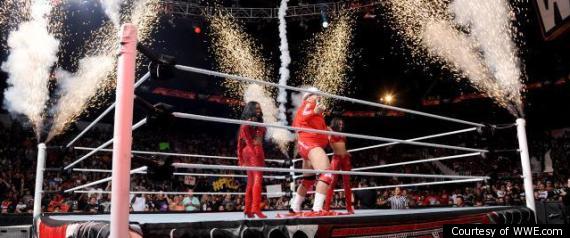 Gee, I wonder who will win? The only thing Hawkins can hope for is that he lasts longer than Clay's post-match dance routine.
Winner: The Funkasaurus
Verdict: Bad. Hawkins had one mission tonight, and he failed.
Preview: 2012 WWE Hall of Fame Ceremony
The night after WrestleMania, the USA network will air the highlights of the ceremony (which is taped the night before WrestleMania). The ceremony's 3 main attractions are must-see television: Edge, Mike Tyson and the Four Horsemen. Will Ric Flair appear on television with his teammates? Will Tyson say something crazy? We'll find out at the Hall of Fame.
Match 6: The Big Show vs. Co-Holder of the WWE Tag Champions Primo (with Epico and Rosa Mendes)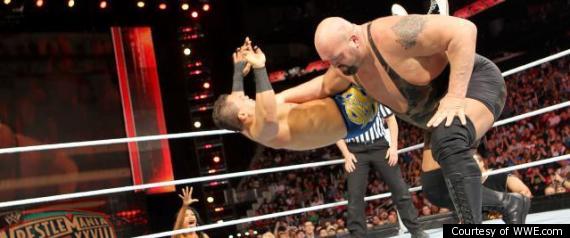 Ahahaha. It will take me longer to write this sentence than it will for Show to knock out Primo.
Winner: Big Show.
After the match, Big Show chokeslams Epico for good measure. Then Cody Rhodes interrupts to lay down some last-minute trash talk before their WrestleMania blow-off; he guarantees that after Show suffers yet another WM defeat, his name will become a synonym for blowing it.
Verdict: Bad. I've had sneezes that lasted longer than that match. Cody Rhodes however is absolutely killing it, and running a close second to Jericho's ultimate wrestling troll. After last week's vicious boxing beatdown of Show, these two are ready for the Pay-Per-View. Anything else that happens in this feud is just gravy.
Breaking News! Cole announces during the match that Christian is pulled rom WrestleMania!
Trailer: Lord Tensai is coming to WWE
Another teaser for the newest wrestler debuting after WrestleMania. If you're a long-time fan, you'll recognize the bald head and tattoos as belonging to A-Train a.k.a. Prince Albert. If you've never seen him in action, you're in for a monster of a man, who is looking to make the same post-WM impact as Umaga, the Great Khali and Brock Lesnar.
Backstage: The Bella Twin argue over Team Johnny and Team Teddy
There is literally nothing worth recapping until Zack Ryder arrives on the scene. His lame attempt at a pick-up line blows it with both women, but all is not lost for "Long Island Iced Z." Eve re-appears to offer up her hotel room for WrestleMania weekend.
Backstage Interview: CM Punk
Punk is short and sweet; he doesn't regret his actions tonight, and Jericho's insults do not matter because he is the Best in the World.
Match 7: The Great Khali (with Teddy Long) vs. "The World's Strongest Man" Mark Henry (with John Laurinaitis)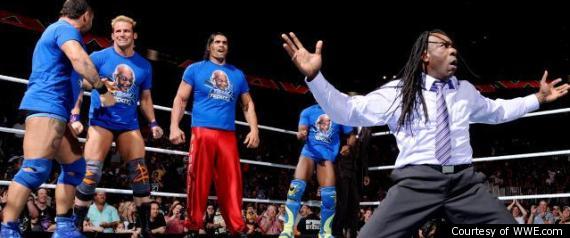 Johnny Ace announces that Christian will be replaced in the WM match by long-time Teddy antagonist, the Scotsman Drew McIntyre. Then momentum keeps going in his favor when Henry flattens Khali in an impressive display of strength.
Winner: Mark Henry
Johnny Ace throws Long into the ring to become the next victim of Henry. The rest of Team Ace march out to flank Henry. Santino, Ryder, Kofi and R-Truth make a mad dash for the ring, attempting to rescue Long but they're outnumbered. Booker T. has had enough and he charges the ring, delivering a flurry of lefts and rights, followed by an axe kick and a spinarooni. The good guys get the upperhand and clear the ring. Long offers the final spot on his team to Booker; the 5-time WCW champ responds the only way he knows how: "Can you dig that sucka!" *
* That means "yes."
Verdict: Good. This rivalry between Long and Ace has been so much fun and has involved so many ridiculous supporting characters that I'm going to seriously miss it when it's over.
The Main Event: The Rock and John Cena Confront Each Other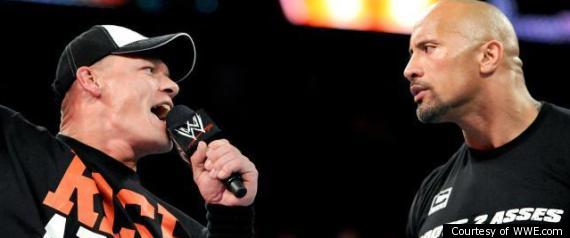 Rock comes out first, to talk about the last seven years away from wrestling. No matter what he did in Hollywood, everyone from his dentist to Betty White wanted to know when he was going to wrestle again. He gives props to Cena for his accomplishments in Rock's absence, but before he can get any further, he's interrupted by Cena.
For the first time since the feud has started, the crowd is decidedly mixed. Cena shrugs off all of Rock's trash talk because he hears it, week in and week out. (Is that supposed to be bragging?) Then Cena gets cocky and says that in addition to "rising above the hate," he always wins. Then he assures his haters that he's going to win at WrestleMania. Finally, Cena gets a little nasty when he informs Rock that he's actually been there longer than Dwayne, and unlike Dwayne, he was wrestling for WWE when it was uncool (1996 Rocky Maivia would like a word with you). Dwayne can go back to Hollywood after the match, but Cena will still be here every week. And that's why he needs to beat Rock: he's not going to let his legacy be that of "second best."
Rock responds with a little more piss and vinegar at the accusation that he's only in it for the money. He needs to beat Cena to cement his professional legacy, and become the man that beat Hulk Hogan, "Stone Cold" Steve Austin and John Cena. But more than that, on a persona level, he just doesn't like Cena and wants to kick his a**.
Cena gets the final word in and tells Rock that it doesn't matter what he thinks (how ironic) and he will beat Rock's a** at WrestleMania.
The two drop their microphones and get in each other's faces. And we're out!
Verdict: Good. We're getting into this weird territory where I can't tell if Rock and Cena are still "playing pretend" or if they actually dislike each other. There have been plenty of great wrestling rivalries based on real animosity, but something about this one feels so petty. Both guys have legitimate defenses, but they've spent this entire feud tearing each other down -- and not in the "Jericho/Punk" fashion. It's done in a catty celebrity status kind of way. It's wrapped up in image and who has more "real" fans, and I don't think crowds know who to root for in the classic "good guy/bad guy" sense. But the animosity worked on Monday because Rock and Cena never laid a finger on one another. They didn't need to. The tension between the two superstars was at its most palpable. When they finally lock up in Miami, the crowd is going to explode.
Show Verdict: Good (4). Bad (3). Ugly (1). Most of the WrestleMania matches have been built up excellently, I was just hoping for some kind of 11th hour twist to make each match feel even bigger. Instead we got a lot of holding patterns tonight; none of the stakes have been raised since last week. That's fine and all, but this is pro wrestling; fans want craziness 24/7.
The Real Main Event: Team Long vs. Team Ace. It's the over-the-top circus that wrestling is supposed to be.
The Curtain Jerker: Randy Orton vs. Kane. Nothing has happened in this feud.
Next week: WrestleMania 28 on Sunday, April 1 at 7pm. Live on Pay-Per-View.
Monday Night Raw, April 2 at 9pm. The WrestleMania Hang-over.
Before Raw begins at 9pm ET, USA airs a special one-hour recap of the Hall of Fame ceremony featuring Edge, Mike Tyson and the Four Horsemen. (8pm ET)
The WrestleMania 28 Line-Up
Main Event: The Rock vs. John Cena
The End of an Era: The Undertaker vs. Triple H in the Hell in the Cell cage match. With special guest referee, WWE Hall of Famer Shawn Michaels.
WWE World Title Bout: CM Punk (champion) vs. Chris Jericho
World Heavyweight Title Bout: Daniel Bryan (champion) vs. Sheamus
Divas Tag Team Match: Kelly Kelly & "Extra" Host Maria Menounos vs. Divas Champion Beth Phoenix & Eve
WWE Intercontinental Title Bout: "Dashing" Cody Rhodes (champion) vs. The Big Show
Grudge Match: "The Viper" Randy Orton vs. Kane
12-Man Tag Match for Control of All WWE Programming: Team Teddy (Captain Santino Marella, Kofi Kingston, R-Truth, the Great Khali, Zack Ryder and Booker T.) vs. Team Laurinaitis (Captain David Otunga, Mark Henry, Jack Swagger, Dolph Ziggler, Drew McIntyre and The Miz)