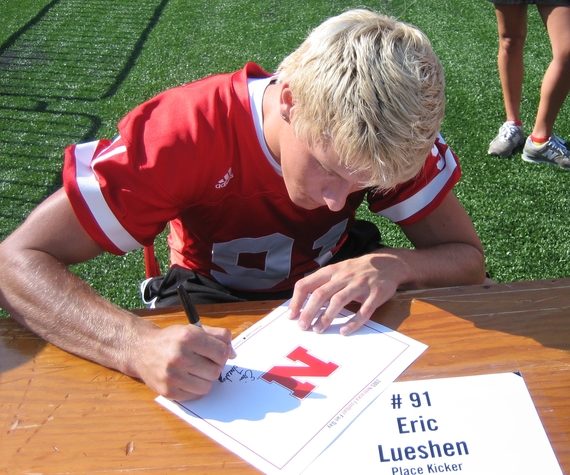 In 2003, I was a redshirt freshman at the University of Nebraska-Lincoln. A place kicker. I had excelled at a lot of sports in high school, but football was what I wanted to pursue and being a Husker was just about every boy's dream in my home state. In Nebraska, football is king. Friday Night Lights could've very well been set in my small hometown of Pierce. What's surprising to most people, though, is that I decided to come out in high school at the age of 17. Yes, I was an openly gay high school football player in Pierce, but I wasn't sure if I could handle being the first openly gay Division I college football player -- let alone at Nebraska. It was just five years after the brutal murder of Matthew Shepard, and I was in a state known for ultraconservatism and homophobia. In spite of my reservations, I made the conscious decision to live on the other side of fear and be true to myself. I promised myself that if any of my teammates ever asked me if I am gay, I would look him in the eyes and tell the truth. And that's exactly what I did.
Even though being an openly gay Husker football player had its incredibly difficult moments, eventually my teammates and most of my coaches learned to love and accept me. Yes, there were times early on when I feared for my life because of highly offensive comments, gestures, and actions made by several very homophobic players. But by not hiding anything from them and by being myself and proving that my athletic skills equaled theirs, these same homophobic teammates ultimately transformed into some of my biggest supporters and friends. Through the blood, sweat and tears of college football, we bonded and became brothers. This was life-changing for me.
My football career ended early due to a spinal fusion back surgery in the spring of 2006, and I never got to live my dream of one day playing in the NFL. Football is a "what could've been" story for me. However, I did something much bigger by just being myself in a difficult environment and during a time when gay rights wasn't at the forefront of political battles and media coverage. I opened minds, inspired and empowered many people, and forever changed Nebraska athletics.
With all the media coverage of LGBT athletes recently, namely Michael Sam and Jason Collins, I was approached to share my story. In doing so, I hope to continue the push for equality among all facets of life, including sports. If I was accepted by my teammates and coaches over a decade ago, I have no doubt that other openly gay athletes will be accepted today.
Take Michael Sam for instance. He was a unanimous First-Team All-American and SEC Co-Defensive Player of the Year. His talent outshines many on the football field and so does his character. The same can be said of the Brooklyn Nets' center Jason Collins, as well as the LA Galaxy's winger Robbie Rogers. Together, these three are breaking down stereotypes, opening the doors for other gay athletes to come out, and inspiring LGBT people everywhere. One's sexual orientation shouldn't matter. If you can play, you can play.
I have no doubt that Michael Sam will be drafted into the NFL this May, and I don't think his coming out will hurt his draft stock. Any team would be lucky to have such a talented and brave man. The fact that the Brooklyn Nets recently signed Jason Collins proves how ready professional sports is for gay athletes. Collins' No. 98 jersey even became the NBA online store's top-seller, proof that people all over support openly gay athletes in professional sports.
There will continue to be some opposition to "openly" gay athletes participating in professional sports. I quote the word openly because I'm certain there are many more closeted LGBT athletes currently playing. Just as Jackie Robinson challenged segregation back in 1947, LGBT athletes such as Sam, Collins and Rogers are challenging the notion that athletes may be judged by their sexual orientation. The shift has already started. America and professional sports are ready. Gay athletes can be measured by their abilities, character and leadership.
With each LGBT athlete having the courage to come out, another brick is knocked down from the barrier of inequality. This barrier continues to fall because of advances in marriage equality in both the federal court system and public opinion. Recently, a federal judge in the red state of Texas ruled that the state's ban on marriage equality is unconstitutional. New polls even show a majority of Americans support the freedom to marry.
As that support for marriage equality grows, so too will the support for openly gay athletes in professional sports. It's only a matter of time until there is an openly gay athlete in each of the four major professional sports leagues in the United States: MLB, the NBA, the NFL and the NHL. It's time to open our arms and welcome these talented athletes -- and no longer define them by their sexual orientation.