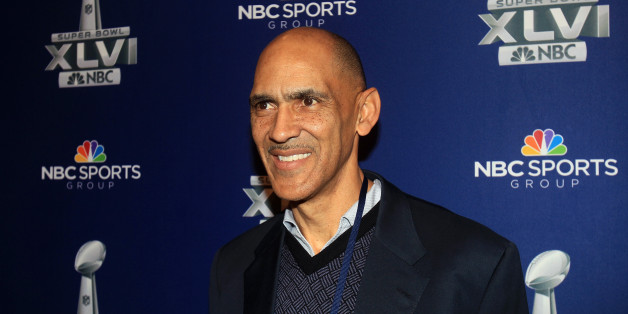 Former NFL head coach and NBC talking head Tony Dungy found himself trending this week when he said he wouldn't have drafted openly-gay player Michael Sam. Said the former Super Bowl winning coach "I wouldn't have taken him. Not because I don't believe Michael Sam should have a chance to play, but I wouldn't want to deal with all of it. [...] It's not going to be totally smooth ... things will happen."
Dungy's comments have been met with anger and controversy for the following reasons:
Tony Duny is black, and was the first black head coach to win a Super Bowl after a noticeable history of black coaches receiving disproportionate opportunities in the NFL. His hiring, it could be argued, was an equal or comparable distraction to Sam's.
Dungy is highly respected around the league, perhaps the most universally respected and admired former head coach alive today. He is the Mother Theresa of the NFL, and his words carry significant weight in football circles.
Dungy took a significant role mentoring former Leavenworth Penitentiary resident Michael Vick, advocating on his behalf for a second chance in the NFL. Vick's presence on any roster proved a predictable "distraction," and one wonders how Dungy would have reacted had then-Eagles head coach Andy Reid told him "Sorry Tony, I can't sign Michael Vick. I wouldn't want to deal with all of it(...) it's not going to be totally smooth... things will happen."
When evaluated objectively, it's clear Dungy's comments weren't homophobic. His logic is that he wouldn't draft Sam because of the distraction to his program... not because Sam's icky or wrong or sinfully unapologetic.
Dungy wants a distraction-free team, and that means no Sam. Presumably, that would mean no Johnny Manziel or Tim Tebow or Richard Sherman either; Dungy must have forgotten to mention them.
By Dungy's account, he would essentially be taking a risk by drafting Sam. When a coaches livelihood and historical reputation is on the line, that logic is, in part, defensible (and perhaps it is why it took a coach with an established reputation of success, Jeff Fisher, to finally draft Sam).
Some men only get one shot at being a head coach in the NFL. Some never get it. If a head coach feels the distraction of Sam could kill his one opportunity to succeed in such a sought-after position, that's fair. Cowardly, perhaps, but fair.
So what's the solution? At what point will drafting an openly gay player no longer be described as risky because of the alleged distraction?
Simple. More brave admirable heroes like Sam, willing to sacrifice millions of dollars by being openly, fearlessly honest. The next openly gay NFL player will be less of a "distraction," and the third even less so -- Dungy himself couldn't argue.
One day, a 7th round draft pick won't be #6 in summer jersey sales solely because of his sexual orientation. One day, being an openly gay player won't be a story.
Which brings us to Russell Wilson. This summer, the Super Bowl winning quarterback penned a piece on Peter King's MMQB. If you haven't read it yet, please do so (after sending this post to all your friends, of course). In it, Wilson talks about how remarkable it is that being only the second African American QB to win a Super Bowl wasn't a major storyline.
It's a great story that probably is even greater because America isn't talking about it. I knew that only one black quarterback, Doug Williams, had won a Super Bowl before our victory ... I believe the culture has changed in America, and in the NFL ... The culture is going in the right direction, and the league is going in the right direction. The best player plays.
The best player plays, just so long as he's not taken off a teams draft board for being a "distraction."
The days of African American players being asked "How long have you been a black quarterback?" are behind us. The reason Teddy Bridgewater fell to pick #32 is because of his skill set, not because his skin color makes him a media distraction compared to #3 overall pick Blake Bortles. If the NFL wants to celebrate itself for these basic acts of human equality, fine. Forgive me if I hold my applause.
When an admired figure like Dungy isn't openly admitting he wouldn't draft a guy because his sexual preference is a distraction, perhaps then the NFL will have truly arrived.