I never met Karl Benjamin who passed away a week before a mural was painted in his honor in Pomona, Calif. I also never met Craig Kauffman, Mike Kelley, John McCracken... all recently departed LA artists who left behind a legacy and a wake of protégés, admirers, and torch bearers. After decades of work, these ol' masters have produced offspring with a genealogy or DNA trace of whom influenced who, like teacher to student, artist to assistant, General to Lieutenant.
Case in point : Last spring I had the opportunity to film Pomona artist Alex Couwenberg who was mentored by Benjamin. One can see a kindred spirit and an influence in Couwenberg's work. Benjamin had created two generations of work before Couwenberg began to expertly craft his push-pull line work abstractions reminiscent of Benjamin's geometric paintings. Couwenberg's love for surfing, rock and roll, and Hawaii makes him a zen-like Buddha cum Samurai slashing a canvas effortlessly, yet riding a wave with fierce determination till sunset. One can see this embodiment in my film.
Furthermore, I first heard of Benjamin when I filmed Couwenberg over the course of two weeks. Months later I read a blog post by artist Lisa Adams posthumously calling him a true inspiration. Then Andi Campognone, curator of Lancaster's Museum of Art and History and Couwenberg's wife, told me that David P. Flores was painting a mural of Benjamin on the north side of their downtown Pomona building that was approved by the city.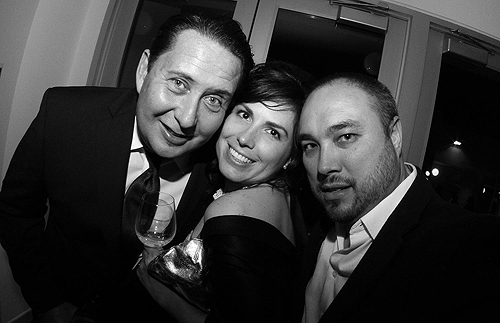 (with Alex Couwenberg and Megan Geckler)
What seemed like months had passed. I had forgotten about the project. It was never calendared and my plate was full. Then one day while doing a photo shoot of art critic Mat Gleason's parents in Huntington Park, I got a text from Campognone that they were going to start the mural that night.
That night?! Welcome to my world, a constant barrage of textus-interruptus. Like the SEAL Team's credo goes -- The only easy day was yesterday, and today was going to be no easy day.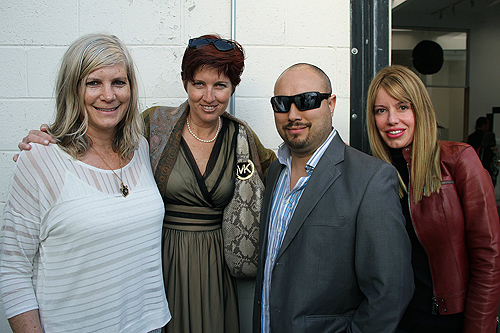 (with Lisa Bartleson, Andi Campognone, and Gisela Colon)
So here I am in 100-degree heat, baking in south downtown L.A., with an upcoming film appointment with Guy Dill in Venice Beach. As part of my daily calculus when I do studio- to-studio visits (as much as four in one day) one has to account for Los Angeles traffic and 15-mins power naps along the way. With Campognone's spontaneous text, I had to decide if I wanted to go from downtown L.A. to Venice (one hour includes traffic and 15-mins nap) and back (calculate two hours with rush hour traffic) and then go East to Pomona, another 90 mins away. I had no leverage to push for another day since they were starting that night, with or without me. In my film documentation it's important that I capture the first mark.
Hence, all these calculations are bombarding me as I'm eating In-N-Out w Gleason in his car when I got Campognone's text. In my life as an indie filmmaker knowing that life is short and that I really only have three more years of rigorous filmmaking before my body breaks down, the pounding of Red Bull catches up, and some doctor in the ER or a nagging-muse tells me I have to quit... I decided to go to Pomona that night.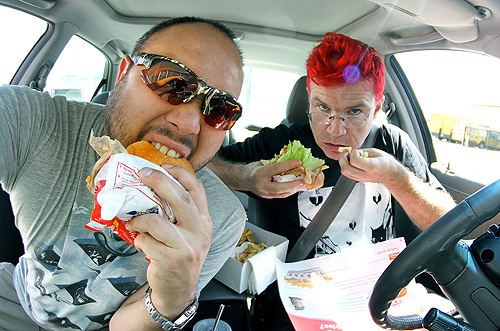 (with Mat Gleason that day)
Luckily I had a friend drive me out there as I snored with sleep apnea the whole way. Upon arrival my lens captured Flores' complex set up and the heights that are traversed as muralists do their work. I ended up spending the next three or four days filming the spray paint marks in the sweltering desert heat immortalizing Karl Benjamin on the sunny side of the building.
Once filming was finished I sat on the footage for a month. I was contemplating how I would cut this film. When I finally sat down to go over my library of music that I would use in the film I came across a few songs by my music collaborator and friend James Lucchesi. Luchessi's song, "Call Me a Friend," seemed fitting to me as I spent a quiet moment with Couwenberg during the mural film shoot as he got ready to go to a family memorial for Benjamin's passing.
Lucchesi's song made me emotional during the cutting of the film, so this video represents my gift to the Couwenbergs, Benjamins, Flores and Lucchesi, a group of people who have unknowingly banded together to give the City Of Pomona and the art community an at-large and an ever-lasting inspiration to the artists that I'm filming today.
Since past is prologue and given my fast and furious documentation of today's art scene in Southern California, I may have been given a chance to film/photograph Karl Benjamin. I will never meet all the artists in So. Cal which is a reality that I accept. I also accept the fact that for my own sanity, I can't film everyone either. I'm just glad that despite the summer heat, the exhaustive LA traffic, the carpet bombing of requests, and gigs of footage on my plate...
I made the drive to Pomona that night.