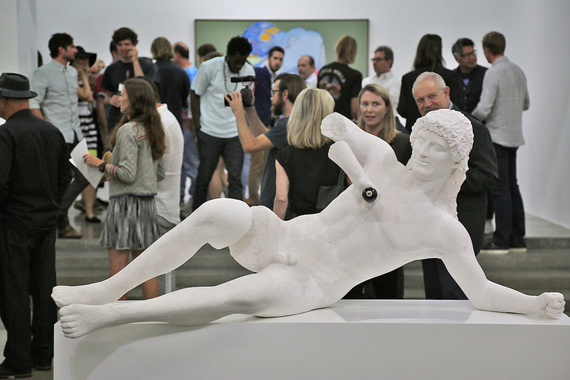 Interior, Day (A Door Opens) opening reception. Photo by EMS.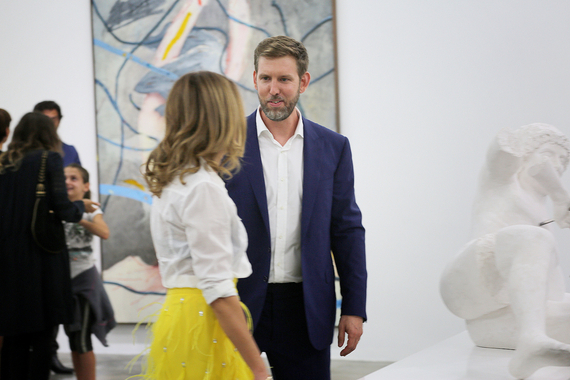 Artist Marc Horowitz at the opening. Photo by EMS.
The Depart Foundation held its first solo exhibition of works by Los Angeles-based artist Marc Horowitz on October 8, 2015 to a large crowd of art world curators, collectors, and patrons. Curated by Nicola Ricciardi, Interior, Day (A Door Opens), is on view October 8 - December 19, 2015. The exhibition features new paintings and sculpture by Horowitz. The show is described as a "prescient instinct for the untapped cultural potential of populist mediums, notably Internet culture, commercial advertising and the entertainment industry, Horowitz looks to establish a social connection and reciprocity between viewer and artist."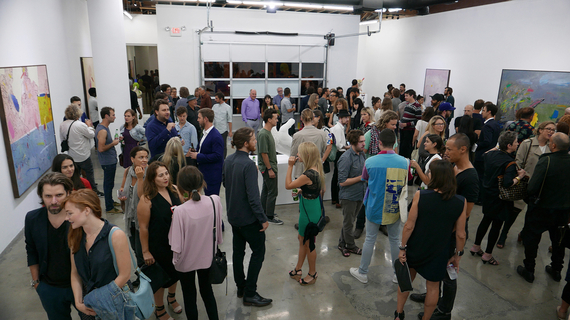 A strong turnout at the Depart Foundation opening. Photo by EMS.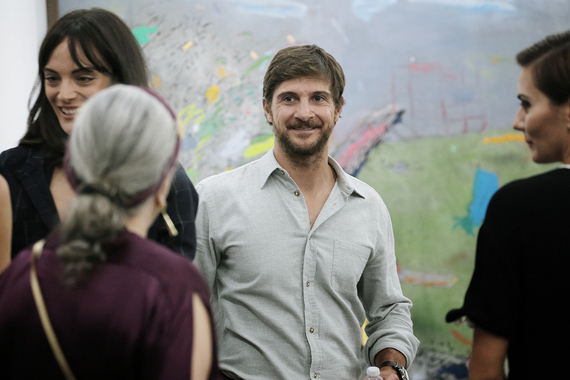 Depart Foundation Founder Pierpaolo Barzan. Photo by EMS.
The Depart Foundation was founded in 2008 and serves as bridge between the Italian art community and the international art world, delivering its fifth exhibition in Los Angeles on the glitter of Sunset Boulevard's historic rock scene with Horowitz that followed notable artists Gabriele de Santis, Kour Pour, Grear Patterson and Petra Cortright. The Depart Foundation aims are described as "actively encouraged artistic production through sponsorship of young and established artists and the provision of spaces and resources conducive to the research, production and exhibition of new work, and to the presentation of educational and public programs." Other notable artists shown under their auspices include Cory Arcangel, Joe Bradley, Nate Lowman, Ryan McGinley, Tauba Auerbach, Darren Bader, Louis Eisner, Roe Ethridge, Sam Falls, Mark Flood, Elias Hansen, Brendan Lynch, Oscar Murillo, Sarah Braman, Seth Price, Jon Rafman, Stephen G. Rhodes, Amanda Ross-Ho, Sterling Ruby, Lucien
Smith, Valerie Snobeck and Frances Stark.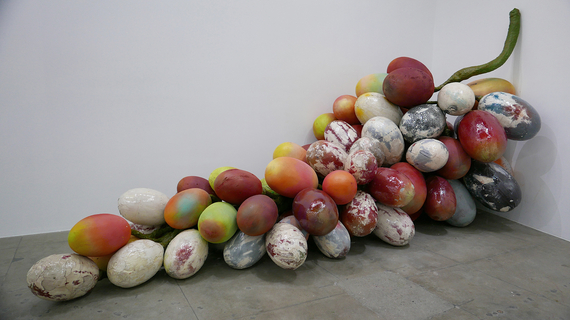 Surprise Asshole by Marc Horowitz. Used by permission. Photo by EMS.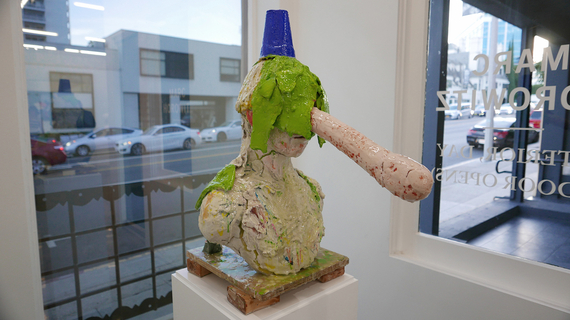 (Shouting): Hey! Where are you all? You've got visitors! by Marc Horowitz. Used by permission. Photo by EMS.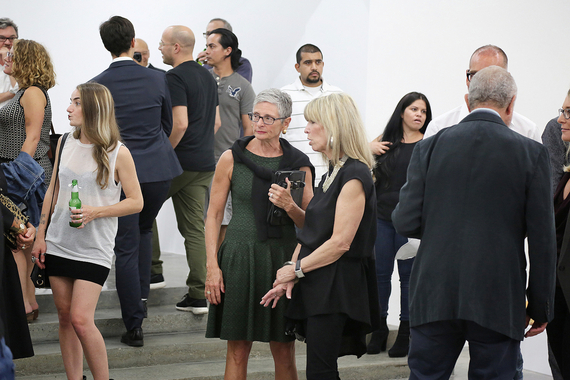 Nancy Frej (center). Photo by EMS.
Art critic and curator, Nicola Ricciardi, received an M.A. from the Center for Curatorial Studies at Bard College (CCS Bard) in New York in 2014 and he currently lives in Milan, Italy. Ricciardi's writings have been featured in Frieze, The Brooklyn Rail, Mousse Magazine, DIS, Lampoon, and NERO, and he's editor-in-chief at Carnet de miart, the official digital publication of Milan's International Modern and Contemporary Art Fair.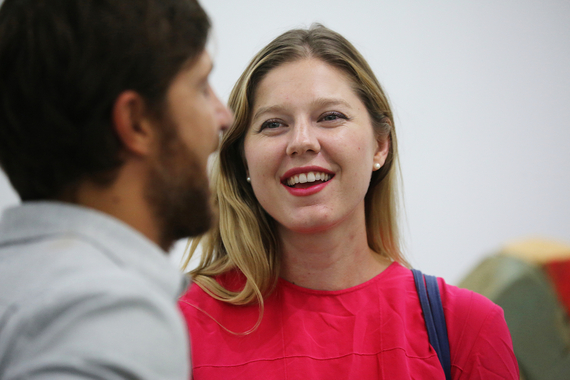 Petra Cortright. Photo by EMS.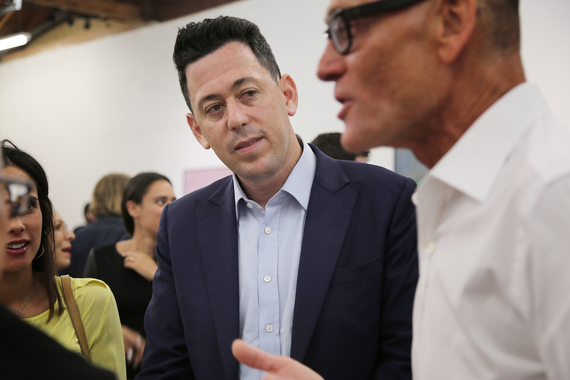 Teddy Karatz and David Frej. Photo by EMS.
Known for his painting, performance, video, sculpture and social practice, Horowitz holds a master's degree in art from the University of Southern California, and bachelor's degrees in art and marketing from San Francisco Art Institute, and Indiana University Kelley School of Business. It is said, "In a practice that combines traditional drawing, commercial photography, and new media, Horowitz turns American culture on its head to explore the idiosyncrasies of entertainment, class, commerce, failure, success, and personal meaning. Using visual puns, large-scale participatory projects, and viral social pranks, Horowitz creates environments of high energy that lift the most mundane to the status of grand event in complex interplays between subject, viewer, and participant."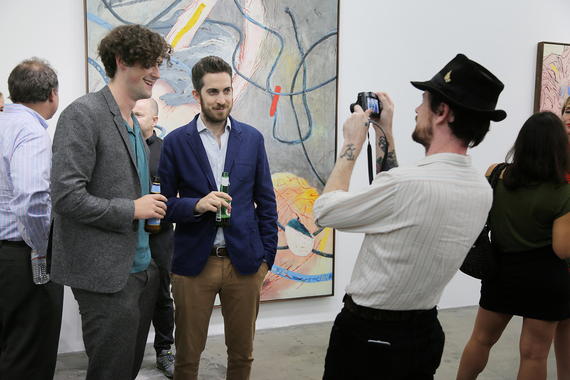 Fiachra O Suilleabhein and Curator Nicola Ricciardi. Photo by EMS.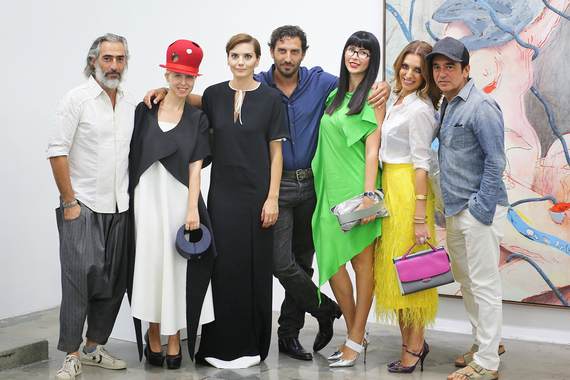 Groups pose for the camera. Photo by EMS.
The title of the exhibition, Interior, Day (A Door Opens) "conjures a mise en scène, encouraging the viewer to insert themselves into the narratives offered by this irreverent storyteller. The titles of the artworks themselves are drawn from screenplays for The Matrix and Tarkovsky's Solaris, and are intended to reinforce the willfully awkward and wonderfully playful displacements that Horowitz encourages through his works."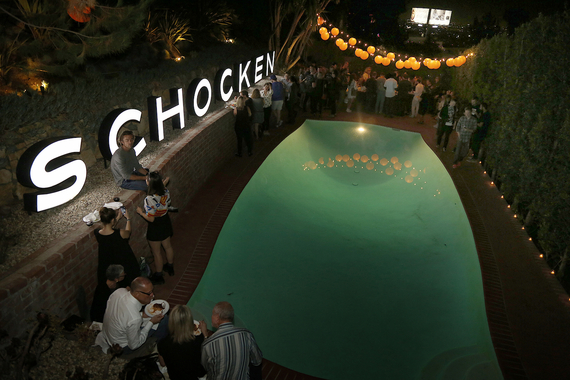 Post reception at the Baxter Hodiak House overlooking Hollywood. Photo by EMS.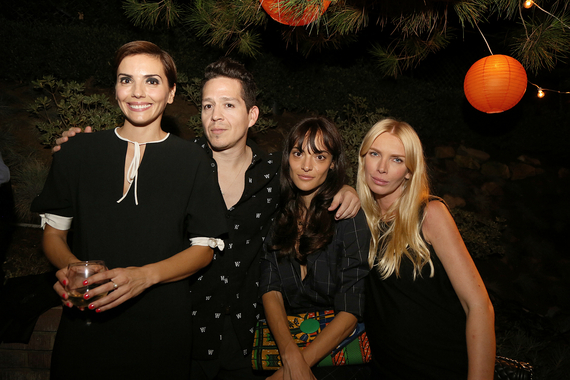 Depart Foundation co-founder Valeria Sorci, Charles Whitcher, Lisa Pomares, Martha Lorentson. Photo by EMS.
The reception after the opening was at the Baxter Hodiak House, home of Pierpaolo Barzan and Valeria Sorci who are the Founders of Depart Foundation. The viewing hours for the exhibition are Wednesday through Saturday 12-5pm at 9105 W. Sunset Blvd., Los Angeles, CA 90069. You can visit their website at departfoundation.com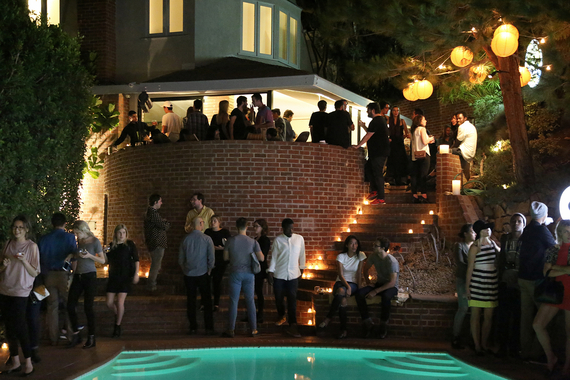 Post reception at the Baxter Hodiak House. Photo by EMS.
This article is part of an ongoing photojournalism survey of art exhibition openings titled EMS N(art)rative. Through my lens I document a photographic essay or visual "N(art)rative" that captures the happenings, personalities, collectors, gallerists, artists and the art itself; all elements that form the richly varied and textured fabric of the SoCal art world. This reconnaissance offers a unique view for serious art world players to obtain news and information on the current pulse of what's in the now, yet capturing timeless indelible images for posterity and legacy. Here is EMS N(art)rative Thirty-Two.