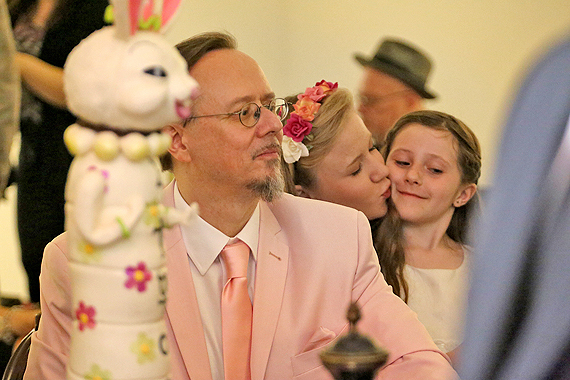 Mark Ryden and his daughters at the Michael Kohn Gallery book signing. Photo by EMS.
Art dealer super-magnate, Michael Kohn, opened his brand new Hollywood gallery off Highland Ave in May. The new space rivals most museum spaces with its beaming skylights and 22-foot ceiling making the space breathtaking with the reflective floor. From my point of view, shooting the Mark Ryden book signing on May 3rd, 2014 was an afternoon delight. There was cake on the walls, cake in the backroom, and cake on the clothing by the patrons and adoring fans of Ryden. The room was pink, the faces in line were blushing, and the adults and kids waiting in line felt like they were at Disneyland. It was definitely Spring time in the art world. Here are a few of my favorite photos from that afternoon.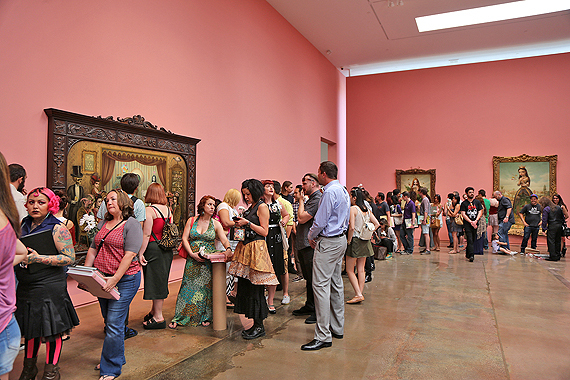 Loyal admirers and fans line up for the book signing. Photo by EMS.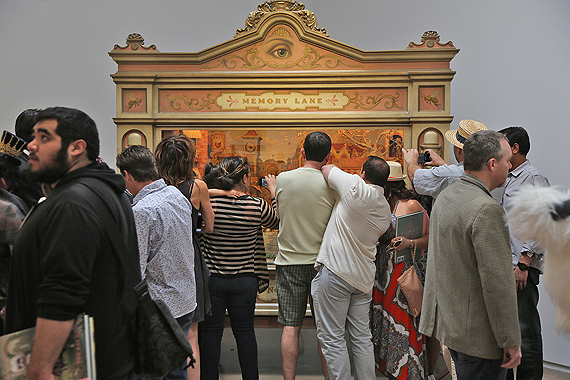 Patrons of the gallery brought their passion to this opening. Photo by EMS.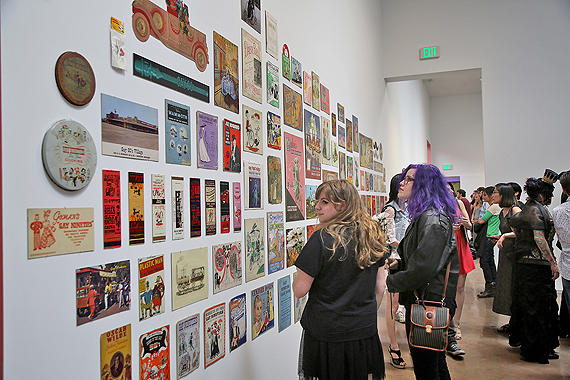 Artwork by Mark Ryden. Photo by EMS.
FROM THE PRESS RELEASE: Mark Ryden came to preeminence in the 1990's during a time when many artists, critics and collectors were quietly championing a return to the art of painting. With his masterful technique and disquieting content, Ryden quickly became one of t he leaders of this movement on the West Coast.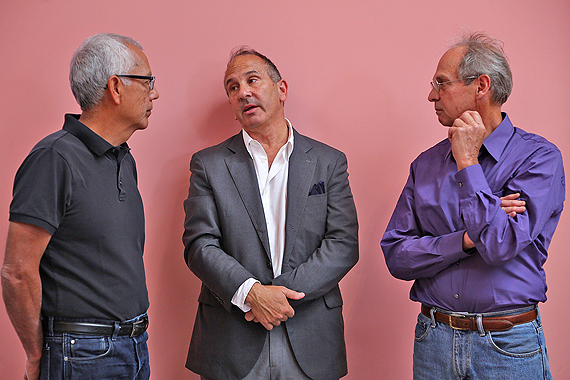 Tony Hernandez, Michael Kohn and Roy Thurston. Photo by EMS.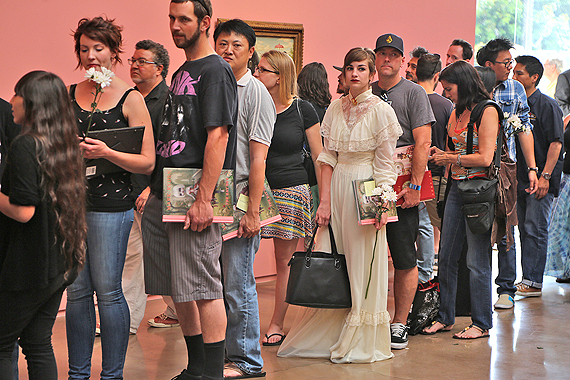 Crowd waits to meet Mark Ryden. Photo by EMS.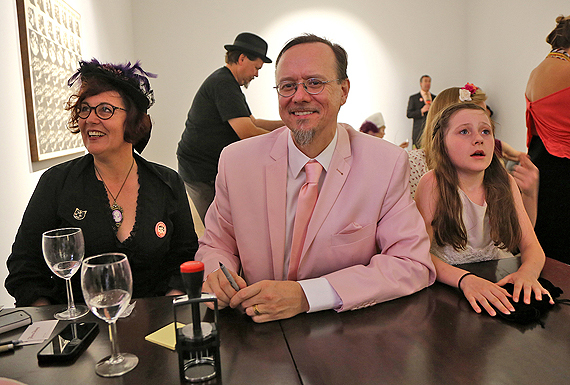 Marion Peck and Mark Ryden. Photo by EMS.
Upon first glance Ryden's work seems to mirror the Surrealists' fascination with the subconscious and collective memories. However, Ryden transcends the initial Surrealists' strategies by consciously choosing subject matter loaded with cultural connotation. His dewy vixens, cuddly plush pets, alchemical symbols, religious emblems, primordial landscapes and slabs of meat challenge his audience not necessarily with their own oddity but with the introduction of their soothing cultural familiarity into unsettling circumstances.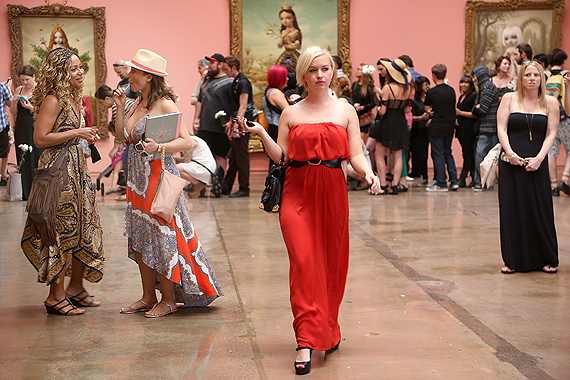 Photo by EMS.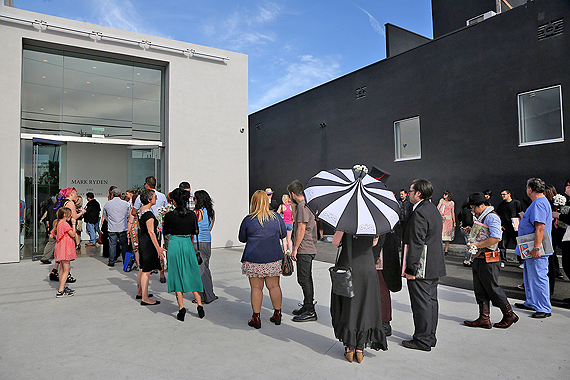 Outside the back, the crowd awaits. Photo by EMS.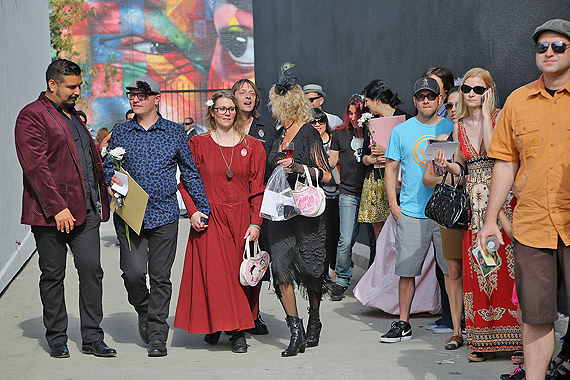 Photo by EMS.
Viewers are initially drawn in by the comforting beauty of Ryden's pop-culture references, then challenged by their circumstances, and finally transported to the artist's final intent -- a world where creatures speak from a place of childlike honesty about the state of mankind and our relationships with ourselves, each other and our past.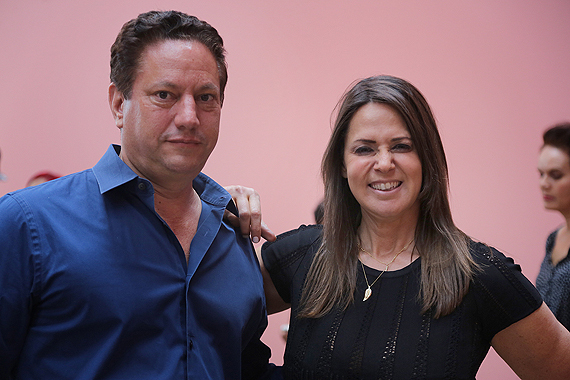 Andy Moses and Samantha Glaser. Photo by EMS.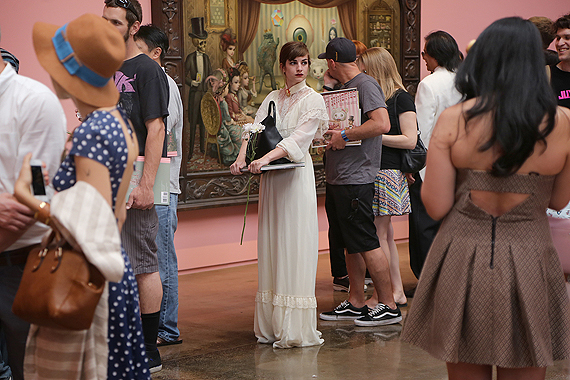 Photo by EMS.
Clearly infused with classical references, Ryden's work is not only inspired by recent history, but also the works of past masters. He counts among his influences Bosch, Bruegel and Ingres with generous nods to Bouguereau and Italian and Spanish religious painting.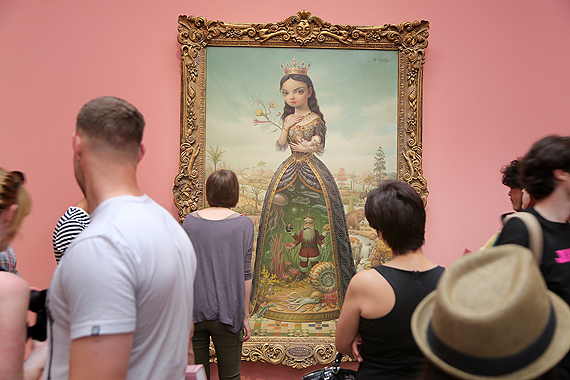 Artwork by Mark Ryden. Photo by EMS.
Over the past decade, this marriage of accessibility, craftsmanship and technique w
ith social relevance, emotional resonance and cultural reference has catapulted Ryden beyond his roots and to the attention of museums, critics and serious collectors. Ryden's work has been exhibited in museums and galleries worldwide, including a recent m useum retrospective "Wondertoonel" at the Frye Museum of Art in Seattle and Pasadena Museum of California Art.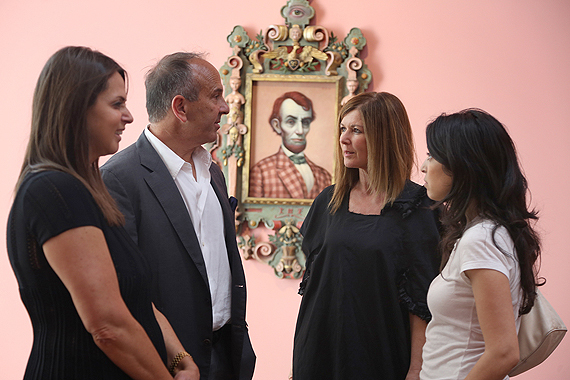 Samantha Glaser, Michael Kohn and Lyn Winter. Photo by EMS.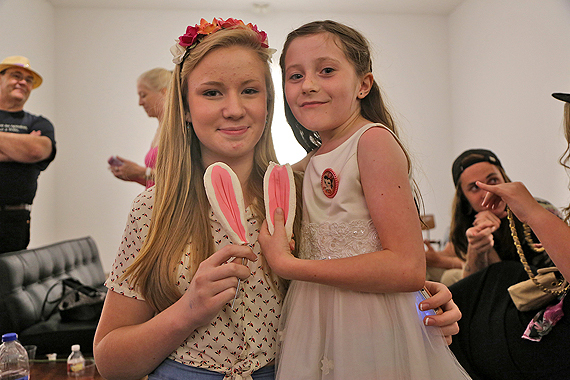 Photo by EMS.
Mark Ryden was born in Medford Oregon. He received a BFA in 1987 from Art Center College of Design in Pasadena. He currently lives and works in Los Angeles where he paints slowly and happily amidst his countless collections of trinkets, statues, skeletons, books, paintings and antique toys. END PRESS RELEASE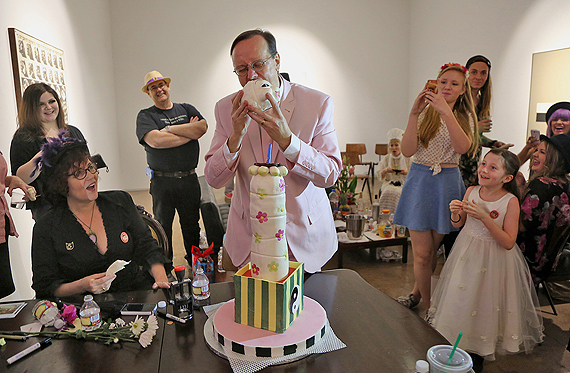 Mark Ryden enjoys a piece of cake. Photo by EMS.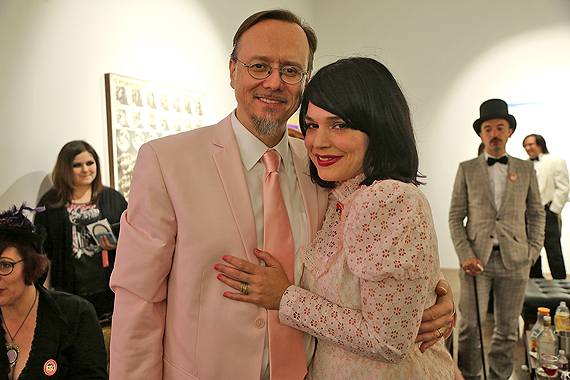 Mark Ryden and Jessicka Addams. Photo by EMS.
This article is part of an ongoing photojournalism survey of art exhibition openings in SoCal titled EMS N(art)rative. Through my lens I document a photographic essay or visual "N(art)rative" that captures the happenings, personalities, collectors, gallerists, artists, and the art itself; all elements that form the richly varied and textured fabric of the SoCal art world. This reconnaissance offers a unique view for serious art world players to obtain news and information on the current pulse of what's in the now, yet capturing timeless indelible images for posterity and legacy. Here is EMS N(art)rative Thirteen.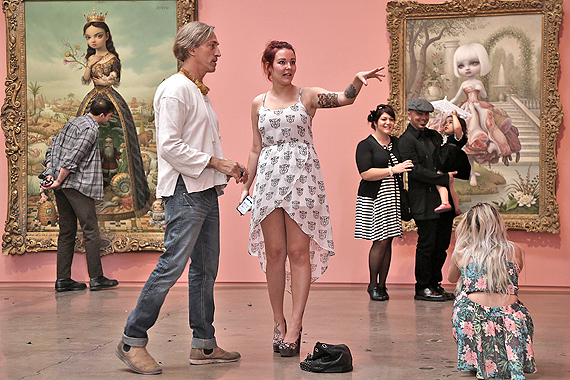 Photo by EMS.